Pony Picks: Woodbine and Belmont plays for Thursday 9/24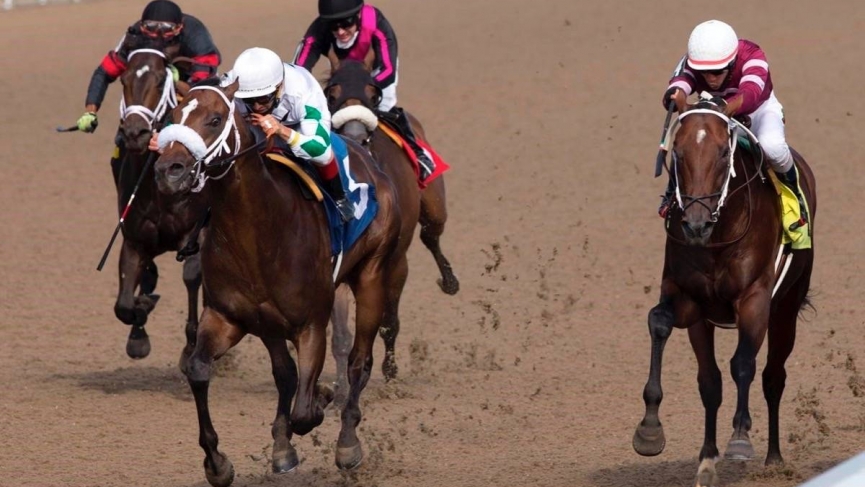 Odds.com's Horse Racing Picks for Sept. 24th: A new week is here for Belmont and Woodbine as they both begin four day weeks on a relatively quite Thursday and I'll take a look at races from both:
Belmont 3rd: Backsideofthemoon needs no improvement 2:04 pm Et
The Belmont 3rd is an allowance optional claimer going 1 1/16 miles on dirt and I'm against morning line favorite Legit. This year Legit has tried sprinting, a one turn mile, extended routes, turf, and has just been okay. His last race was good but consider he was 17 lengths behind at one point and was with the race flow. Should he be that far back today he would have no chance as there isn't a lot of early pace in this race. All the experimenting from the connections suggests they don't know what he is good at and I can't take him at a short price in this spot.
One of the potential early speed horses that will take money is Kingmeister who I'm also against. Last time he had the benefit of running in a weak off the turf race that featured just three other rivals. Note in both his dirt routes races he has lost ground from the stretch to the wire and today he'll have to get his longest distance to date if he is to win.
The horse I want is Backsideofthemoon (3-1 ML) who has been facing better horses, almost exclusively in stakes company. His one non-stakes race recently was an allowance at Belmont where the second place finisher Win Win Win came back to win the grade one Forego next out. Some will point to Backsideofthemoon's 0/14 record on the Belmont dirt but I would counter with he has been facing better horses and has run multiple races that would be good enough to win this race against unappealing favorites.
Woodbine 1st: Soexotic a logical synthetic player 2:15pm Et
The Woodbine 1st is a $20,000 claimer for fillies and mares three-year-olds and up going 6 ½ furlongs on synthetic. Morning line favorite Sparkle Sammy has back races on synthetic that could win this race but all her recent competitive efforts have been on turf. Her last three synthetic races involve being beat by 10 lengths to Cry Uncle who will be a long shot in this race, finishing 7th against similar horses and being eased last time. She seems hard to trust any kind of short price.
Similarly to Sparkle Sammy, Westlodge Intrigue has plenty of back races on synthetic that would be competitive but none recent. Her recent form, on turf is just okay and I'll let her beat me if she gets back to one of her good synthetic races.
I much prefer Soexotic (7/2 ML) as all her recent synthetic races would be competitive and note she has won both her tries sprinting on synthetic this year. Yes, two starts ago her win came in an off turf race but consider it was still a full field of eight, and the horse she beat came right back to win her next start. The versatile mare can adapt to various pace scenarios and note she was claimed in her last race for $15,000 and today the price tag is increased to $20,000; a sign of confidence. 
Woodbine 6th: Eternal Peace gets back to turf 5:00 pm Et
The Woodbine 6th is an allowance going 1 1/16 miles on the inner turf for fillies and mares three-year-olds and up. Morning line favorite Tappitty Tappitty has made strong rallies in both her starts this year and while she has finished second in both, she had no excuse for not winning last time as the favorite while getting a perfect trip, saving ground, and angling to the 2-path for the stretch run. She can win but don't see the betting appeal off a race as the beaten favorite that she should not have lost thus I will play against.
I am also against Sansa's Vow who broke her maiden last out in an event in June. My issues with her are that she is the most pace dependent on the main contenders. She was very green in that maiden win, was with the race flow and note that race has come back to be unproductive. Also, that win came on the main turf course where her off the pace style plays better than it will on the inner turf course.
The horse I want is Eternal Peace (4-1 ML) who might have needed her last race coming off a small layoff. It was also her first try on synthetic so perhaps her poor effort may have been because she didn't like the surface. She gets back to turf in this spot and her turf races are good enough to be competitive with the favorites.