Pony Picks 10/4: Keeneland and Belmont Plays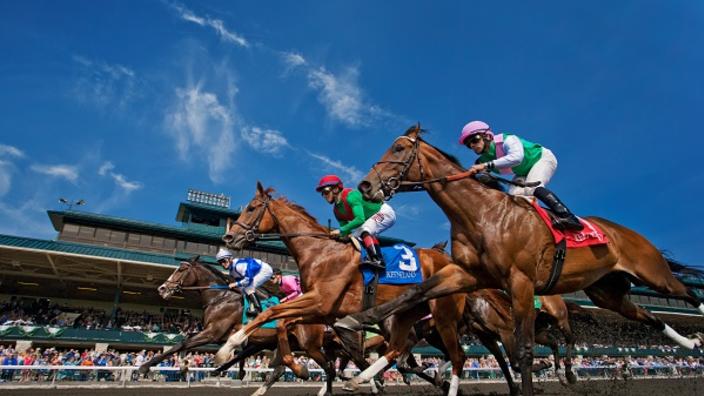 Odds.com's Horse Racing Picks for Oct. 4th: Yesterday at Pimlico, for the first time since 2009, a filly won the Preakness! Kentucky Oaks runner up Swiss Skydiver turned away Kentucky Derby winner Authentic in a heart-pounding stretch drive.
On the undercard, Mundaye Call was terrible at 1-2 in the Miss Preakness as Wicked Whisper got a perfect trip saving ground and rallying in the 2-path to run down Ain't No Elmers. Laki prevailed in a three-horse photo to win the Frank J. De Francis Memorial as race favorite Landeskog did no running. Favored Factor This was able to take the lead in the Dinner Party and was a dominant winner. Miss Marissa got the jump on favored Bonny South to win the Black-Eyed Susan.

At Belmont Frank's Rockette was stunning in the Gallant Bloom. Complexity went off favored over Code of Honor in the Kelso and got the jump to win. Gufo got up late and survived an inquiry to beat a pair of Todd Pletcher runners in the Belmont Derby Invitational. Channel Maker wired the field in the John Hirsch Turf Classic to double up and provide further evidence that he's back.

At Keeneland, favorite Leinster proved best in the Woodford. Uni remembered the horse she once was to be a dominant winner in the First Lady. Considering how well she runs at Keeneland, she must be thrilled that they are hosting the Breeders' Cup this year. In the male equivalent, Ivar used a powerful rally to pull the upset in the Shadwell Turf Mile. Note the early fractions were faster in the Shadwell Turf Mile and the final time was 4/5 of a second faster. Essential Quality was a dominant winner of the Breeders' Futurity. I have no idea what the plan was on Calibrate as he did not show the early speed he showed on debut.

Another graded stakes filled day from coast to coast today. Shedaresthedevil who beat Swiss Skydiver in the Kentucky Oaks takes on older horses for the initial time in the grade one Spinster. Considering the Oaks was the best race she's ever run, I'm going to dare her to repeat it. Lady Kate who finished second to Monomoy Girl last time and Ollie's Candy who has had some difficult trips recently are the alternatives. Let's look at some races:

Keeneland 6th: Cowan can rally 4:00 pm Et
The Keeneland 6th is the Indian Summer for two-year-olds going 5 ½ furlongs on turf. Morning line favorite Golden Pal has indicated immense talent by finishing second by a neck in a stake at Ascot and easily winning a stake at Saratoga last time. Note the second and third place finishers both came back to be second in subsequent events. My issue with Golden Pal is like the rest of this field he has not shown a rating ability and I don't consider him the speed of the speed. The difference between him and other horses that aren't proven rating is the price, as Golden Pal will be an unappealing one to find out if he can rate.
Of the speed horses, the only one I'd consider is Bodenheimer as he might be the fastest early and has an inside draw. His debut was very strong but the issue is he hasn't run back to that performance in his last two races.
The horse I prefer is Cowan (8-1 ML) who won his debut on dirt and then contested a wicked early pace in a stake. Last time he tried turf for the first time and was wide throughout but managed to put forth a strong late rally passing multiple horses. Considering all the speed horses and the fact he has shown a rating ability, expect him to be coming late.
Belmont 7th: Lovestruck can win again 4:12 pm Et
The Belmont 7th is the grade two Miss Grillo for two-year-old fillies going 1 1/16 miles on turf. To date, morning-line favorite Plum Ali has done nothing wrong winning both her starts including a stake last time at Kentucky Downs. I'm not sure how good the stake race was in terms of quality as the race didn't come back much faster than her debut. Her debut was against a weak field as to date none of the other horses have come back to win at any level. She meets much tougher horses in this spot.
I am against Caldee who broke her maiden last time when being allowed to make an easy lead. Note she only beat five horses in that race and was only 1 of 2 horses who had run previously. Perhaps she gets another easy lead but she is meeting much tougher and off a perfect trip, I don't want her.
The horse I prefer is Lovestruck (7/2 ML) as she had some problems at the start when breaking a step slow and having another horse bump into her. She rated nicely behind horses and under minimal urging ran past Freedomofthepress who also runs in this spot. Note that Lovestruck's trainer Bill Mott isn't known for winning at first asking thus I expect her to take a step forward in this spot though her debut on its own merits makes her a strong contender already.
Belmont 8th: Horologist has improved recently 4:47 pm Et
The Belmont 8th is the grade two Beldame for fillies and mares three-year-olds and up going 1 1/8 miles on dirt. I want to play against the morning line even money favorite Dunbar Road. While this is a small field it's the toughest one she's faced thus far this year. Note last time she earned a 96 Beyer speed figure in her win and that matched her career-best which she got a year ago. I haven't seen any improvement and her last race was almost three months ago. The goal was always the Breeders' Cup and this might be strictly a prep thus I'm not sure she gives her best effort today.
Some will try to beat her with the speedy Letruska who has been alternating wins and losses. Last time I thought she met an ordinary group in the Shuvee at today's distance and was able to establish a clear advantage and hung on late. My concern with her is switching over to Belmont's one turn configuration. A horse as fast as Letruska will have plenty of time to pick up speed and she may end up setting fractions too fast for her own good. Note when she ran in a one-turn mile at Gulfstream, she had a clear early lead and was not pressured early yet she blazed through strong fractions. She was able to get away with it by hanging on to beat an easier group but I'm not convinced she'll hold on against this group.
The horse I prefer is Horologist (4-1 ML). Trainer Bill Mott picked up her training two starts ago and she immediately gave her best effort to date. It was understandable when last time in the La Troienne she could not completely back up that performance but she finished a respectable third losing to the leader of the female division in Monomoy Girl. Her tactical speed and outside post give her options.