Pony Picks 10/25: Santa Anita, Churchill and Belmont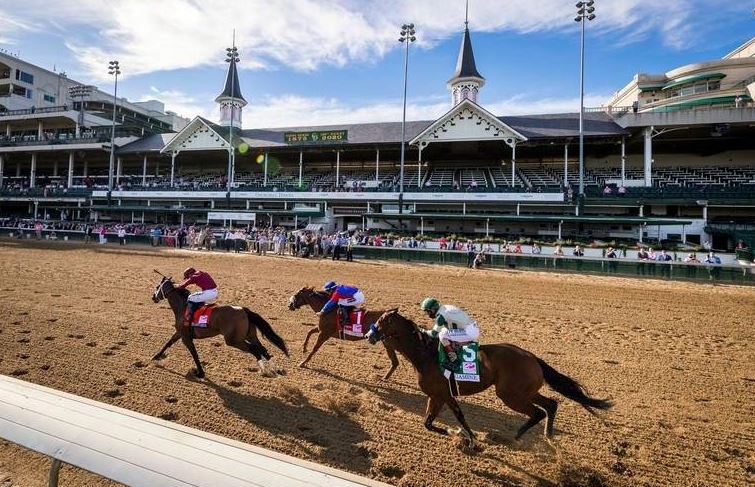 Odds.com's Horse Racing Picks for Oct. 25th: Yesterday at Woodbine, Mighty Heart entered as the story in the Breeders Stakes trying to win the Canadian Triple Crown but after setting a wicked pace that he could not sustain, it was his stablemate Belichick who stole the show as Belichick was a going-away winner. Today, Woodbine runs the female equivalent in the Wonder Where which features the top three finishers of the Woodbine Oaks. I prefer Afleet Katherine who has successful past turf experience.
Both Belmont and Santa Anita have a graded stake today and Churchill starts its fall meet committing a full day to two-year-old races. At Belmont, I am not against Call Me Love in the Athenia as she gets massive class relief. At Santa Anita, in the Goldikova, I prefer the speedy Raymundos Secret to make all over Maxim Rate. Let's look at some races:
Belmont 8th: Cucina can rally 4:25 pm Et
The Belmont 8th is an allowance optional claimer for three-year-olds and up going 6 ½ furlongs on dirt. I am against morning line favorite Last Judgement who was claimed out of the Todd Pletcher barn two starts ago. Last time, they increased the evaluation to this level and he had to wait for running room but once he was clear, he had no late finish. Perhaps he improves today but he has to turn the tables on Pete's Play Call and this is a good field thus I'm against.
I am against Mad Munnys who was claimed out of his last race from the Rudy Rodriguez barn which is never easy to do. His new conditioner Bruce Brown is having a strong Belmont meet but to win Mad Munnys would have to turn the tables on both Last Judgment and Chateau from recent races.
High Velocity, Mo Gotcha and Chateau all do their best work on the front end and I'll let all of them beat me. High Velocity because he returned to the races last time off a seven-month layoff for a different trainer and did no running. Mo Gotcha won last time but that was a better spot turning back in distance. Chateau has not been the same horse since returning to the races after previously being conditioned by disgraced trainer Jason Servis. He did provide a better effort last time when lowering the evaluation to $32,000 but he lost a clear lead and now steps back up in class.  
One alternative is Pete's Play Call who last time finished in front of Last Judgement and had won his previous two races. My one concern with him is he likes to be on top of the pace which projects to be quick and could see a scenario similar to his last race where he is a couple of lengths off the pace and is just one-paced in the stretch.
The horse I prefer is Cucina (6-1 ML) who started his career on dirt and broke his maiden in his lone try on the Belmont dirt.  After some experimenting on turf, he returned to dirt two starts ago and ran into the exceptionally talented Yaupon. Last time he was an easy winner rallying from off the pace and that strategy is likely to be useful in this spot.
Santa Anita 4th: Taking new face Mon Camo 5:00 pm Et
The Santa Anita 4th is a $12,500 claimer for three-year-olds and up going six furlongs on dirt. The main contenders come out of a race at Santa Anita on October 2nd. In that race morning-line, favorite Black Storm won rallying from off the pace. I am against him because he will be a shorter price today and has previously lost to multiple horses in this race. Also, that was the best performance he has put forth in a while thus I don't trust him repeating it.
Jan's Reserve has plenty of back class and races that would win in this spot. His recent form however is not great. After a pair of poor efforts at the $32,000 level, he plummeted in class to this level last time and was sent off as the favorite. He ran okay in finishing second but it was another uninspiring effort. Note he is 0/8 at Santa Anita thus I'll let him beat me.
I don't trust Fabozzi from a rating position and I don't trust him getting in front of Papa Turf thus I'm against.
Papa Turf still has plenty of early speed and is capable of providing a big effort. He was able to make the lead from post nine last time before tiring in the stretch. Getting top jockey Flavien Prat won't hurt him today though it might hurt his price. Note Abel Cedillo has ridden him in each of his last five Santa Anita starts but Cedillo elects for Mon Camo today.
I prefer the new face Mon Camo (4-1 ML). He was claimed for $20,000 two starts ago at Golden Gate thus some will not like that he runs for less today. Consider the purse in this race is $22,000 thus the connections will come out ahead if he wins and is claimed. He runs on the Santa Anita dirt for the first time but, half his wins have come on dirt. His new trainer Jonathan Wong hits at a high percentage and, Wong and jockey Abel Cedillo have had a lot of success together over the past year.
Churchill 10th: Oliviaofthedesert gets class relief 5:36 pm Et
The Churchill Downs 10th is the Rags to Riches for two-year-old fillies going 1 1/16 miles on dirt. I am against both Orsetto and Malibu Bird as both broke their maidens in their last race utilizing a front-end approach. Before that, they were both given the opportunity to try and rate and both showed minimal late finish. They both can't have the lead and this spot and neither may get it if stretch-out speed Lady Traveler insists on having it.
I am against morning line favorite Coach has been an easy winner in both her races at Indiana. She does however have to prove she can stretch-out, run at a track other than Indiana, and is facing much tougher thus I'm against.
One alternative is Midnight Ballerina who took plenty of money for trainer Bill Mott who isn't known for success with first-time starters. She rallied strongly to win and can improve. Of the horses who just broke their maiden's, she is the most intriguing but does have to deal with the outermost post.
The horse I prefer is Oliviaofthedesert (4-1 ML) who broke her maiden in her second career start. Since then she has run into Plum Ali in a stake on turf and Simply Ravishing in a stake on dirt. Both those horses figure to be contenders in separate races at next month's Breeders' Cup. Yes, she was uncompetitive last time but that field was much tougher and she was much farther back than she usually is. Expecting her to show more contact speed in this spot and win on the class drop.