Belmont & Santa Anita Picks for Saturday June 6, 2020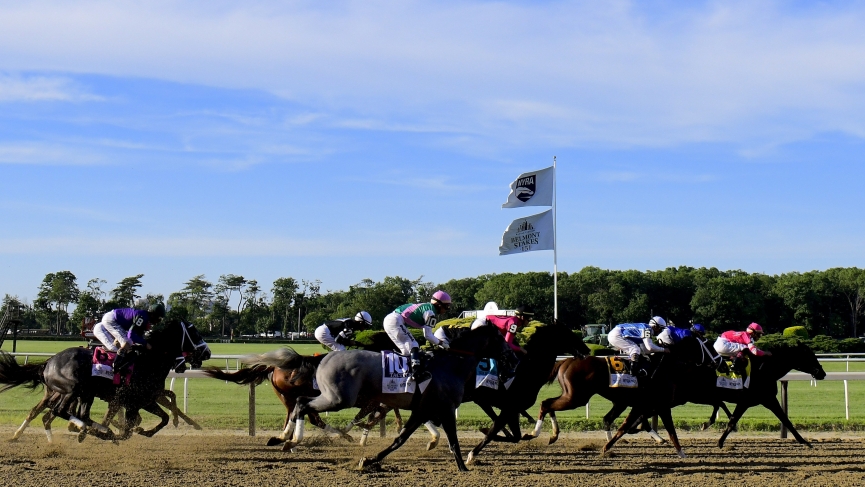 18 Stakes across 6 racetracks and the return of Woodbine on a busy Saturday in Horse Racing. The headliner is the grade one Santa Anita Derby which has Kentucky Derby implications. It feels like a 2 horse race between the 1-2 finishers of the San Felipe. Santa Anita also has the grade one Hollywood Gold Cup (we'll look at) all part of a 12 race, 7 stakes program. The other grade one is the Carter at Belmont which we'll look at.
Belmont 7th Endorsed (4:32 pm Et)
The Belmont 7th is the grade three for 4-year-olds and up going 1 1/16 on dirt. Between Monongahela, Payne, and Joevia there seems to be enough pace to give a closer like Endorsed (6-1 ML) a chance in a race where I'm trying to beat the heavy favorite Code of Honor.
My biggest issue with Code of Honor is the layoff. His 3-year-old debut came off a 3-month layoff and it was the worst performance of his career. This time he must contend with a 7-month layoff. The other question you have to ask yourself with Code of Honor is was he just improving as a 3-year-old with racing experience or was his improvement based on getting more distance as his 2 best races last year came at 1 ¼ mile.
Yes Endorsed has lost to Code of Honor in both their previous meetings. The first time they met Endorsed had a career worst performance in the grade one Champagne. With the ability of hindsight that poor effort looks like an outlier as he has won routing and at Belmont. Their other meeting was in the Travers where Endorsed had a difficult post, was trying a new distance, and was still light on seasoning. Unlike those previous tries, Endorsed has the recency edge this time and he can turn the tables.
Belmont 9th(5: 36pm Et) Vekoma at the right distance
The Belmont 9th is the grade one Carter for 3-year-olds and up going 7 furlongs on dirt. There are 4 horses who are 4-1 or less on the morning line and I prefer Vekoma. Vekoma is a perfect 3 for 3 going one turn including a dazzling come back race at Gulfstream in late March off a 10-month layoff.
He showed plenty of promise as a 2-year-old winning both his races and naturally the connections had Kentucky Derby fever. He won the Blue Grass at Keeneland at 1 1/8 miles to qualify for the Derby but his route races aren't as strong compared to his sprint races. Now as a 4-year-old and with the Derby behind them, the connections of Vekoma can focus on keeping him at sprint distances something he excelled at during the start of his career.
Performer can win and he won all 4 of his starts as a 3-year-old but he seemed to improve when stretching out including winning the grade three Discovery at Aqueduct. This is a class test, he is off a 6-month layoff and this could be a means to an end for a route race down the line.
Firenze Fire needs to prove his form for a new barn now that he is out of quarantine and has left the disgraced Jason Servis barn. Mind Control has won 3 straight including a grade one at Saratoga last year. This field just feels like it has more quality than what Mind Control has faced recently and with 12-lifetime starts, I think we know what he is. Horses like Vekoma and even Performer have proven to be just as fast but are more lightly raced and potentially have more upside.
Santa Anita 10th (8:12pm ET): Improbable the now horse
The Santa Anita 10th is the grade one Hollywood Gold Cup going 1 ¼ mile on dirt for 3-year-olds and up. There are 3 main players in the race and I prefer Improbable. Improbable ran too well to lose last time in his 4-year-old debut. He was 4 wide on both turns, attacked a wicked pace only to be run down by the favorite at the last moment who had a much easier trip. Not going to hold Improbable's lone effort going 1 ¼ mile against him as it was in the Kentucky Derby.
Higher Power effort in the Pacific Classic at this distance at Del Mar would win this race easily. The problem is his efforts before and after that race is not good enough and he was terrible last time as the favorite in the Pegasus. He is also winless at Santa Anita.
Midcourt went 1 1/4 miles for the initial time last time in the Santa Anita Handicap and was just okay when he lost as the 3/5 favorite. The fact Midcourt was 3/5 despite that race being his first attempt at the distance and his first-grade tells you what the bettors thought about the rest of that field. On quality, this one seems tougher.