2020 Kentucky Derby Picks and Predictions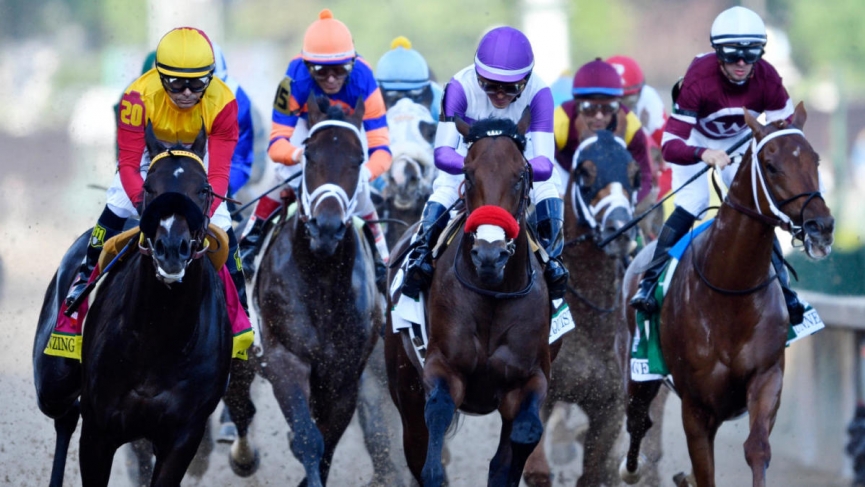 My 2020 Kentucky Derby picks and predictions are all set and it's time to get started. The grade one Kentucky Derby also known as the run for the roses is here being run on the first Saturday in September instead of the first Saturday in May due to Covid-19 and will act as the second leg of the Triple Crown. It is the most prestigious event for three-year-olds and it drew a field of 17 though only 16 will run after King Guillermo spiked a fever. The Kentucky Derby card kicks off at 11 am Et with the Kentucky Derby itself going off as the 14th race on the program with post time scheduled for 7:01 pm Et. Let's look at the field in post position order:
Finnick the Fierce 50-1
Trainer: Rey Hernandez     Jockey: Martin Garcia
Was a game 3rd in a division of the Arkansas Derby at long odds before disappointing in a small field in an allowance at Churchill Downs. Last time in the Blue Grass, he appeared to be making a strong move on the turn before flattening. The one-eyed gelding will be a long shot and can't recommend. Would like to see him turn back to sprints in future races.
Max Player 30-1
Trainer: Steven M. Asmussen     Jockey: Ricardo Santana, Jr
Finished 3rd in both the Belmont and Travers behind Tiz the law. He seemingly always comes with a run and expect him to do so again. An inside post doesn't bother me as he was always going to end up at the back of the pack. If you think Tiz the Law is a likely winner, you should like Max Player to be in the exotics somewhere. If he finishes seven lengths behind Tiz the Law today, as he did in the Travers, that might be good enough to once again put him third at a big price. Underneath use in exotics.
Enforceable 30-1
Trainer: Mark Casse  Jockey: Adam Beschizza
He was no threat two starts ago in the Louisiana Derby when Major Fed and NY Traffic were both better. Came back to the races in the Blue Grass after almost four months off and finished a non-threatening fourth. That said he did his best running late and liked the way he finished. He should be tighter today and wouldn't be surprised if he gets a small piece.
Storm the Court 50-1
Trainer: Peter Eurton    Jockey: Julien Leparoux
Best known for pulling a 50-1 upset in the Breeders' Cup Juvenile has yet to reproduce that performance as a three-year-old. Despite a difficult trip and being wide in the Ohio Derby two starts back, thought he ran well. Last time he tried turf for the first time and was a good second despite never threatening the winner. He draws well and has tactical speed but this field seems too tough, pass.
Major Fed 50-1 
Trainer: Gregory D. Foley    Jockey: James Graham 
Did not break three starts ago in the Louisiana Derby and came with a strong rally despite there being no race flow. Was sent hard to the lead two starts ago in the Matt Winn from an outside post. When he did not get there, he ended up being seven wide on the turn and was wide throughout. Last time in the Indiana Derby he made a strong rally from off the pace when second to Shared Sense who had a perfect trip. He has talent and some excuses though this competition might be too tough. Bottom of Superfecta bets.
King Guillermo 20-1: Will Scratch 

Money Moves 30-1
Trainer: Todd A. Pletcher     Jockey: Javier Castellano
After winning his first two races, he stretched out and faced older horses in an allowance at Saratoga when finishing 2nd by a neck. His races are competitive enough to be a minor player and the lightly raced colt still has plenty of room to improve. Can make noise for the third and fourth positions.
South Bend 50-1
Trainer: William I. Mott     Jockey: Tyler Gaffalione
Finished a rallying second in the Ohio Derby two starts ago which was a good effort considering he was wide throughout. Last time he finished 4th in the Travers where Max Player showed more late kick to be third. I don't view him as one of the better closers thus it's hard to see him getting even a small piece in this race. Pass
Mr. Big News 50-1
Trainer: W. Bret Calhoun     Jockey: Gabriel Saez
Provided a 47-1 upset in the Oaklawn stakes on a sloppy track when rallying from off the pace. He did not provide a strong rally last time in the Blue Grass. The Oaklawn stakes is his best performance to date which wouldn't make him a factor here, pass.
Thousand Words 15-1
Trainer: Bob Baffert Jockey Florent Geroux
Indicated tremendous talent in his debut which kicked off a three-race win streak to begin his career which included the Los Alamitos Futurity and Robert B. Lewis. Lost his way when putting in poor efforts in the San Felipe and Oawklan Stakes. Last time in the Shared Belief he was able to get comfortable on the front end and pull the upset over Honor A.P. That last race is much better than anything he has ever done and while he has won from a rating position, think he needs the front end to be his most effective. Wish he had more than one competitive race and view him as a minor contender.
Necker Island 50-1
Trainer: Chris A. Hartman    Jockey: Miguel Mena
Has finished behind Shared Sense, Finnick the Fierce, Attachment Rate and Major Fed in recent races. Not only would he have to turn the tables on all those long shots but he also faces new and better horses, looks overmatched. 
Sole Volante 30-1 
Trainer: Patrick Biancone    Jockey: Luca Panici 
Was wheeled back in just 10 days to try the Belmont Stakes last time off a sharp allowance win at Gulfstream. That did not work but consider he was second to King Guillermo in the Tampa Bay Derby and has the ability to show more. That said, he will have to show more just to get a minor award. Perhaps for the bottom end of Superfecta bets. 
Attachment Rate 50-1
Trainer: Dale Romans     Jockey: Joseph Talamo
Took a step forward last time in the Ellis Park Derby when wide throughout but was still no match for Art Collector. He would need at least that effort to have a chance for a minor award but likely has to improve. Bottom of Superfectas.
Winning Impression 50-1
Trainer: Dallas Stewart    Trainer: Joseph Rocco, Jr
Has been beaten by double-digit lengths by some of today's longer shot rivals in his last two races. He would have to improve significantly just to be a minor factor. Can't recommend it. 
NY Traffic 20-1
Trainer: Saffie A. Joseph, Jr    Jockey: Paco Lopez
Has danced a lot of dances which include second-place efforts in his last three races the Louisiana Derby, Matt Winn, and Haskell. In all three he attended the pace in races that had relatively little flow. The winners of the first two races will not be competing and wouldn't be surprised if he turned the tables on Authentic as he has shown staying power. Looks capable of getting a minor award. 
Honor A.P. 5-1
Trainer: John Shirreffs   Jockey: Mike Smith
Finished second to Authentic in the San Felipe in his first start of the year and then turned the tables on that rival in the Santa Anita Derby when going nine furlongs. Most recently in the Shared Belief at Del Mar, at a shorter distance, he could not catch Thousands Words. Don't think he ever got the hang of Del Mar and yet he was still coming at the end. Connections have always stated the longer the better with him. An obvious contender; the pick.
Tiz the Law 3/5
Trainer: Barclay Tagg    Jockey: Manuel Franco
Strictly the horse to beat after winning three straight grade ones including last time in the Travers at today's distance. That win means he is the only one proven at today's distance. Note that he went off at 1/2 in the Travers against six rivals and projects to be a very similar price against 16 rivals. Also, note his lone start at Churchill saw him go off at minuscule 3/5 odds (same as his morning line) and he disappointed in that race and to date, it represents his only career loss. You could argue it was the sloppy track he didn't like or the racetrack but after being blocked momentarily in that race he had every chance to win it. Nevertheless, he's the horse to beat at an unappealing price.
Authentic 8-1
Trainer: Bob Baffert    Jockey: John Velazquez
Has won 4 of 5 lifetime including beating Honor A.P. in the San Felipe. He then suffered his only loss to Honor A.P. in the Santa Anita Derby going 9 furlongs. You could say he didn't break sharply and was on top of the pace 3-wide throughout. Last time in the Haskell he was left alone on the lead to set a moderate pace, appeared to be home free until he stopped running and was almost caught late by NY Traffic. You can make the argument his two worst performances came at 9 furlongs and don't think 10 furlongs will be his friend. He also feels like a need the lead type and while he might get to the lead, he'll have to work harder to do so from the outermost post thus I'm against.
Selections:
16 Honor A.P. (5-1 ML)

17 Tiz the Law (3/5 ML)

2 Max Player (30-1 ML)

7 Money Moves (30-1 ML)