Florida State vs Miami Pick – Week 4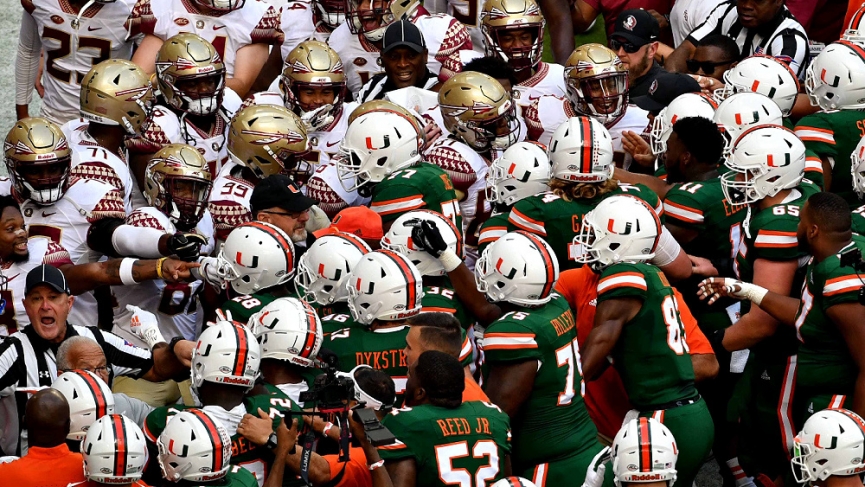 Odds.com's Florida State vs Miami Pick for Week 4 of College Football: The underdog (15-3, last 18) and the road team (12-2, last 14) are both on a +80% ATS run in this series. While the Seminoles hold a 6-1 ATS record in their last seven games in Miami. It's a bitter inner-state rivalry, and the Hurricanes and Seminoles are chomping at the bit to write another page in this storied rivalry on Saturday. 

| | | |
| --- | --- | --- |
| College Football Betting | Florida State | Miami-Florida |
| Best ATS Line | +12.5 (-113) | -11 (-110) |
| Total | Over 53.5 (-110) | Under 54 (-115) |
| Where/When | Hard Rock Stadium | Sep. 26, 7:30 PM EST |
This is one of the great intra-state football rivalries in the nation that in many seasons has determined which team moves on to contend for the National Championship. The Miami Hurricanes are favored by 11 points, and nothing but a win over a highly suspect Florida State Seminoles team is needed this season.
One of the Best Rivalries
Since 1982, the head-to-head numbers show the Hurricanes own a 22-19 straight-up and 22-19 against-the-spread (ATS) record in 41 previous meetings. Only three games before this one have seen the Hurricanes favored by double-digits. In Week 6 of the 2018 season, the Hurricanes escaped with a 28-27 home win and failed to cover the spread installed as 12.5-point favorites. In Week 8 of the 2002 season, the Hurricanes hung on for a 28-27 win but failed to cover the spread as 13-point home favorites. Last, in Week 10 of the 1996 season, the Hurricanes dominated the Seminoles in a 41-23 home win and covered the spread as 13.5-point favorites.
The Seminoles have been double-digit favorites on seven separate occasions and have won all seven games, but just 4-3 ATS.  In 1993 the Seminoles led by Heisman winner Charlie Ward defeated the Hurricanes 28-10 and covered the spread as 14-point favorites. The 1993 Seminoles went on to win the National Championship.
The Supporting Betting Systems
This betting system has earned a losing 45-153 record for 23% SU wins and 117-75-6 ATS mark good for 61% winners over the past 15 seasons. The requirements for an active opportunity are to bet on unranked road teams facing a conference foe and installed as a 3.5 or greater underdog and facing a ranked team between game numbers 2 and 5 of the regular seasons.
Now, let us drill down through this data to determine a sub-set that has posted better results. Applying the data to only show games played in the ACC Conference produces a 5-18 SU record for 22% wins and a 15-8 ATS mark good for 65% winning bets since 2005.
One more drill down produces a subset that has earned a 7-12 SU record for 37% wins and a jaw-dropping 16-3 ATS mark good for 84% when the team (Seminoles) is coming off a road game installed as a favorite.
69% ATS Tough Loss Betting System
This NCAA Football betting system has produced a 24-11 ATS mark good for 69% winning bets over the last five seasons. The parameters needed to be met are betting on any team that is off a tough home loss of three or fewer points during the month of September. Moreover, if the team (Seminoles) is coming off a home loss installed as a favorite the record soars to 13-10 SU for 57% wins and 16-7 ATS for 70% winning bets since 2015.
Florida State vs Miami Pick:
The Hurricanes are coming off a terrific 47-34 win over the Louisville Cardinals in which the Hurricanes graduate transfer QB D'Eriq King completed 18 of 30 pass attempts for 325 yards and three touchdowns. The Hurricanes are a solid 5-1 ATS coming off a game throwing for 300 or more passing yards and rushing for at least 150 yards.
However, the news is not all good given that the Hurricane defense was dominated in allowing 209 rushing yards and 309 passing yards. Hurricanes are a terrible 1-7 ATS for 11% winning bets following a game in which their defense allowed a minimum of 180 rushing yards and 250 passing yards.
The machine learning models project that the Seminoles will gain 8.5 or more yards-per-play and will score 28 or more points. In past games in which the Seminoles met or exceeded these performance measures, they have gone on to earn an outstanding 12-0 SU record and a 9-3 ATS mark for 75% winning bets and covering the spread by an average of 11 points.
Bet the Florida State Seminoles and split the wager into two parts with 60% of your normal bet size on the line and 40% bet using the money line. I realize this is a very bold call to make, but I do believe the Seminoles will win the game!
The best current price on Florida State ATS is at +12 (-110) via DraftKings, while the best price on Florida State on the ML is also at DraftKings at +400