College Basketball Odds for San Diego State to Win Championship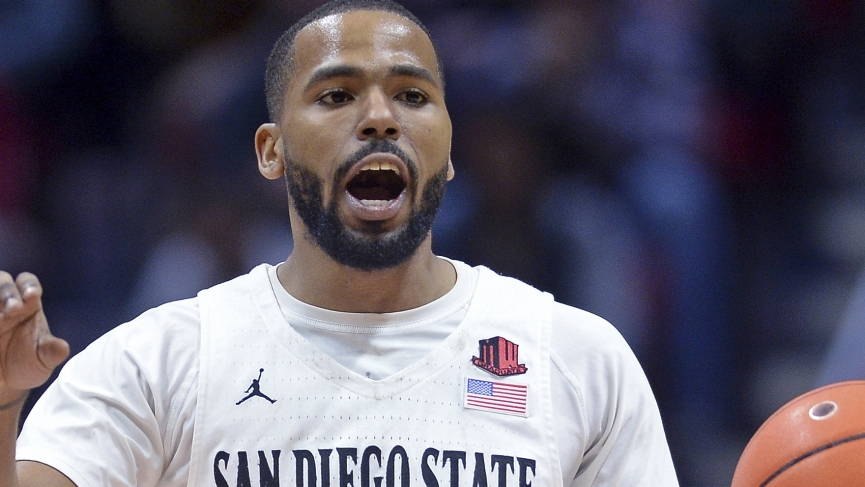 2019-20 Record: 30-2, Mtn. West regular season champs
College Basketball Odds to Win 2021 National Title: 30/1 (+3000) at FanDuel
Close, so close. Another eight points and San Diego State would have finished the 2019-20 campaign with a perfect 32-0 record. And just as abruptly as their outstanding shot at an NCAA Championship came to an end, the Aztecs' chances to return as a force on the college hardwood appear finished before they even lace up the sneakers.
Seemingly sealing their fate was the mid-April announcement by Malachi Flynn that he would enter the NBA Draft. Flynn isn't just testing the waters with a chance to return for his senior season, he's done. With his departure to pro hoops, most projections making him a pick in the first half of the second round, so go the hopes for the Aztecs.
Brian Dutcher's squad is still getting some respect on college basketball futures odds boards, the Aztecs coming in as a 30/1 pick to win it all next April in Indianapolis. That price puts SDSU in the top 25 on the board, but the respect is mostly based on what the team did this past season as many early-preseason top 25 rankings don't include the Aztecs.
Flynn's Absence Will Have Trickle-Down Effect
As big a role as Luka Garza played down low for Iowa, Flynn was every bit as dominant for San Diego State out on the perimeter. Only Flynn didn't have as strong of a support team around him as Garza did with the Hawkeyes. In fact, Flynn was a one-man show in the Aztecs' 83-73 win over Iowa in a November game, rallying his team from 16-down with 28 second-half points while Garza was held in single digits for the only time in 31 games last season.
Flynn – along with his 17.6 scoring clip, 4½ boards, and 5+ assists per game – isn't the only departure Dutcher has to work around. The Aztecs are also going to be without 6-10 Yanni Wetzell on the inside and KJ Feagin in the backcourt, both running out of eligibility. Feagin's exit especially hurts, since the 6-1 guard was the only other real option besides Flynn at point.
Hoping to at least apply a tourniquet to the bleeding, Dutcher coaxed Terrell Gomez to transfer in from Cal State Northridge. Gomez is eligible immediately as a grad transfer, and if the adage about dynamite coming in small packages is true, San Diego State may have caught lightning in a bottle. Gomez stands just 5-foot-9, though he puts up much taller numbers. He averaged nearly 20 a game for the Matadors this past year, and among shooters to put up 100+ tries from beyond the arc, Gomez shot 44% to rank 18th nationally. He's more of a shooter than a passer but might have to play floor director with the Aztecs.
Mitchell's Return Also Up In The Air
Dutcher is crossing his fingers that Matt Mitchell pulls his name out of the NBA Draft portal to return for his senior season at San Diego State. The 6-6 small forward made nice strides all around, finishing second on the team averaging 12.2 PPG, and was a key part of a defense that ranked among the best in the country.
Mitchell would team with Nathan Mensah to give the Aztecs a nice tandem in the frontcourt. The 6-10 Mensah missed the second half due to a blood clot in his lung but was close to returning when the season was halted. Add in Jordan Schaekel, a very capable wing, and it gives Dutcher three experienced players to team with the incoming mighty mite Gomez.
Some depth in the backcourt could come from recruits Lamont Butler, Jr. and Keith Dinwiddie, both California products.  Butler might even help on the point eventually once he adjusts to the college game. Che Evans, a 6-6 forward from Maryland where he was rated the 9th-best player in the state, would be potential insurance if Mitchell does leave.
Aztecs Odds to Win Tournament is a Longshot
Critics point to San Diego State's weak Mountain West schedule playing a major part in the 30-2 record, and that does hold some water. But in addition to beating the Hawkeyes, who finished 25th in the AP, the Aztecs also took down BYU and Creighton, those two finishing 18th and 7th, respectively.
San Diego State covered all three games, as well, and ended up beating the college basketball odds in 19 of 31 lined contests. The only two losses were each by three points, at home to UNLV late in the regular season to end the 26-game win streak, and to Utah State in the MWC Championship matchup.
Dutcher and his gang are scheduled to spend the Christmas holiday in Honolulu at the Diamond Head Classic. Arizona State, Temple, Oklahoma, and Saint Mary's are the other top teams taking part, along with host Hawaii plus Seattle and Western Michigan.
Let's face it, as disappointing as the cancellation of March Madness was for the Aztecs, they were going to lose Flynn to the NBA Draft anyway. San Diego State will compete for the MWC crown again, but college basketball odds to win the NCAA Tournament? Nah, ain't happening.