Hawkeyes Pick to Win The NCAA Championship Have Fans Keeping The Faith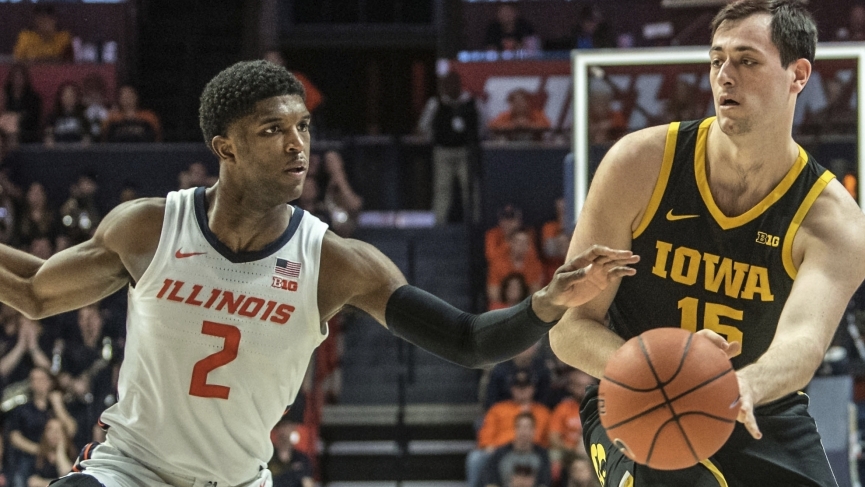 2019-20 Record: 20-11, 5th in Big Ten
Odds to Win 2021 National Title: 15/1 (+1500) at DraftKings
No team is holding its breath more right now than the Iowa Hawkeyes. Fran McCaffery's team is coming off a 20-win season, finished in the top 25 of both conventional polls, and was headed towards the NCAA Tournament somewhere in the 5-7 seed range. As good as it was, it's the promise next season holds that has Iowa fans sitting on the edges of their seats.
'If Luka Garza returns' might be the most frequently-used four words in not only previews for the Hawkeyes, but in Big Ten and national forecasts as well. No slight to Dayton's Obi Toppin as the Wooden Award winner, but many felt Garza was the top player in the country last season, and the 7-footer would be the preseason Player of the Year this time to give Iowa its best chance at a Big Ten regular season title since 1979.
That is if he returns. Garza tossed his name into NBA Draft consideration as a maybe. The majority opinion is he comes back to Iowa City for his senior season, and that has DraftKings listing the Hawkeyes on a 15/1 price to cut down the nets next April in Indianapolis for the school's first National Championship.
Hawkeyes Could Lose Both Key Big Men
Garza topped the Hawkeyes in scoring (23.9) and rebounding (9.8) last season, hitting over 54% of his field goal tries to help the Hawkeyes rank as one of the top offenses in the country. Not only were they among the most efficient teams on the offensive end, the Hawkeyes were proficient at the window by covering the college basketball odds in 20 of their 31 tilts.
Iowa's big man nearly doubled his offensive output from the previous two seasons combined, thanks in large part to adding another 10-12 minutes of floor time during his junior campaign. But while he might rank as the top returning player in the college ranks, if that's the way he goes, he is not seen as being a pick in the first two rounds of the NBA Draft. That's why the consensus is he will be back to try and raise his own stock along with lifting Iowa's chances.
If Garza does leave, the Hawkeyes are losing about 14 feet of personnel in the post. Ryan Kriener, a 6-10 in-state product, departs Iowa after four productive years, finishing up with 7.7 PPG and more than four boards a night during his senior season. Those are two big bodies that McCaffery would be forced to do without.
Deep & Talented Roster Awaits To Surround Garza
The good news is should both Garza and Kriener leave, that would be the only pains for McCaffery to suffer. And even better news is the Hawkeyes have a ton of talent to build around without Garza. Again, however, they are awaiting a decision, this time by the NCAA.
That decision revolves around whether or not Jordan Bohanon will be granted an extra year of eligibility after the senior appeared in just 10 games before needing hip surgery. Bohanon owns the school record for most career 3-pointers, establishing that mark during his junior season, and getting him back gives the Hawkeyes a strong backcourt.
Bohanon would be joined by CJ Frederick and the coach's son, Connor McCaffery, out on the perimeter. That trio combined for about 25 points a game when they were all in the lineup, adding about 10 assists to the stats sheet. There's also 6-6 wingman Joe Wieskamp who was second on the team in scoring (14.0) and rebounding (6.1) as a sophomore.
While the Hawkeyes may not have landed any of the 4- or 5-star recruits, they are bringing in talent. Looking to crack that backcourt for minutes are Ahron Ulis, a 6-foot point guard out of Chicago, and Tony Perkins, a 6-4 guard from Indianapolis who ranked as one of the top players in Indiana this past season. At the risk of sounding like a broken record, Iowa once again is waiting for another commit, 6-10 center Josh Ogundele, to officially sign with the school.
Can Hawkeyes Find Early Tournament To Squeeze Into?
While all schedules are up in the air, Iowa's is even a bigger mystery as the Hawkeyes aren't currently included in any of the early-season tournaments. They beat then-No. 12 Texas Tech as 7-point underdogs at the Las Vegas Invitational last November before falling to a strong San Diego State team in the championship game. A year earlier, Iowa knocked off ranked Oregon and UConn to take the 2K Classic at Madison Square Garden.
The Hawkeyes will host rival Iowa State of the Big 12 after beating the Cyclones in Ames for the first time in eight tries last season. The Big Ten moved to a 20-game conference slate a couple of years back, and will once again take part in the challenge with the ACC.
Without a schedule to sink our teeth in, it's tough to really bite down on anything other than Iowa holds a lot of promise in 2020-21. The safest bet right now is that +1500 price at DraftKings is going to move one way or another once Garza makes up his mind.