Betting Creighton to Win Championship Pays 15 to 1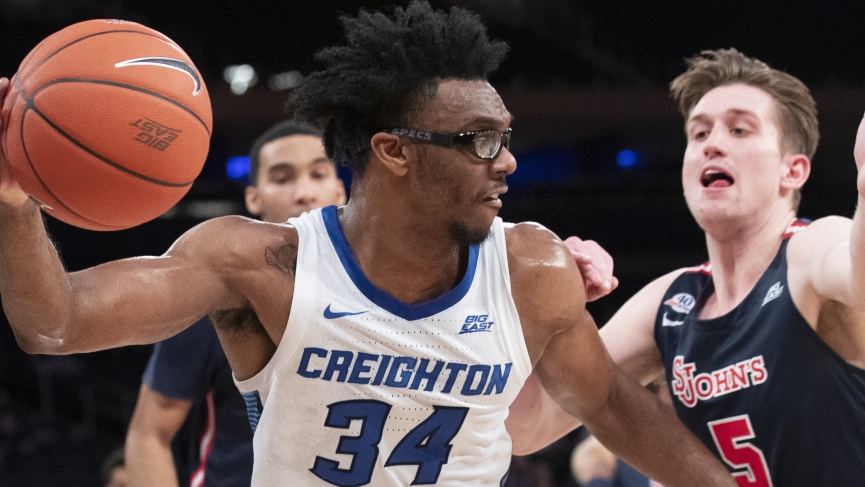 It took them seven seasons, but the Creighton Bluejays can finally call themselves Big East Champions. Greg McDermott now turns his attention to making the program a perennial contender, and by all indications, the Bluejays have a team to not only make noise in the Big East, but nationally as well.
That is if Creighton finds someone to step up for Ty-Shon Alexander, who made his NBA Draft intentions official by hiring an agent. With Alexander, the Bluejays were consistently top 5 in preseason polls, and a college basketball betting favorite to win it all. Without him, Creighton slides to the No. 15-18 in the polls, meaning the ball has to bounce just right to knock Villanova off the top perch in the Big East.
2019-20 Record: 24-7, Big East co-champs
Odds to Win 2021 National Title: 15/1 (+1500) at FanDuel
Alexander's leaving should also eventually affect Creighton's college basketball futures. The Bluejays went out as low as 11/1, and those odds have been growing in the past couple of days as books adjust for Creighton playing without its leading scorer from this past season.
Loss Of Alexander Will Be Tough To Overcome
Granted, they shared the title with Villanova and Seton Hall, but McDermott's men earned the No. 1 seed for the ill-fated conference tourney by virtue of beating the Wildcats and Pirates three out four combined meetings. Alexander scored just under his season average (16.9) in those four games, and McDermott now has his eyes on two other top players who have declared for the NBA Draft with the option of returning to the Hilltop.
Damien Jefferson, fourth on the Bluejays in minutes and fifth in scoring, was the most recent to throw his name out for professional consideration. Denzel Mahoney is also testing the waters after averaging 12.0 PPG. The consensus is both will return, and they have until June 3 to pull back or lose their final years of collegiate eligibility. Marcus Zegarowski and Mitch Ballock are two names we know are returning, meaning McDermott's backcourt remains in good hands on both ends of the floor. The tandem proved to be Creighton's most accurate shooters from 3-point range in addition to the top passers. They will be joined by Christian Bishop, a 6-7 forward entering his junior year, and Shereef Mitchell, the 27th-rated point guard from the 2019 class.
Make no mistake, however, about how tough it will be for McDermott to replace either Mahoney or Jefferson, much less both. If they return, the Bluejays would have their five best scorers and top rebounders behind Alexander.
Incoming Help For 2020-21 Could Be Lacking
The NCAA is considering adopting a 1-time waiver to the transfer rule that would allow players to transfer to new schools as non-grads without sitting for a season. There was some hope that might be adopted for next season, but the issue appears dead in the water now. It would've helped Creighton after junior Alex O'Connell made the decision to leave Duke and join the Bluejays. A former top-75 recruit from the Class of 2017, O'Connell would provide backcourt depth after playing in the ACC the past three seasons, but will likely sit a year.
Ryan Kalkbrenner is a 6-11 center from St. Louis with outstanding rebounding and shot-blocking ability but has very little game away from the basket. That could change with a little seasoning, but he may not be much help this season. A late addition to Creighton's incoming class is Modestas Kancleris, a 6-9 forward from Lithuania. Kancleris has proven himself playing at high levels along the way in Europe, but it remains to be seen how quickly he can adapt to the college level, especially in the tough Big East.
Big East Welcomes UConn Back Into the Fold
The conference will be even tougher this season with the UConn Huskies returning from whence they came. Dan Hurley brings a talented team into the league that is bound to affect the college basketball odds, and you know they want to make a giant splash in their return to the Big East. Just how the conference works out scheduling with 11 teams remains to be seen; there has been some talk the league could eventually move to a 20-game league slate, just not this year.
Of course, all schedules are mysteries now, though we do know a few tidbits about the Bluejays' upcoming fixture. Creighton will take part in the Gavitt Games – Big East vs. Big Ten – again after dropping a 79-69 decision at Michigan last November when the Wolverines were favored on a 5½-point spread. The Bluejays will serve as hosts for their matchup in the event, which could be against Wisconsin or Iowa.
Creighton will reportedly play Kansas in the 2020 Big East-Big 12 Battle, the second installment of that challenge. The Bluejays are also in the Battle 4 Atlantis field, Duke and West Virginia topping that 8-team field. It all adds up to a potentially tough slate for the 'Jays.
They closed strong last year by covering the college basketball odds in 11 of their final 13 games, one reason the Bluejays were projected to be a No. 2 seed at March Madness. The absence of Alexander really hurts Creighton's chances this time, especially with the schedule, and those 15/1 odds at FanDuel are best left alone.