Roy Jones Jr Odds to Beat Mike Tyson Climbing for Saturday's Lockdown Knockdown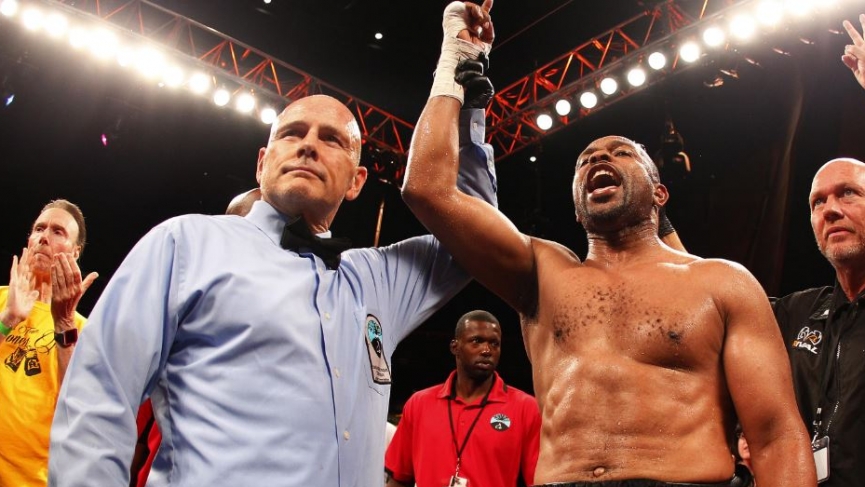 Roy Jones Jr Odds to Beat Mike Tyson Are Climbing: On November 28, live at the Staples Center in Los Angeles, California, boxing legend Mike Tyson makes his return to the ring when he takes on fellow great Roy Jones Jr.
At the ripe age of 54, 'Iron' Mike Tyson is coming out of retirement and fighting for the first time in 15 years while the 51-year-old Roy Jones Jr. is coming off of a two-year layoff. The fight has generated all sorts of opinions, both positive and negative, but regardless, it promises to be an all-star event.
Match-UP
Mike Tyson
Roy  Jones jr.
To Win Outright
-225
+162
Total
Over 7.5 Rounds (+120)
Under 7.5 Rounds (-150)
Where/When
Staples Center, Los Angeles
Sat. Nov 28th, 10 PM ET
The Tyson vs. Jones Jr. bout will be a target for sports bettors this weekend, and there promises to be a massive handle on this big event. Last week, we covered several props to bet on in this fight.  In today's piece, I make my pick for the Mike Tyson vs. Roy Jones Jr. exhibition match. Right now, the odds see Tyson at -200 to win outright, and at around -160 to win 'Inside the Distance', while Roy Jones Jr. is lined at around +170, and +300 to win 'by Decision'. The betting total in this fight is lined at 7.5 rounds, with the 'Over' sitting on the plus side at +120, the 'Under' coming back at -150. After debating the merits of both men in a fight that I feel could go either way, I ultimately side with the plus-money dog with Jones Jr. Here are three reasons why I'm backing Jones Jr. to beat Mike Tyson.
Tyson vs Jones Jr Prop Bets
Best prop bets
Tyson
Jones Jr.
To Win Inside the Distance
-160
+450
To Win by Decision
+400
+300
To Win in Round 1
+850
+4500
Fight Goes Distance
Yes: +162
No: -227
Fight Will End in Draw
Yes: +1150
No: -600
Roy Jones Jr. Is The Younger Man
Tyson enters this fight at age 54 while Jones Jr. is 51. When the skill is similar, the younger fighter almost always has an advantage in the fight game. Even though it's just a three-year age gap on paper, a three-year age advantage still favors Jones Jr. Looking at these guys on their Instagrams; both men appear to be in fantastic shape for this fight. Tyson looks like he's never stepped a foot out of the gym while Jones Jr. always shows up in excellent condition. But just because they look good in photos and videos doesn't mean it will translate to a live fight. Even in a fight with 50-year-olds, I still feel that Jones Jr. having that slight age advantage favors him.
View this post on Instagram
Mike Tyson Hasn't Won A Fight In 17 Years
'Iron' Mike Tyson hasn't fought since 2005 when he lost a referee technical decision to Kevin McBride, and he hasn't won a fight since a 2003 KO win over Clifford Etienne. That's a really long time. To put it in perspective, the No. 1 boxer on the planet right now, Canelo Alvarez, didn't make his pro boxing debut until three months after Tyson's last boxing fight. In the fight game, a long layoff is never a positive, and in general, you want to bet against fighters coming off of long layoffs. Well, it doesn't get any longer than 15 years.
Conversely, Jones Jr. has been incredibly active, even well into his 40s. Since Tyson's last fight in 2005, Jones Jr. has gone 17-6 in boxing matches. In fact, Jones Jr. is currently riding a four-fight win streak, and he has won 12 of his last 13 fights. Jones Jr. hasn't fought since February 2018, but that's still a much shorter layoff than Tyson's. Just based on sheer activity alone, you have to give Jones Jr. the upper hand in this bout.
Roy Jones Jr. Has The Superior Cardio
In an exhibition fight with special rules, this is a fight that very well could go the distance. The bout is only set for eight rounds and the rounds are only two minutes each, so despite both guys being in their 50s, there is definitely a chance this fight could go the distance. If that's the case, then I like Jones Jr. in this spot. Tyson is a super-explosive KO artist as evidenced by his 44 knockout wins, but he has won just five decisions in his entire career. Jones Jr., meanwhile, has gone the distance 22 times in his career, going 19-3 in those bouts. In general, Tyson will be the more dangerous boxer early on in the fight, but the longer the fight goes the more I favor Jones Jr. to win on points. I think Tyson could show ring rust and the fact that Jones Jr. has actually been active in recent years should be enough to give him the edge in the conditioning, as well.
Overall I think this is a really interesting fight. Even though they are both in their 50s, anytime you get to see two legends of the sport go at it you have to be intrigued. Although I can see Tyson's clear path to victory with his power ultimately winning out, as I showed above, there are several advantages for Jones Jr. in this fight. In a fight that I view as a Pick 'em in my head, I have to go with the +170 underdog odds on Jones Jr. to pick up the upset win. As for the prop bets on the fight, I'm looking at Jones Jr. wins a decision at +300.
FAQ: Lockdown Knockdown - Tyson vs Jones Jr.
Where can I bet on Tyson vs Roy Jones Jr
All of the legal sites in your state can be found here. If you are unsure of the regulations in your state, check out our Sports Gambling Bill Tracker.
What Are the Best Odds on Mike Tyson To Win?
As of Monday Afternoon, the best odds available on Mike Tyson to win outright are at -189 via WilliamHill 
---
The latest betting news and odds for combat sports, including boxing and the UFC can always be found at Odds.com