Vegas Golden Knights vs Dallas Stars Pick – Game 3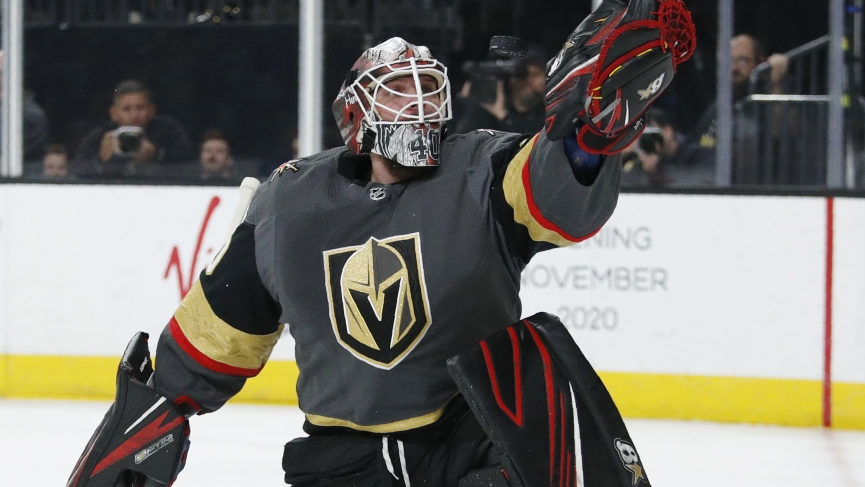 | | | |
| --- | --- | --- |
| NHL Betting | Dallas Stars | Vegas Golden Knights |
| ML | +155 | -167 |
| Total | Over 5.5 (+115) | Under 5.5 (-133) |
| Where/When | Rogers Arena – Edmonton | 8 PM EST |
Our Vegas Golden Knights vs Dallas Stars Pick for Game 3 of the WCF is counting on both teams continuing to play a tight and defensive style of hockey.

The Drought Is Over
The Knights will look to take the lead in the series vs Dallas tonight, and based on the NHL Odds, they're the favorite to do so. The Knights went into Game 2 being held to just 4 goals in those 4 games combined. Not to mention that 2 of those 4 goals by Vegas, were empty-net goals scored in their Game 7 victory against Vancouver. Not a single forward for the Golden Knights has scored a goal in their last four games. Just as long as you toss out the empty net goals scored in Game 7. Both of the Vegas goals since Game 5 against Vancouver came from defenseman Shea Theodore, without a single goal scored by anyone else on the roster.
Knights Lacking Signature Offense
The Knights picked up a 3-0 shutout victory over the Dallas Stars in game 2, tieing the series at one game apiece. It wasn't exactly an offensive outburst by the Knights in game 2. Especially for a top 10 offensive team in the NHL. As well as a team that scored on average over 3 goals per game in the 71 games in the regular season. None the less, Vegas managed to get back to making some plays and finding the back of the net three times once again.
Paul Stastny, William Karlsson, and Tomas Nosek were the goalscorers for Vegas, marking the first game that a Vegas forward scored a non-empty net goal since all the way back in game 4 of the second round. It was a welcome sight for the Knights, and the three goals scored within a 10-minute span during the 2nd Period also managed to chase Dallas Stars goaltender Anton Khudobin from the game, as he was replaced with current backup netminder Jake Oettinger.
Stars Struck
Dallas mustered just 24 shots on goal in the Game 2, loss, and not many of those resulted in high quality scoring chances. The Vegas defense continues to get better and stronger with each passing game throughout the Stanley Cup Playoffs. The Golden Knights have allowed a grand total of 7 goals in their last 5 games combined and they have surrendered only one goal coming from Dallas Stars defenseman John Klingberg in the first two games of this Western Conference Final.
The Stars have played better at the defensive end of the ice in this series, after playing a very wide open, fast-paced, up and down style of hockey in their first playoff series wins against Calgary and Colorado. In both series, the Stars played very uncharacteristically compared to how they've played much of the regular season. However, they've gotten back to a more defensive focused brand of hockey in this series.
Missing Person request for a pair of Dallas Stars forwards
It's time for the Dallas Stars to start demanding more from two of their top forwards. I'm speaking of Jamie Benn and Tyler Seguin. The Stars survived the first two rounds in spite of inconsistent production from both, but they will not survive against this deeper and more talented Golden Knights squad. Not unless those two start earning their pay, as both Seguin and Benn have struggled in recent games. Jamie Benn is on a four-game streak without a goal. While Tyler Seguin is currently mired in an even worse six-game scoring drought, without a single goal or point during that span. That has to change for Dallas.

The Stars some offense from their blue line and some depth forwards like Joel Kiviranta. While playoff veteran Joe Pavelski has come through for them and gotten himself on the scoresheet a few times himself. However, the Dallas Stars now need arguably their two biggest name players to get on the scoreboard and fast. Otherwise, it is going to be an uphill battle for them, to beat a quality foe like the Vegas Golden Knights. Without some scoring production coming from either Benn or Seguin in this series, the Stars will continue to struggle offensively.

<!–– MetaBet Message: No odds for an upcoming game found for '462714' ––>
Vegas Golden Knights vs Dallas Stars Pick – Game 3
Styles make fights. That's the old saying, and sometimes when you get the same two teams in a playoff series, patterns and trends develop for a reason. We've seen two straight low scoring games to begin this series. Both of them easily staying Under the total. I see no reason for that to change in Game 3. It's worth noting that often when a series starts out as a low scoring series, it stays that way. On the other side of the coin, when a series starts out as a higher scoring series, it too tends to stay that way.
I expect this series to continue its tight-checking, defensive-minded low scoring ways in Game 3. Just as we saw in Game 2. I'm staying off betting either side in this game. Although, I do like the Under 5.5 goals. The extra bit of rest for Khudobin after getting the hook in Game 2 should also come in handy. As I expect him to be much sharper in net for the Stars. Meanwhile, Robin Lehner in goal for Vegas continues to play at a very high level. The Under 5.5 is currently sitting at -133 (Best Odds via BetMGM)