Pittsburgh Steelers vs Tennessee Titans Pick – NFL Week 7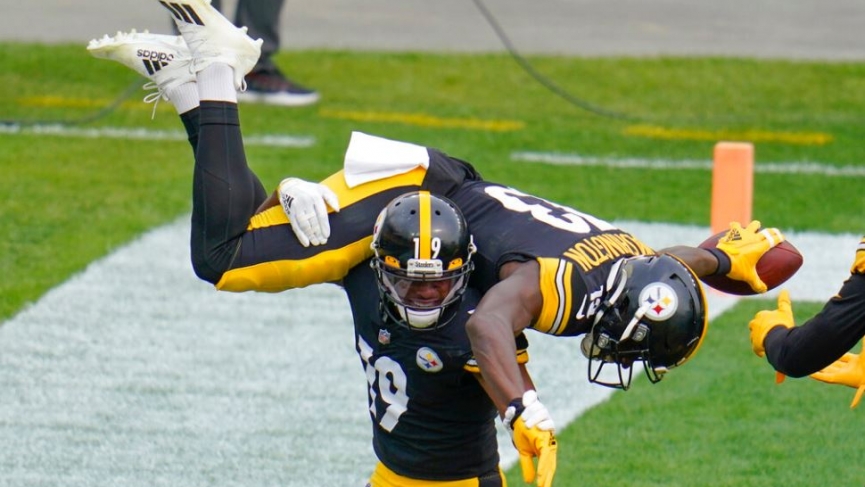 Odds.com's Pittsburgh Steelers vs Tennessee Titans Pick – NFL Week 7: A battle of unbeaten teams between the 5-0 Tennessee Titans and 5-0 Pittsburgh Steelers. Tennessee is just 2-3 ATS record and 4-1 to the 'over.' Pittsburgh is 4-1 ATS and 3-2 to the 'over.' Note their one non-cover was against Denver, a game Pittsburgh controlled throughout leading 17-3 and 26-14 at different points.

| | | |
| --- | --- | --- |
| NFL Betting | Pittsburgh Steelers | Tennessee Titans |
| Opening ATS Line | +1 (-110) | -1 (-110) |
| Total | Over 50.5 (-110) | Under 50.5 (-110) |
| Where/When | Nissan Stadium | Oct 25th, 1:00 PM EST |
Is Tennessee overrated?
Tennessee in their first three contests was favored against Denver, Jacksonville, and Minnesota. They managed to squeeze out 2, 3, and 1 point victories respectively, and in the process failed to cover any of those spreads. The combined record of those three opponents is 4-13.
Tennessee played a delayed game against Buffalo and won 42-16 but the final margin looks much more impressive than the box score. Buffalo and Tennessee had identical yards per play at 5.4 and Buffalo out-yarded Tennessee by 36 yards. Tennessee was able to win convincingly because of three Buffalo turnovers that led to three Tennessee touchdowns which combined, needed 46 yards of offense. Last week against 1-5 Houston, Tennessee needed a touchdown in the final seconds just to force overtime where they would eventually win and cover.
Tennessee Rush Offense vs Pittsburgh defense
Offensively, Tennessee is led by running back Derrick Henry who has had three 100-yard rushing games this year including 212 rushing yards and 2 touchdowns against Houston last week. Tennessee has shown a commitment to running the football as Henry leads the league in rushing attempts, yards and is tied for first in rushing first downs gained. Note he leads the league in these categories despite only playing five games as Tennessee has already had their bye, unlike most teams. Part of Henry's stellar performance last week did come because he was facing Houston's atrocious run defense which ranks last in the NFL in yards per rush attempt allowing 5.4 yards.
Pittsburgh defensively represents a step up in class for Tennessee as they are allowing just 3.3 yards per rush attempt ranking second in the NFL. Last week, against a top-five rushing attack in Cleveland, Pittsburgh allowed just 3.4 yards per carry over 22 Cleveland rushing attempts thus they should be up for this challenge.
Tennessee Passing game vs Pittsburgh defense
In the passing game, through five games, Tennessee has had five different receivers lead them in receiving yards. The ability to spread the ball around makes it difficult for defenses to focus on stopping a particular player. Tennessee might have success attacking the middle of the field as top Pittsburgh linebacker Devin Bush was injured and lost for the season during last week's game.
Tennessee however also has injury concerns as left tackle Taylor Lewan was injured in the third quarter of their game last week and is out for the year. His injury is problematic against a ferocious Pittsburgh pass-rush that ranks 1st in the NFL in sacks per game at 4.8 sacks. Note that is 1.1 sacks more than the second-best team.
In their past four games, Tennessee has faced four bottom 10 pass defenses in terms of opponents yards per pass attempt. Statistically, Pittsburgh ranks 9th in opponents yards per pass attempt allowing 6.4 yards per attempt. The only defense Tennessee has faced that has a ranking similar to Pittsburgh is Denver who ranks 8th in that category allowing 6.2 yards per attempt. In the Denver game, Tennessee quarterback Ryan Tannehill only averaged 5.8 yards per attempt which is easily a season low and 1.2 yards per attempt worse than his second-lowest output.
Pittsburgh offense
Pittsburgh offensively has plenty of skill-position talent that quarterback Ben Roethlisberger, who missed the majority of last season with an injury, is just starting to build a rapport with. Similarly to Tennessee, Pittsburgh has had four different receivers in five games lead them in receiving yards. This includes free-agent acquisition tight end Eric Ebron and rookie sensation Chase Claypool who had a four-touchdown game against Philadelphia two weeks ago and is the only Steeler to lead them in receiving in more than one game this year. Diontae Johnson who led Pittsburgh in receiving in week two against Denver missed last week's game with an injury but practiced fully on Wednesday and is expected to return this week. The Pittsburgh passing offense should have success against a Tennessee defense that ranks 22nd in opponent yards per pass attempt.
Pittsburgh has been able to run the football successfully in most of their games this year having a 100-yard rusher in four of their five contests. That should continue against Tennessee who has been terrible at stopping the run ranking 30th in the NFL allowing 5 yards per rush attempt. Pittsburgh starting guard David DeCastro who missed last week's game with an injury was a limited participant in practice on Wednesday and could play which would add a boost to their offensive line.
Pittsburgh Steelers vs Tennessee Titans Pick
The best current price on the Steelers moneyline is at +104 via FanDuel: Tennessee has struggled to put away mediocre opponents and have benefited from facing mediocre defenses recently. Pittsburgh is a step up in defensive class and might be able to control the game with their rushing offense against a mediocre Tennessee run defense. Note that Tennessee played their week five game on a Tuesday and their game last week went into overtime thus they have played a lot of football recently. Their defense over the past couple of weeks has been on the field for 64:04 minutes. Pittsburgh meanwhile has had a regular NFL Sunday schedule and over the past two weeks, their defense has only been on the field for 51:11 minutes, nearly 13 minutes less than Tennessee. Take Pittsburgh money line.