Houston Texans vs Kansas Chiefs Prediction – NFL Week 1 pick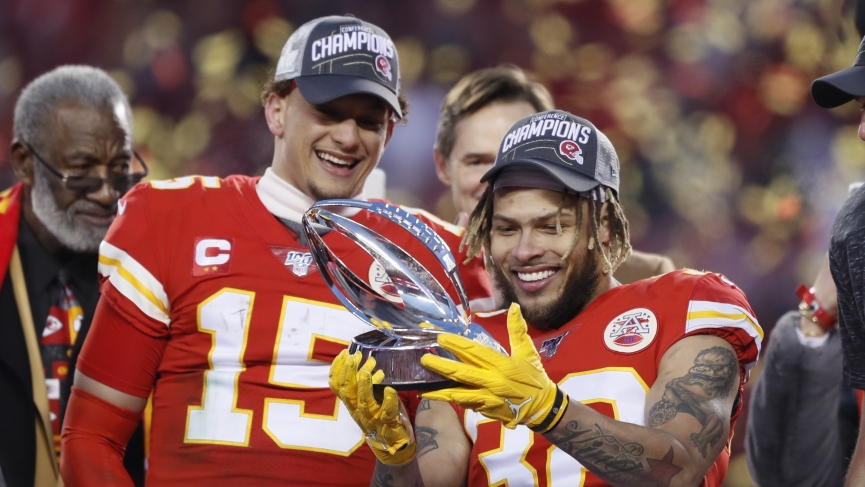 | | | |
| --- | --- | --- |
| NFL Betting | Houston Texans | Kansas City Chiefs |
| Odds | +9.5 | -9.5 |
| Total | Over 53.5(-115) | Under 53.5 (-105) |
| Where/When | Arrowhead Stadium | 8:20 PM EST |
Our NFL betting season starts with a Houston Texans vs Kansas Chiefs prediction. This Thursday. the defending Super Bowl 54 Champion Chiefs hosts the AFC South Divisional Champion Houston Texans. This is also a rematch of last year's Chiefs 51-31 win over the Texans in the Divisional Round of the playoffs. In that game, the Chiefs were installed as 10-point home favorites and the game total line was 51 points. In Week 1, the Chiefs are favored by an identical 10-point betting line and the total has crept up to 55 points.
Do Defending Super Bowl Champs have a Celebration Hangover in Week 1?
No, all defending Super Bowl Champions have started the following season with a home game. There have been 16 SB Champions, who have started the season with a home celebration and are 14-2 straight-up (SU), 11-4-1 against-the-spread (ATS), and near-even 7-8-1 'OVER' record. Since 2002, this is the first time that a reigning Champion has been installed as a double-digit favorite. Reigning Champions installed as favorites are 12-2 SU, 9-4-1 ATS, and 8-6 'UNDER' in Week 1 and when favored by four or more points sport an impressive 9-1 SU record, 7-2-1 ATS for 78% winning bets, and 6-4 tilt to the 'UNDER'. So, no hangover whatsoever for the home fed reigning Champions.
The news remains positive for the reigning champions as they sport a 12-2 SU record, 9-4-1 ATS, and 7-6-1' UNDER' record when facing a playoff team from last season in Week 1. Opponents in Week 1 that were a previous season playoff team and facing a reigning Champion that is not in their division are a money-burning 2-14 SU, 4-11-1 ATS for 27% winning bets, and an 8-7-1 'OVER' record in Week 1.
Can the Chiefs Offense Match the 2019 Season?
This offense is unstoppable when Reid's play-calling is clicking with these offensive sets. The Chiefs ranked 5th averaging 28.2 points-per-game with 30 receiving touchdowns, 16 rushing touchdowns, and 1 kickoff return for a touchdown. They led the NFL making 34 field goal attempts on 38 tries and reflects the Chiefs struggles at times in the red zone. In their games, the Chiefs just knew that putting points on the scoreboard despite failed red-zone conversions, was the recipe to win games. The Chiefs will average more points-per-game this season just by cutting down their field goal attempts in the red zone to 25.
NFL Drive Averages in 2019
The Chiefs ranked second in the NFL scoring on 49.4% of all drives and averaging 2.62 points-per-drive with the Baltimore Ravens ranking first and scoring points on 52% of their drives and averaging 2.62 points-per-drive. The Chiefs ranked fourth-best in the NFL taking care of the football and had a turnover on only 8% of their drives.
Can the Houston Texans Defense Stop the Chiefs Offense?
The Chiefs offense is designed to maximize yards-after-the-catch (YAC) much ion the way the San Francisco 49ers West Coast offense was designed and the same West Coast scheme Reid ran while the head coach of the Philadelphia Eagles. The number one Texans defensive weakness was ranking 30th in the NFL allowing 2,067 YAC.
So, double-digit favorites that have averaged at least 11 yards-per-completion spanning their last eight games and facing an opponent, who made the playoffs last season and allowed at least 375 points in their previous season are a solid 72-54-2 ATS for 57% winning bets and 116-12 SU for 90% wins and winning these games by an average of 15.1 points-per-game. Last, if this game takes place on a Thursday night, the double-digit favorites are 6-0 SU winning by an average of 16.5 points and 5-0-1 ATS and covering the spread by an average of 7.77 points.
Yards-Per-Drive Has Strong Predictive Value
For this matchup, the Chiefs are projected to average at least 3.1 points-per-drive in this game against the Texans. The Chiefs are 17-5 SU and 17-5 ATS for 78% winning bets when they have met or exceeded a 3.1 points-per-drive ratio in games played over the last three seasons. Further, when installed as a home favorite and averaging a minimum of 3.1 points-per-drive ratio they are a resounding 9-1 SU winning by an average of 16 points and 8-2 ATS for 80% and covering the spread by an average of 11.1 points.
Moreover, the Chiefs are projected to score 27 or more points and outgain the Texans by at least 80 yards. In past games where the Chiefs have met or exceeded these performance measures, they have gone on to earn a 64-3 SU record winning the games by an average of 19.6 points and a 61-4-2 ATS record good for 94% winning bets and covering the spread by an average of 15.8 points.
By knowing these projections, you will find yourself watching the game and monitoring their progress. I also provide situational trends at the end of each quarter that can also serve to provide even more money-making betting opportunities that have proven track records.