Buffalo Bills vs New York Jets Pick – NFL Week 7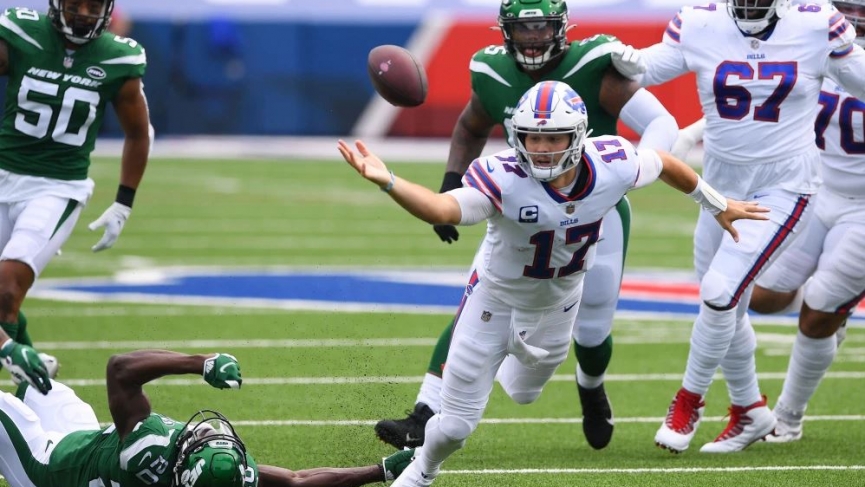 Odds.com's Buffalo Bills vs New York Jets Pick – NFL Week 7: The Jets are 0-6 ATS to start the 2020 NFL season, and are hosting the Buffalo Bills, who are 6-2 ATS in their last 8 as a favorite. 

| | | |
| --- | --- | --- |
| NFL Betting | Buffalo Bills | New York Jets |
| Opening ATS Line | -10 (-110) | +10 (-110) |
| Total | Over 46 (-110) | Under 46 (-110) |
| Where/When | Met-Life Stadium | Oct 25th, 1:00 PM EST |
The Buffalo Bills are taking on the Jets in New York at MetLife Stadium this Sunday. The Bills come into this game in 1st place of the AFC East with a 4-2 record. The Jets come into this game in last place in the same division with a record of 0-6. Now, the Bills enter New York as a -13 favorite on the road in this divisional battle. The Bills have a perfect 2-0 divisional record while the Jets are the opposite at 0-2. The Bills will look to keep rolling on Sunday while the Jets will be desperate to get their first win of the season here, and what an important victory it would be for them.
Racking Up the Bills
The Buffalo Bills are coming into this game riding a 2 game losing streak after winning their first four games of the season. The Bills are 3-3 ATS this season and are 1-2 ATS on the road. Now they are traveling to New York in a divisional game to face the Jets for the second time this season. The Bills' offense is led by quarterback Josh Allen who has made a big impact in running this offense this year. He is averaging 309 passing yards per game with a completion percentage of 67.1% along with 16 touchdowns and 4 interceptions on the year. He also averages 23 rushing yards per game in an offense that is averaging 92.2 rushing yards and 26 points per game. They go up against a Jets defense that is allowing 253.3 passing yards, 125.5 rushing yards, and 30.8 points per game.
The Bills have a lot of talent on this offense such as Allen, Singletary, Diggs, Beasley, and others but, lately, the offense has not been producing. In their last two games, Allen has only thrown for 263 yards in one and 122 in the other. They only rushed for a total of 95 yards and 84 respectively in those games, losing one by 26 points and the other by 9. Now, the Bills are a 13 point favorite when they have not won a single game this year by that many points. There has been a steady downward trend for production on the Bills' offense since week 2 and it's tough to see them risking everything out on the field on Sunday to blow out a last-place Jets team. The Bills are only 1-1 ATS in divisional games this year and will most likely allow yet another back door cover this year.
Turning on the Jets
Six weeks of the NFL has passed by and the Jets are the only winless team left on the board. The Jets are 0-6 ATS this season and 0-3 ATS at home. They are riding a 6 game losing streak and coming off of a divisional game in Miami where they failed to put up a single point. This team is led by quarterback Sam Darnold who missed the last two games to injury but is likely to suit up in this one as the starter. He is averaging 227.3 passing yards per game with a 59.4% completion percentage, 3 touchdowns, and 4 interceptions on the year.
Now, the Jets also have some injuries to their wide receivers Crowder and Perriman. Luckily, this is a team that the Jets can run the ball against. On offense, The Jets are averaging 105.3 rushing yards per game, mainly led by veteran running back Frank Gore. Gore is a reliable player that can power through defenses and find ways to get yards. The Bills on defense are allowing 256.2 passing yards, 131.3 rushing yards, and 28 points per game. This is a defense that has been getting gassed on the ground and the Jets will definitely want to exploit that given all their injuries in the passing game. They know that they won't be able to overpower the Bills on offense so killing the clock and wearing down the defense through the run game will be key for them here.
Buffalo Bills vs New York Jets Pick – NFL Week 7
The best current price on the Jets ATS is at +11 (-110) via BetMGM: This should be one of those scrappy, low-scoring divisional games that stay close most of the game. Neither team is overwhelming on offense so big defensive plays will be key to winning here. The Bills are -13 on the road but, haven't won a game by more than 10 points all year. The Jets, on the other hand, have lost all but 2 of their games by more than that. One of those games they lost by less than 13 was in week 1 against these same Bills where they lost in Buffalo by 10. Now, the Jets will be in their home stadium to take on a Bills team that has struggled in their last few games. Desperation to get a win will be in the air for these Jets on Sunday and they may not get that must-needed win but, they definitely cover the 13 points.