Utah Jazz vs Denver Nuggets Pick – Game 2 August 19, 2020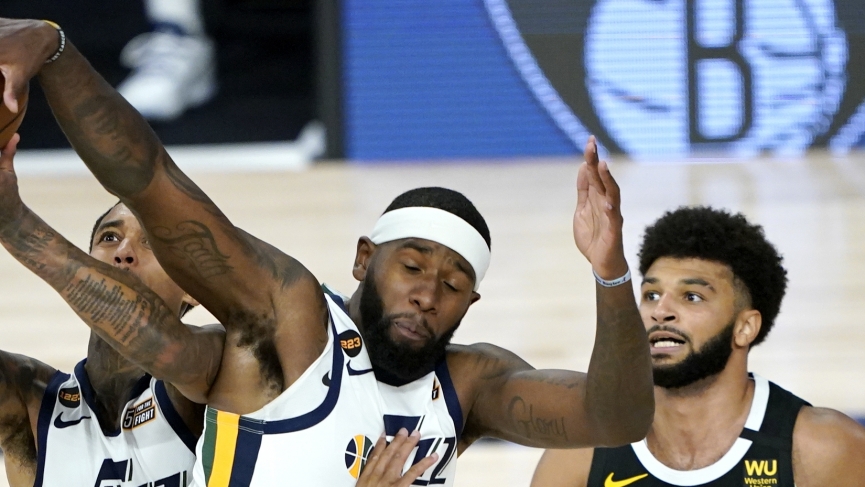 Series: Utah Jazz vs Denver Nuggets Game 2
Time: 4 pm ET on TNT
Odds: +140/-166 Totals +/- 217 at Fanduel Sportsbook
Today's Utah Jazz vs Denver Nuggets pick will be a big matchup in game 2 of the series as we have the #3 seed in the West Denver Nuggets facing the #6 seed Utah Jazz. All of game 1's in the first round are complete and boy did we get entertained. We watched Orlando upset the Bucks on Monday and yesterday we saw Portland upset the Lakers. Which means anyone can win, on any given day. That's why I'm not messing with a side on this game, but I will be attacking this total so let me tell you why.
Utah without Conely means slowing down the pace
We have a 6th seed Utah Jazz team who put a very strong effort in game one against Denver, but they fell just short in OT. Donovan Mitchell put on a show scoring 57 points and shooting 19/33. Utah really missed their point guard Mike Conley. Mike Conley will miss game 2 because he has to self-quarantine before returning to the court since he just returned to the bubble.
Without Conley on the court, Utah is going to have to slow down the pace of this game if they want any chance at beating Denver. Mitchell will still score his normal points, but when they slow the pace down, the amount of shots will lower. On the defensive side, we have Rudy Gobert who didn't have his best showing on game 1 and I expect a mean and more aggressive attempt this game from him.
Their matchup in Game 1 was the earliest game on the schedule. With this game being later in the afternoon, Utah's defense should wake up. Utah ranks 9th in points against per game at 108.8 and I expect a full rebound from Gobert and company.
Nuggets defense will be 'woke' for this game
On the other side of the ball, we have the 3rd seeded Denver Nuggets trying to take an early 2-0 lead to start their first round of the playoffs. Jamal Murray showed off the first game, scoring 36 points in 40 minutes. He shot 13/20, but he really heated up when it really mattered. That was in the 4th quarter and in overtime. He scored 20 points and shot 8-10 down the stretch.
Defensively, Denver didn't play up to par. They let up 125 points at the end of regulation. They rank 11th in defense at points against per game at 109.2. So the 125 was not normal. Like I mentioned above for Utah, this was a very early game for Denver as well. When both of these teams face each other, there is more defense than offense. That's why in their last 28 matchups, the total has gone UNDER in 21 of those games. The defense will be ready for this game and Mitchell will not be putting on another show today.
We also have some RLM (Reverse line movement) for this game and you all know how much I love that factor. This total opened up at 218.5 and has dropped to 217.5 even though the public is hammering the OVER. Well if the public was hammering the over at 218.5, why would vegas lower the line for them to 217.5? It's because Vegas and I are on the same side. In this game, the total is going to stay UNDER. The defense on both sides of the ball is going to step up and we are going to cruise to a nice winner here.
Utah Jazz vs Denver Nuggets key TRENDS for this game
Under is 6-2 in Jazz last 8 Conference Quarterfinals games.
Under is 5-2 in Jazz last 7 road games vs. a team with a home winning % of greater than .600.
Under is 10-4 in Jazz last 14 vs. a team with a winning straight up record.
Under is 12-4 in Nuggets last 16 Wednesday games.
Under is 21-7 in the last 28 meetings.
Under is 16-5 in the last 21 meetings in Denver.
So for this game, RSP is taking the Utah Jazz/Denver Nuggets UNDER 217 at Fanduel Sportsbook