Portland Trail Blazers vs LA Lakers Pick Game 5 NBA Playoffs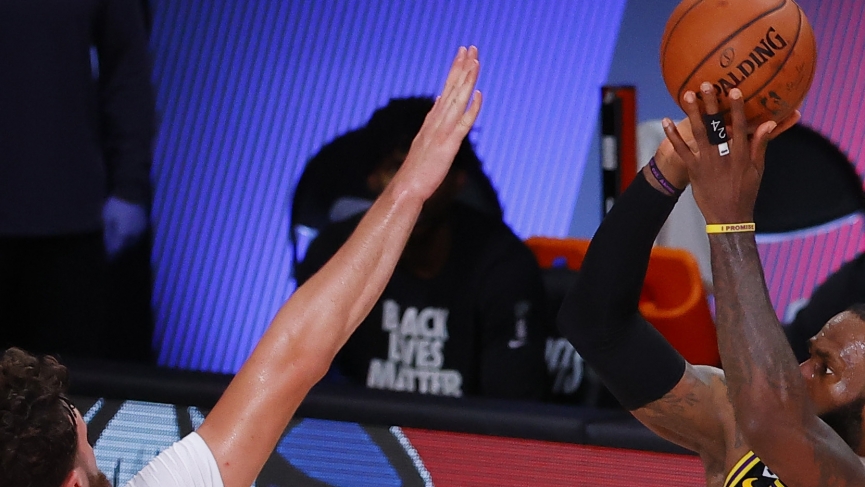 NBA Playoff Series: Portland Trail Blazers vs. Los Angeles Lakers (Game 5)
Date: Sat, August 29, 2020 – 9
Odds: Trailblazers +13.5/-110 Lakers -13.5/-110 | Moneyline +700/-1100 | Total 223
No More "Dame Time"
"Dame Time" has come to an end in Orlando. Damian Lillard left Orlando and the rest of his Blazers team to undergo further examination on a sprained right knee injury suffered in Game 4 of this series. Portland's mountain to climb just got a whole lot steeper as they attempt to stay alive and stave off elimination in Game 5 of this Western Conference Quarterfinal series against the Los Angeles Lakers.
Portland has a bunch of worries if they hope to be competitive and challenge to win this game. First of all, their offense without Lillard understandably becomes a lot easier for the opposition to defend especially a team that plays defense the caliber of the LA Lakers, who was a Top 5 defense in the NBA all season long in the key defensive efficiency category.
The Lakers will be able to focus their attention on C.J. McCollum who continues to give it his all but is seeing his shooting percentages slide a bit as he plays through a fractured disc in his back. This also means more opportunity to guard Carmelo Anthony who has given the Blazers a very good offensive jolt throughout the restart. It's hard to envision a scenario where the Portland Trail Blazers have their 'A' game offensively minus Lillard and against a Lakers squad that has yet to give up more than 115 points to Portland in this series.
It's worth noting this was a Blazers squad that had very little trouble topping 120 points in the majority of their regular-season games prior to making the playoffs as the #8 seed in the Western Conference. The task for Portland to match up against this LA defense just got a whole lot tougher.
Is the Lakers offense fixed?
The biggest source of concern for the LA Lakers throughout the regular season portion of the Orlando restart was their out of sync and disjointed offense. They had a very difficult time finding fluidity and rhythm within their offense early on and it extended into Game 1 of this series which they lost 100-93.
Since then, the Lakers have been able to shoot 132-for-257 which is a blistering 51% from the floor in the last three games of this series combined and the Lakers were a perfect 3-0 SU and ATS in those contests after the Game 1 SU and ATS loss. Portland's focus after the Game 4 loss was trying to shore up a defense that just allowed 135 points in the most recent game and I expect them to really focus on being better defensively in Game 5.
The Lakers offense was spectacular in Game 4 but I wouldn't expect them to shoot 56% from the field as a team again nor do I expect them to connect at 44% from the perimeter as they did in Game 4. Especially given the fact the LA Lakers have not been a strong 3 point shooting team most of the season. The Lakers are just 22nd in the NBA in 3 point shooting percentage averaging 34.8% so they shot 10% better than their season average from the perimeter in Game 4. That tells me the Lakers have pretty much nowhere to go but down from their offensive explosion in the last game especially if the Blazers bring the increased defensive intensity. I expect them to bring that intensity in Game 5 with their season on the line and no Damian Lillard on the floor to carry them offensively.
Portland Trail Blazers vs LA Lakers pick
From a side perspective, the LA Lakers were -6.5 to -7.5 point favorites in the first four games of this series. Now they are -13.5 point chalk in Game 5 with a heavy adjustment being made due to the absence of Damian Lillard for Portland. I'm not interested in backing the LA Lakers at that inflated price. They might win and cover because it's difficult to gauge how much fight is left in this Trail Blazers squad but I don't think this is a spot where I consider it excellent value with the LA Lakers side.
I am focusing more on betting the total in this game. I like this game to be lower scoring than expected. Game 4 was the first game of this Blazers/Lakers series that went Over the total. The first three games all stayed Under the total. Game 4 went over the total because of a very uncharacteristic LA Lakers offensive explosion and Portland racking up a bunch of meaningless points in garbage time of a blowout game in the second half. I don't think you will see either of those developments repeat themselves here in Game 5. Look for this game to be much tighter contested by both teams at the defensive end keeping this game Under the total.