Lakers vs Trail Blazers Pick – NBA Playoff Series Game 3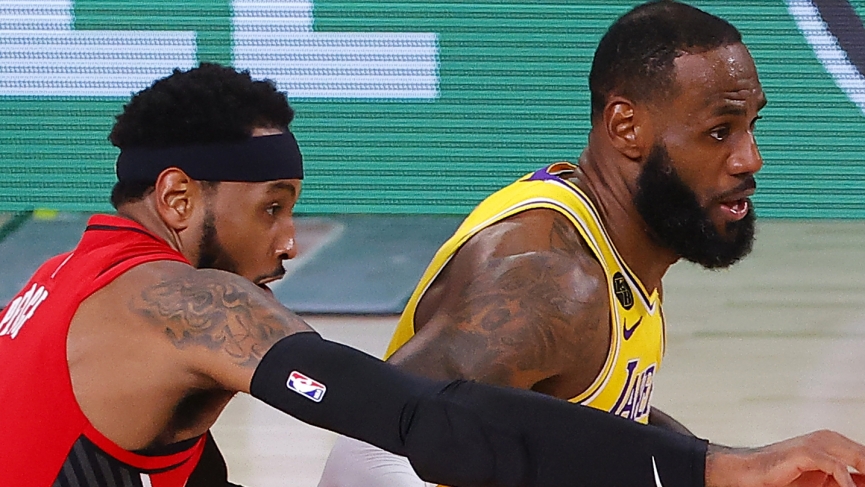 NBA Playoff Series: Los Angeles Lakers vs. Portland Trail Blazers (Game 3)
Date/Time: Sat, August 22, 2020 – 
Odds: -8/+8  | Moneyline -357/+285 | Total 224
'Dame'-sel in distress
We are jumping into my Lakers vs Trail Blazers pick for game 3 of this NBA Playoff series. Damian Lillard is certainly the hot button storyline topic heading into Game 3 of this Western Conference Quarterfinal between the Los Angeles Lakers and Portland Trail Blazers with the series tied at one game apiece. Lillard suffered a dislocated finger injury in Game 2 and left the game. He didn't return and that left Blazers fans panicking about the status of their star guard and someone they simply can't afford to be without if they hope to entertain any thoughts, hopes, and aspirations of knocking off the #1 seed in the Western Conference the LA Lakers.
There is some good news and light at the end of the tunnel for the Blazers though in this matter. Lillard's dislocated finger took place on his non-shooting hand and he's already been working on getting used to shooting the basketball with that injury in practice leading up to this game. Blazers head coach Terry Stotts said Lillard will likely wear a splint during the game. So yes Portland does have a 'Dame'-sel in distress at the moment but not one that is down for the count by any means.
The Lake Show was open for business in Game 2
The Lake Show was an entertaining and enjoyable one for Lakers fans and backers in Game 2 cruising to that easy and dominant blowout win and pointspread cover by a score of 111-88. The Lakers reminded everyone as to why they were one of the top defensive teams in the NBA this season holding the Blazers to a putrid 8-for-29 28% shooting performance from the perimeter which is where Portland does most of their damage.
They were outstanding at that end of the floor and didn't let Portland get comfortable and hit their "in rhythm" jump shots at any point during the game. Anthony Davis decided to stick around and play more than just 2 quarters of good basketball unlike Game 1. The Lakers got some much needed secondary scoring from Kentavious Caldwell-Pope and J.R.
Smith who both contributed double digits in points scored in the Game 2 victory. It was a much needed all around complete and dominant performance from the LA Lakers but whether or not, they can bottle it up and play just as stout defensively again tonight will be the challenge. It's worth noting Portland's starters were rested for most of the second half of Game 2 because of the lopsided nature of the game and that could pay off for the Blazers and give them some renewed energy and maybe lead to getting their shooting legs back again after having one of their worst shooting performances here in the bubble in that Game 2 loss on Thursday night.
Lakers vs Trail Blazers Pick
The pointspread opened LA Lakers -6.5 here and has been bet up to -8 in most spots. This is definitely some market reaction to the Damian Lillard injury and concern that he may not be at his best or able to shoot properly with that dislocated finger. However, he will be wearing a splint and it's important to point out that it's on his non-shooting hand which will limit the impact of this injury than it otherwise would.
I expect a much better game and response for Portland tonight in Game 3. The starters being rested in the second half of Game 2 should revitalize the Blazers quite a bit including for CJ McCollum who also labored in Game 2 and has been playing through a fractured disc in his back. Los Angeles is still a team that is working out the kinks offensively and although they did enjoy a break out in Game 2, it remains to be seen if they can get enough offense to cover a spread in this price range.
It's certainly not likely they can bank on Kentavious Caldwell-Pope and J.R. Smith coming through with big offensive performances as they all did in Game 2 the other night. There are some very strong technical trends favoring Portland and going against LA in this game as well. The LA Lakers are 0-5 ATS in their last five games following a win while Portland is 4-0 ATS in their last four games following a loss. I think this is a solid enough spot and certainly a better price to come back with the Trail Blazers to keep this game competitive throughout in Game 3 and stay inside the number against the Lakers.