Los Angeles Clippers vs Denver Nuggets Pick August 12, 2020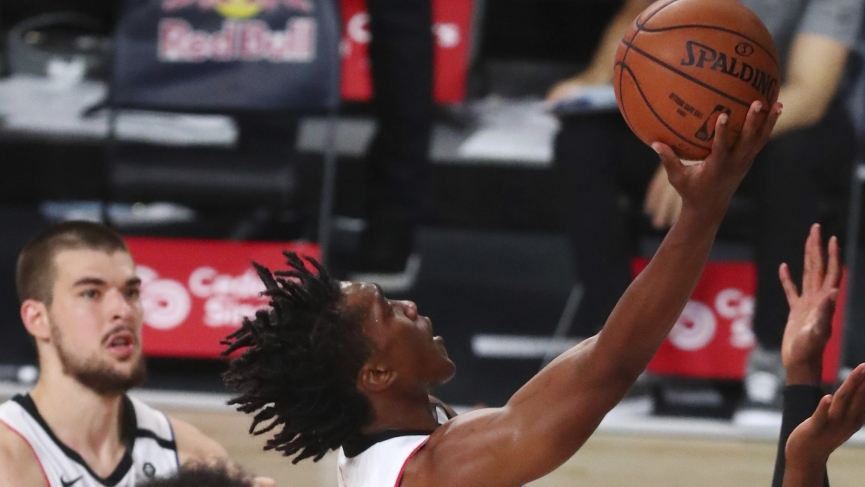 Let's get started with my Los Angeles Clippers vs Denver Nuggets pick for today. Here is a great quote from Kawhi Leonard talking about how inconsequential being either the #2 or #3 seed in the Western Conference is for the LA Clippers: There's really no homecourt advantage, no fans out there, no travel. I definitely think the healthiest teams usually win it all. Guys that have the full roster, have a good bench. Hopefully, we can get everybody back and if we can get a rhythm going with the guys that are here that usually play, then we'll see what happens."
A Clipper Coasting On Tap?
If you read the tea leaves with what Kawhi is saying there, it sure sounds to me like the LA Clippers couldn't care less about the final couple regular-season games for them nor their seed nor their potential first-round opponent as they prepare for the start of the NBA Playoffs. We saw clear evidence of that in the Clippers' most recent game where they lost outright as favorites 129-120 against the Brooklyn Nets. Paul George and Patrick Beverley sat out that game and neither is a sure thing to return and play tonight for the Clippers.
LA is also without their important big man Montrezl Harrell as he remains in quarantine after departing the bubble in Orlando and then returning to it earlier in the week. There are a ton of unknowns about exactly what the starting lineup will look like tonight for head coach Doc Rivers and this Clippers squad and that is a concern for me when being asked to lay points with a team that hasn't shown any particular enthusiasm or excitement about winning these last couple games before the postseason finally gets underway. 
Denver Digs Deep
The Denver Nuggets have shown an incredible amount of heart, fight, and a will to compete throughout the last several games here in Orlando. Denver fought back from a big deficit to beat Utah in OT on Saturday and despite the fact head coach Michael Malone yanked his starters from the game on Monday night against the LA Lakers in the 4 Qtr, the Nuggets with their bench unit against the Lakers starters still nearly pulled the upset against the Lakers before falling short thanks to a Kyle Kuzma 3 pointer at the buzzer.
Denver has been a profitable point spread team during the NBA restart going 4-2 ATS in the six games they've played. PJ Dozier, Mason Plumlee, Monte Morris, Keita Bates-Diop, and Bol Bol comprised the Denver bench that played the entire 4th Qtr against the Lakers on Monday night and all of them except Bol had double digits in points and all of them were on the floor for more than 20 minutes. That is the key to this particular game tonight. Denver knows they have a bench they can rely on to play well even if this ends up being a game where the Nuggets end up resting their starters down the stretch as they did on Monday night.
I would definitely expect Jamal Murray, Michael Porter Jr., and Nikola Jokic to play tonight especially Murray who is still trying to work his way back from injury but it's just a question of how many minutes will they all get. Regardless, Denver has a bench that can produce and keep them in a game. It's also worth mentioning that Denver from their starters right through their entire bench is playing hard on a nightly basis and that is likely to be the case again tonight.
Here's a great quote from head coach Michael Malone talking about the effort from his team against the Lakers: I couldn't be more proud of our group. I thought we played extremely hard. That's the No. 1 seed in the Western Conference. The fourth time we've played them. Every game has been a battle, it's gone down to the wire. For us to sit our starters that whole fourth quarter and to have the guys on the bench out there giving them all they could handle and lose a heartbreaker is always tough but (I'm) just so proud."
Los Angeles Clippers vs Denver Nuggets pick
I'm recommending Denver once again tonight getting +5 against the LA Clippers. I don't think motivation is all that much more predominant for the Nuggets in this game necessarily but they are playing hard and their bench showed against the LA Lakers that they are fully capable of balling out and giving the Nuggets a chance to be competitive regardless of the quality of their opponent. Expect Denver to make this a battle as well against the other LA squad just like they did on Monday night.