Lakers vs Raptors Pick – Aug 2, 2020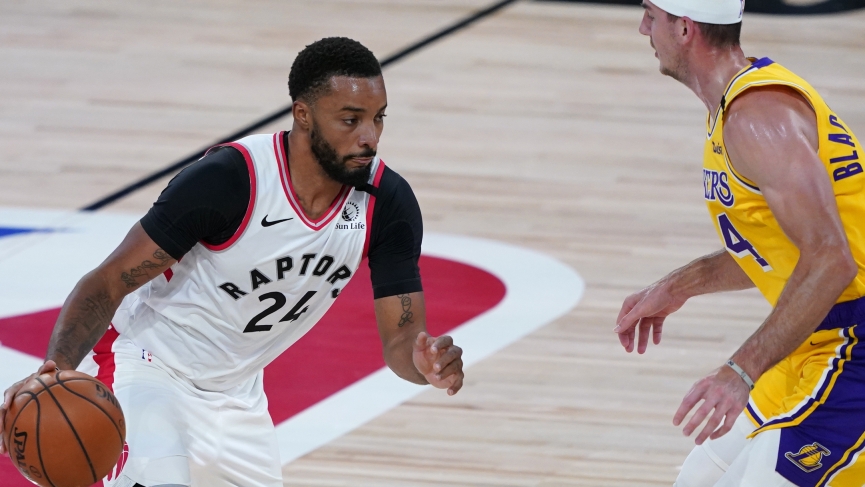 My Sunday night Lakers vs Raptors pick features a battle between a couple of powerhouses in their respective conferences. While the Toronto Raptors have been waiting to get their feet wet inside of the Orlando bubble, the Los Angeles Lakers are coming off a 103-101 victory over the Los Angeles Clippers.
If you took the under (220 points) or the Clippers at +4, then you made a nice chunk of change. If you took the Lakers Moneyline (-180), then you chose a safer route and still earned a small return on your investment. Let's take a look at the best bet in Sunday night's showdown between the Lakers and Raptors, specifically their over/under line of 216.5 points, per DraftKings Sportsbook.
Lakers Still Figuring Things Out
The Lakers took care of business, but it was hardly dominant. Expectations weren't high, especially considering that the team is without starter Avery Bradley (sitting out) and backup point guard, Rajon Rondo (fractured thumb). The Lakers replaced the two by signing free agents Dion Waiters and J.R. Smith. Waiters logged 20 minutes and shot 5-for-10 from the field, while Smith logged just eight minutes and put up one shot.
With Bradley out, the Lakers are still trying to figure things out with their starting lineup and finishing unit. Thankfully for them, the Clippers were missing the likes of Lou Williams and Montrezl Harrell, who combine to score 37.3 points per contest. On top of that, they received a monster night from Anthony Davis, who racked up 34 points and eight rebounds on 8-of-19 shooting. LeBron James was three assists shy of a triple-double and pulled out a ridiculously great defensive stop on Kawhi Leonard and Paul George on the final play of the game.
Lakers vs Raptors Over/Under Trends
The Raptors are tied for 11th in scoring, while the Lakers are ranked seventh. Because of this, they typically receive higher over/under lines. Efficiency is key here, especially when you consider the Lakers and Raptors play at a relatively slower pace. Los Angeles and Toronto rank 12th and 14th in the category, respectively.
When looking at their individual records against over/under lines this season, things seem a bit more clear. The Raptors have hit the over in 54.0 percent of their games, but their score differential is just +0.1 over 64 contests. The Lakers have hit the over in just 46.9 percent of their games, tied for fourth-fewest in the NBA, posting a point differential of -1.2.
The Lakers have quite a streak going. After finishing their most recent game at a whopping 16 points under, they have now hit the under in four-consecutive contests, including seven of their last nine. Meanwhile, the Raptors have hit the under in six of their past 10 contests. It's fair to speculate whether or not Kyle Lowry and Pascal Siakam have things going yet offensively, so having lighter expectations out the gate makes sense, especially after seeing the Lakers and Clippers finish so far under their points total on Thursday night.
Lakers vs Raptors defensive juggernauts
It's well-known that the Raptors and Lakers are very talented defenders. Toronto owns the second-best defensive rating at 104.9, while Los Angeles is third-best at 105.4. Los Angeles' Davis won't have as easy of a time with Siakam (104.0 defensive rating) and Serge Ibaka (105.0 defensive rating, best since his 2015-16 campaign) hounding him. The same could be said on the flip side, with Davis (possibly the Defensive Player of the Year) covering Siakam on the other end.
This is meaningful because Siakam's 23.6 points and Davis' 26.8 points per game lead their respective teams. This leaves Lowry and James to carry the load and lead the way. With pace playing a major factor, the teams will combine for less scoring opportunities. Expect the pace to slow even more in this one, especially when you consider that most of these guys aren't quite in playing shape yet. The Lakers and Raptors are tied for the 12th-fewest shot attempts per game at 88.5.
With the Lakers trying to figure out their offensive rotations and the Raptors having the potential to be a bit rusty, hammering the under is the only way to go here. The two teams have a recent history that shows they've been prone to falling under their projected point total. The Moneyline leaves little to be desired and the spread isn't exactly appealing (Raptors +3.5), but this over/under is begging to be pegged. At -109 to go under 216.5 points, there's plenty of return on your investment and plenty of data to back your decision.