Jazz vs Nuggets Pick – NBA Playoffs Game 7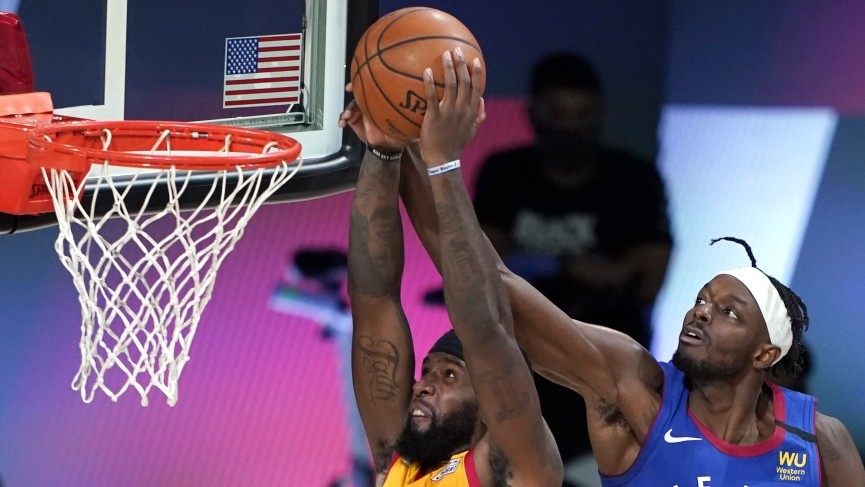 NBA Playoff Series Utah Jazz vs Denver Nuggets Game 7
Date/Time: 8:30 pm EST on TNT
Odds: Jazz -1/-105 Nuggets +1/-115 | Moneyline -102/-116 | Total 217.5 
The first game 7 of the playoffs is here and boy is it going to be a good one. We have the Utah Jazz facing off against the Denver Nuggets in a win or go home game. Utah was licking their chops when they had a 3-1 lead heading into game 5, but Murray and the Nuggets said not so fast.
Murray dropped another 50 piece in game 6 to force a game 7. He shot 17-24 from the field and 9-12 behind the arc. On the other side, Donovan Mitchell gave it his all scoring 44 points, but they did fall just short which is why there is a game 7 tonight. The Utah Jazz don't want to be the 12th team in NBA history to blow a 3-1 lead and if they lose tonight they will be, but I'm going to tell you why they won't.
Murray is going to do everything he can to score another 50 points and get this win for Denver, but can he do it is the question. My answer would be no. The Utah Jazz is going to force Murray to give the ball up in this game. You are going to see a lot of double teams and traps. No one on Denver has shown much other than Murray. So if Murray doesn't score 55+ points tonight, they will not win this game.
The Utah Jazz defense is going to have a fire truck inside the stadium before the game starts so they can put the fire out, right when it starts. The Denver Nuggets defense is also ranked a very bad 17th when it comes to 3 point % against them while Utah is ranked #1 in 3 point % per game. Utah's offense will come out shooting and shooting often. It's game 7 and they are going to show why they are ranked #1 from the outside.
On the other side of the ball, we have the Utah Jazz who are trying to fight off the Denver Nuggets comeback and upset the #3 seed in the West in the first round of the playoffs. Utah knows if they want to win this game, they are going to have to contain Murray. Notice how I said to contain and not stop. That's because Murray will not be stopped tonight but if they can CONTAIN him and force him to give up the ball then they will win this game.
If Murray has a little bit of an "off" game, who is going to step up for Denver? No one else on Denver has proved they can drop 25+ points in a game besides Murray. Utah on the other hand has about 5 players scoring double-digit points every game. Mitchell will show off tonight in game 7, but so will the rest of the Utah team!
Another note: The Denver Nuggets are the 3rd seed in the West and the Utah Jazz are the 6th seed. Well, this is a game 7 and the higher seed is favored. Something smells very fishy in this game and I'm not falling for it.
We also have RLM (reverse line movement) on this line and I love to follow that factor. The line for this game opened up at a pick. The public is hammering the Denver Nuggets, yet the line has dropped a whole point to Denver +1. Well if the public loves Denver at a pick-em, why would Vegas make the line even better for them at +1? It's because Vegas and RSP are on the same side and we are going to hammer the Utah Jazz -1. Below are a couple of trends I like for this game.
Key TRENDS for this game:
Nuggets are 2-6 ATS in their last 8 games following a straight-up win of more than 10 points.
Jazz are 8-3 ATS in their last 11 Tuesday games.
Jazz are 7-2-1 ATS in their last 10 games following a double-digit loss at home.
My Jazz vs Nuggets pick is taking the Utah Jazz -1 @PointsBet vs Denver Nuggets for Tuesday, September 1st, 2020!