Houston Rockets vs OKC Thunder Pick Game 6 NBA Playoffs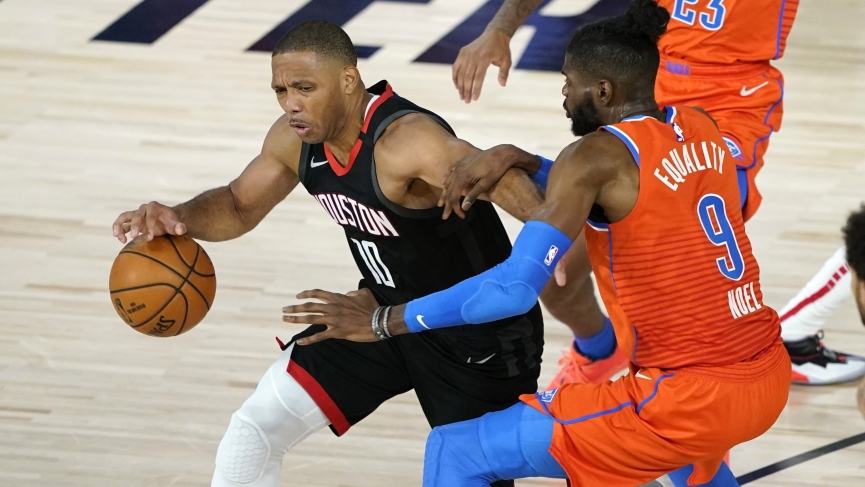 NBA Playoff Series: Houston Rockets vs OKC Thunder pick Game 6
Date/Time: August 31, 2020, 9 pm ET on TNT
Odds: Rockets -5.5/-105 Thunder +5.5/-115 | Moneyline-230/+190 | Total 226.5
The bubble is getting smaller with some teams being eliminated and sent home, but the Oklahoma City Thunder will try to extend their time in the bubble with a game 6 win over the Houston Rockets. The Thunder head into game 6, down 3-2, and if they want to see a game 7, they are going to have to win tonight.
The Houston Rockets took game 5 easily 114-80. The Rockets dominated in almost every category. They won in field goal percentage, 3 point %, Assists, and the most important one POINTS. The only thing the Thunder won at was rebounding, but I'm going to tell you why the Oklahoma City Thunder will win in all categories today and force a game 7.
The Thunder came out flat on Saturday in game 5 and there is no denying that, but on the edge of being eliminated they won't let that happen today. The Thunder had a long time off since game 4 and I think that hurt the Thunder but benefited the Houston Rockets.
The Thunder tied the series at 2 when they took game 4, 117-114. The Thunder knew if they lost that game and went down 3-1, there would be no coming back. They gave it their all and came out on top. Schroder scored a career playoff-high with 30 points while Chris Paul was right behind him with 26. If the Thunder want to win this game, both of those players are going to have to do the same here in game 6. Schroder was leading the way for the Thunder in game 5 scoring 19 points but was later ejected in the 3rd quarter while trying to fight through a screen against P.J. Tucker.
This is another factor that I think benefits the Thunder. Schroder will be motivated and eager to get back on the court for game 6. The Thunder missed 39 of their 46 3 pointer attempts and that will not happen again this game. The Rockets are 1-4 coming off of just 1-day rest while they Thunder are 29-14 ATS coming off 1-day rest so expect a big turn around here for the Thunder.
On the other side of the ball, we have the Houston Rockets. They are looking to end the series here tonight in game 6. They looked amazing in game 5 after an easy 114-80 win. Harden scored a game-high 31 points in just 28 minutes. The Rockets defense showed up and showed off in game 5 allowing on 80 points. They held the Thunder to 14 points in the 1st qtr, 18 in the 3rd, and only 17 in the 4th. Westbrook came back for the first time and he had 7 points, 6 rebounds, and 7 assists in 23 minutes. That was his first game back since August 4th after straining his right quadriceps.
The Rockets defense stepped up big time in game 5 after switching their strategy and making the Thunder player Luguentz Dort shoot up way too many bad shots. Well, Dort took way to many bad shots and he put the Thunder in a horrible position to win this game. He shot 0 for 9 from behind the arc and 3 for 16 overall. I expect the Dort to move the ball around and create space this game instead of trying to carry the offense on his back.
We also have RLM (reverse line movement) on this line and I love to follow that factor. The line for this game opened up at Houston -6.5. The public is hammering the Houston Rockets, yet the line has dropped a whole point to Houston Rockets -5.5. Well if the public loves the Rockets at -6.5, why would Vegas make the line even better for them at -5.5? It's because Vegas and RSP are on the same side and we are going to hammer the Oklahoma City Thunder. Below are a couple of trends I like for this game.
Key TRENDS for this game:
Rockets are 2-5 ATS in their last 7 after scoring 100 points or more in their previous game.
Rockets are 1-4 ATS in their last 5 Monday games.
Rockets are 1-4 ATS in their last 5 games playing on 1 days rest.
Rockets are 0-4 ATS in their last 4 road games vs. a team with a winning home record.
Thunder are 11-3 ATS in their last 14 games following a straight-up loss of more than 10 points.
Thunder are 5-2 ATS in their last 7 games following an ATS loss.
Thunder are 5-2 ATS in their last 7 home games vs. a team with a winning road record.
Thunder is 26-11 ATS in their last 37 games as an underdog.
Thunder are 29-14 ATS in their last 43 games playing on 1 days rest.
The Rockets are 0-5 ATS in the last 5 meetings in Oklahoma City.
Rockets are 3-7 ATS in the last 10 meetings vs Oklahoma City.
So for this game, RSP is taking the Oklahoma City Thunder +5.5.