OKC Thunder vs Houston Rockets Pick – NBA Playoffs Game 5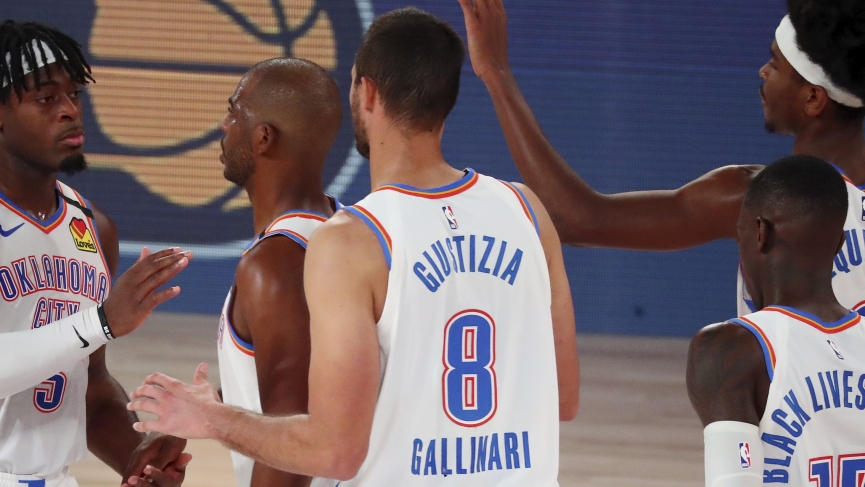 NBA Playoff Series: Oklahoma City Thunder vs Houston Rockets Game 5
Date/Time: August 26, 2020 6:30 pm ET on TNT
Odds: OKC +3.5/-110 Rockets -3.5/-111 | Moneyline +140/-167 | Total 224
Let's jump into my Oklahoma City Thunder vs Houston Rockets pick. This series is tied 2-2 going into game 4, does it get any better than that? The Thunder tied the series at 2 when they won game 4, 117-114 on Monday. Dennis Schroder leads the way for the Thunder with 30 points and Chris Paul was right behind him with 26. The Thunder were down 17 points at one point and then they came roaring back in the 4th qtr to even the series.
James Harden had 32 points, 15 assists, and 8 rebounds for Houston as they fell just short. The Houston Rockets opened up as a 2 point favorite and the total opened up at 225.5. The Rockets are now -3.5 and the total has dropped to 224.5 so the lines are moving and we are ready to attack them. The total has caught my eye in this one, so let's get right into it.
Thunder keeps on rollin' through
The Thunder head into game 5 in an attempt to take their first lead of the series. To do that, they will just need to continue what they did in games 3 and 4. The Thunder have changed their style of play against Houston and it has been working. They have had Chris Paul and Schroder playing at the same time. You don't normally see a starting PG and the back-up PG on the court at the same time, but the Thunder have been using it to their advantage.
The Rockets have a smaller lineup so Thunder had Adams playing more minutes the first 3 games to control the boards, but with Adams on the court, it hurts the Oklahoma Thunder which is why he only played 26 minutes in game 4.
The Thunder defense has stepped up BIG TIME in the past 2 games. They started playing through the pick and rolls instead of switching every time and it has put more pressure on Houston's outside shots. The Thunder are ranked #3 on defense against the 3 ball at 34%. The Thunder are contesting all of the Houston Rockets shots and they are not giving them any freebees in this series.
Rockets failure to launch could cost them the series
On the other side of the ball, we have the Houston Rockets. The Rockets had a nice 2-0 series lead, but that has changed big time as the series is now tied 2-2. The Houston Rockets looked like they were going to take a HUGE 3-1 series lead halfway through the 3rd quarter as they had a 17 point lead, but Chris Paul and Dennis Schroder said not so fast as they stole game 4.
With Westbrook out again for the Rockets, the scoring will stay to a minimum. The Houston Rockets are a whole different team when Westbrook is on the court. He creates so much space for his shooters which is why Houston is ranked #2 on offense when it comes to points per game at 117.8. Well, the Rockets haven't scored 118 points since game 1 when the Thunders defense looked lost. Since the Thunder's adjustments, the Rockets have struggled. The Rockets usually live at the free-throw line, but in game 4 they only had 10 free throws. They are not attacking the rim like normal and today that doesn't change. The Rockets will live by the 3 point ball all game, but with the Thunders perimeter defense, the score stays low in this one.
We also have RLM (reverse line movement) on this total and I love to follow that factor. The total for this game opened up at 225.5. The public is hammering the OVER, yet the line has dropped a whole point to 224.5. Well if the public loves the OVER at 225.5, why would Vegas make the total even better for them at 224.5? It's because Vegas and RSP are on the same side and we are going to hammer the UNDER tonight. Below are a couple of trends I like for this game.
OKC Thunder vs Houston Rockets Key TRENDS
Under is 6-1 in Thunder last 7 road games vs. a team with a winning home record.
Under is 5-1 in Thunder last 6 road games vs. a team with a home winning % of greater than .600.
Under is 46-21-1 in Thunder's last 68 games as an underdog.
Under is 7-1 in Rockets last 8 home games vs. a team with a winning road record.
Under is 9-2 in Rockets last 11 Wednesday games.
Under is 8-2 in Rockets last 10 games playing on 1 days rest.
Under is 7-2 in Rockets last 9 after allowing 100 points or more in their previous game.
Under is 8-3 in Rockets last 11 games following a straight-up loss.
Under is 10-4 in Rockets last 14 after scoring 100 points or more in their previous game.
Under is 47-22-1 in Rockets last 70 games vs. a team with a winning % above .600.
So for this game, RSP is taking the Houston Rockets/Oklahoma Thunder UNDER 224.5. We are 6-2 our L/8 article plays so let's keep it going today!