Celtics vs Raptors Pick – Game 5 2020 NBA Playoffs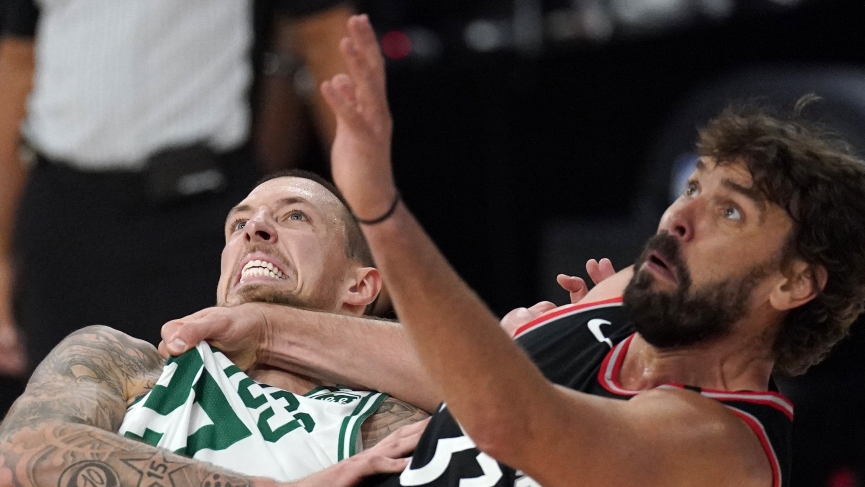 NBA Playoff Series: Boston Celtics vs Toronto Raptors Game 5
Date/Time: Mon, September 7, 2020 – 6:30 PM ET
Today we look at my Celtics vs Raptors pick for game 5. The Toronto Raptors were 0.5 seconds away from a 3-0 series hole against the Boston Celtics until the magical Kyle Lowry cross-court pass to O.G. Anunoby happened.  Up and over the outstretched arms and body of the gigantic 7-foot-5 Tacko Fall took place and Anunoby's buzzer-beater 3 pointer to win Game 3 resuscitated the Raptors in this series. They rode the wave of momentum from that epic finish of Game 3 and played their best game of the series in Game 4 completely flustering the Celtics with a strong defensive performance in a 100-93 victory.
Toronto held Boston to just 44% shooting and a woeful 7-for-35 20% from the perimeter which was by far the worst 3 point shooting effort of the series to this point from the Celtics. Toronto thinks they have an All-Star and a fringe superstar potentially on their team in Pascal Siakam but he hadn't played like one in the first three games of the series. That changed in Game 4 as Siakam had his strongest game of the series pouring in 23 points and adding 11 rebounds. He was more aggressive with going to the basket and not settling for mid to long-range jump shots which he had been struggling to make throughout this series.
Kyle Lowry and Fred VanFleet the Raptors backcourt was outstanding in Game 4. Lowry had 22 points and 11 rebounds in the last game and his presence has been noticeable. He has hit big shots, facilitated the offense smartly, taken charges, and has won his share of effort plays and hustle plays essentially doing everything possible to bring the Raptors back into the series. It's been an impressive "Raptor Revival" going an inch away from a 3-0 series deficit to a 2-2 series as we enter this pivotal Game 5 and now the pressure to respond shifts to the Boston Celtics for the first time in this series.
Boston 'Not So' Strong
The Celtics have not been as strong in the last two games and it starts with their shooting. They shot the lights out in Game 1 and still did fairly well at the offensive end in Game 2. They weren't quite as good in Game 3 and then in Game 4 they were completely off the mark for most of the game. Multiple Boston players had extremely poor shooting nights but nobody more than Jaylen Brown who shot a dismal 4-for-18 22% from the field and 2-for-11 18% from 3 point range.
The worst part of the performance for Brown was that he kept on jacking up one 3 point shit after another despite missing most of them and refusing to either pass or try attacking the rim instead to either score an easy basket or draw a foul. It was not only a bad shooting night but he fell victim to failing to look for other ways to try to get himself going offensively.
Kemba Walker voiced displeasure after Game 4 about his lack of aggressive play and assertiveness at the offensive end saying he needs to shoot the basketball more after taking just nine shots in Game 4. A thorn in the Raptors side and a big-time weapon early in the series for Boston had been Marcus Smart, the man replacing the injured Gordon Hayward in the starting five for the Celtics.
Smart was unconscious with his perimeter shooting in the first two games but the Raptors defense made their adjustments and he's gone only 6-for-23 26% from the field in the last two games combined. Boston is still playing good enough defense in this series and even in the Game 4 loss, their defense was fine. However, the Celtics offense has bogged down and struggled with the last two games. It's a "make or miss league" and they need to start making shots again.
Celtics vs Raptors Pick
One thing I'm not scared to admit it when I lose. I pride myself on transparency and honesty and I lost with the Boston Celtics in Game 4 of this series. However, I'm willing to give them another shot here in Game 5 at a near pick-em price and I'll go with the money line at -120. The Celtics will bounce back strong and certainly, their shooting percentages as a team have nowhere to go but up after what we saw in Game 4 from them.
I like the total even more in this game and think the Under is worth a wager at 212. The oddsmakers have gotten this series completely mispriced from a totals perspective. This Celtics/Raptors series is 4-0 to the Under so far and none of the games have had more than 207 total points. The totals in the first four games of the series were 215.5 or higher.
We have seen some adjustment downward in the total here for Game 5 to 212 but I'm not convinced that is enough of an adjustment. Sometimes styles make fights and we've seen four straight games of both teams having to scrap and claw for every open shot and clean look they've gotten. Nothing has come easily at the offensive end for either team. Expect more of the same here in Game 5.