San Francisco Giants vs Houston Astros Pick – August 10, 2020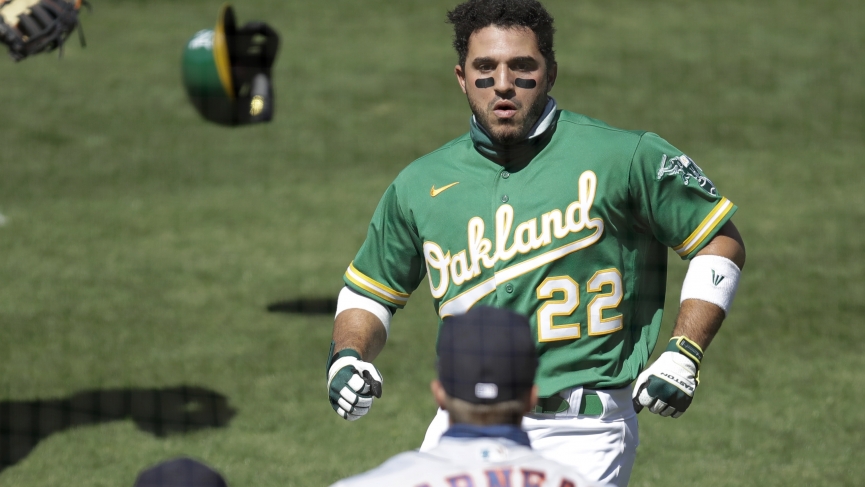 When first sitting down to sift through numbers for Monday night's matchup for a San Francisco Giants vs Houston Astros pick, it hit me that it's been nearly 58 years since attending my first major league game that took place in Houston with San Francisco on the visiting side. It turned out to be a pretty good rivalry, the teams playing 718 times as National League foes before the Astros moved to the American League in 2013.
Since then, they've only met eight times and weren't originally scheduled to meet this season before the pandemic changed everything. The Giants and Astros will get the attention of ESPN's cameras for the 9:10 p.m. (ET) first pitch at Minute Maid Park, and that pitch will be delivered by Houston's Lance McCullers (1-1, 9.22). San Francisco has yet to officially announce a starting pitcher, which has delayed FanDuel and other shops from releasing their wagering options. The most logical arm for manager Gabe Kapler to trot out is Logan Webb (1-0, 2.13).
G-Men Ending Long Road Trip
Much of the first two weeks have been on the road for the Giants who will be playing their fourth series away from home. They dropped three of four in Denver to the Colorado Rockies last week, then fell twice in three games over the weekend in Los Angeles to the rival Dodgers. San Francisco is getting good production from Mike Yastrzemski plus infielders Donovan Solano and Wilmer Flores, but the rest of the lineup has failed to contribute much to the effort.
This would be Webb's regular day to take the mound, and all three of his starts have gone into San Francisco's win column. The 23-year-old finally made it through the fifth inning his last time out to get the dubya, allowing one earned run on four hits at Coors Field this past Wednesday, striking out four without a walk in a 4-3 decision that came with the Giants +155 underdogs on the MLB odds. Prior to that, he pitched a combined 7.2 innings against the Texas Rangers and Los Angeles Dodgers, surrendering 10 hits and three runs – 2 earned – along with five walks.
Webb's rookie campaign in 2019 began with a suspension for PEDs, and he'll be facing the Astros for the first time on Monday. It will be his fourth interleague start, counting the one against the Rangers this season, and Webb has yet to record a decision in the first three with a 5.40 ERA in 13+ frames.
Astros Could Be Facing Discipline From League
Houston limps back home in the throes of a 5-game losing streak, and early frustrations may have played a role in Sunday's brawl at Oakland where the A's completed a 3-game sweep. The league is expected to dole out punishment to Astros batting coach Alex Cintron and potentially others for their roles in the incident. Considering how poorly some of the Houston hitters are doing right now, losing their hitting instructor might be a blessing in disguise.
McCullers was sailing along in Arizona last week, retiring the first nine batters he faced while his offense pushed ahead for a 4-0 lead. Then came a disastrous fourth inning when the Diamondbacks scored nine times, eight of those runs charged to McCullers' ledger. That disaster followed a less than impressive performance in his previous start, Houston hitters once again giving McCullers a lead he couldn't take advantage of in a 4-inning, 4-run performance at the Los Angeles Angels.
The former 1st-round pick (2012) will be facing the Giants for the first time in his career. McCullers has a 2-1 record in seven previous interleague starts, posting a 2.56 ERA in nearly 39 innings of work.
Will Houston Bats Awaken At Home?
What was often a heated rivalry between NL West rivals from 1969-93 has been reduced to just eight meetings as interleague foes. The Giants and Astros played 4-game, home-&-home schedules in 2015 and 2018, splitting the action in the former while Houston swept all four matchups in the latter to own a 6-2 advantage entering play this week. Totals in the four games played at Minute Maid Park have split down the middle, 2-2 O/U.
A typically hot and muggy August day in Houston means the roof will be shut for Monday's match that finds Astros skipper Dusty Baker going up against the team he managed for 10 seasons from 1993-2002. It's unclear if Baker will have outfielder George Springer back in the lineup after he missed the entire Oakland series with a bum wrist. Maybe being back home helps Houston regroup, but considering how both offenses have been going, the right play is a pick on the contest staying 'under' the total.