MLB Predictions For The Next AL MVP Award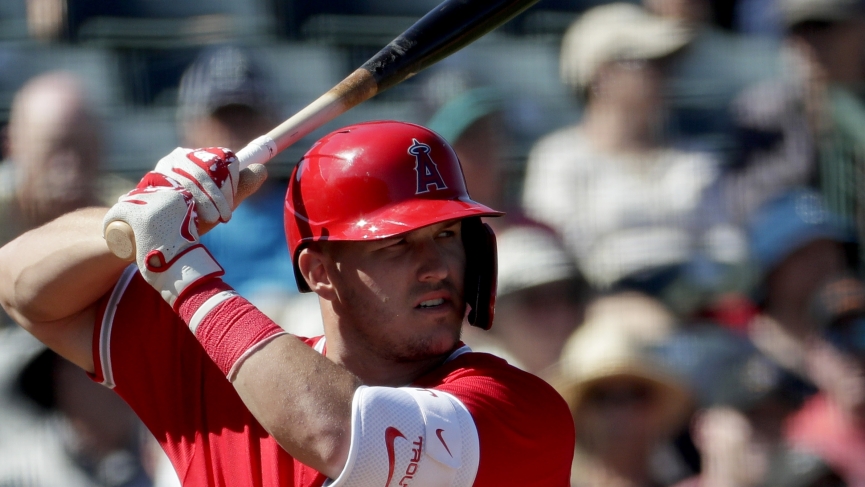 Camps are open once again across the majors, at least some of them which gives us a head start on our MLB predictions for the next AL MVP award. A breakdown in the processing of COVID-19 tests is the latest snafu, causing last year's World Series participants, the Houston Astros and Washington Nationals, to at least temporarily halt their training.
It has also led to the favorite to win the AL MVP Award to voice his concerns. Mike Trout, who is riding the chalkiest of lines at FanDuel to collect his fourth MVP honors, recently made it clear that he was uncertain about the whole idea of playing baseball this season. Listed as +135 to pick up the trophy, Trout's concerns are at least partly due to the fact his wife is due with the couple's first child in August.
Could Trout Potentially Opt Out Of 2020 Campaign?
There really is no question Trout is the best player in the game and has been since bursting onto the scene in 2011. He will turn 29 next month and is coming off a 2019 season in which he won his third AL MVP Award by batting .291 with 45 HR and 104 RBI.
MLB returns July 23. Who will win the 2020 AL MVP award?

The latest look at the odds, courtesy @PointsBetUSA

M. Trout +210
A. Judge +900
F. Lindor +1000
A. Rendon +1400
A. Bregman +2000
M. Chapman +2000
G. Torres +2000
J. Donaldson +2200
J. Ramirez +2500
S. Ohtani +2500 pic.twitter.com/h8zY3FZhmh

— OddsUSA (@OddsUSA) July 6, 2020
The Angels went out and got some help for Trout in the lineup by inking third baseman Anthony Rendon to a huge contract over the winter. Though the Angels still sit behind the Astros and Oakland Athletics in the AL West on MLB futures odds boards, Trout remains the biggest name in the league and would be in line to garner consideration from the writers who vote for the award even if his team once again failed to make the playoffs. But with lingering questions that Trout could step aside due to perfectly understandable personal reasons, he may not be the safest bet to win another MVP that he was coming into the season.
Could Another Halo Step In To Pick Up The Hardware?
If not Trout, then who? I like one of his teammates even if Trout does complete the 60-game short-haul. Shohei Ohtani has a distinct advantage if it comes down to a close race between several players since he will give voters two columns of numbers to consider when filling out their ballots, one for hitting and another for pitching.
Ohtani went under the knife for Tommy John surgery after the 2018 season and did not pitch at all in 2019. He still hit, however, banging out 18 HR and batting .286 in 106 games. He hit in two fewer games during his 2018 season when Ohtani was named AL Rookie of the Year and was slated to be brought along slowly this time in terms of getting back on the mound.
That plan was for Ohtani to be ready to pitch by the end of May this season, and he got in work during the layoff with simulated games. He should assume both roles, hitting and pitching, when the shortened season gets underway and is a solid pick on a +1900 price at FanDuel to add to his MLB trophy case.
Sign-Stealing Scandal Will Hurt All Astros
Houston's Alex Bregman was the runner-up to Trout for MVP in 2019, and actually beat the Angels' outfielder in the all-important WAR category. Bregman is one of several Astros who have the ability to put together an outstanding 60-game run, including 2017 AL MVP Jose Altuve, and the Houston third baseman is a respectable +1500 at FanDuel to win the 2020 MVP.
But unless one of the Astros hits .400 or belts 25+ homers to help the club to a fourth consecutive NL West title, you can forget about them in the MVP race. Even if one Houston player is a cut above the rest of the field statistically, the black cloud hanging over the team from the sign-stealing mess will make it tough to win any postseason honors.
We know there will be New York Yankees to consider for the award, but the two top names among position players are both dealing with injuries or illness. Aaron Judge just began hitting off a tee in late-June after battling several injuries during the first try at Spring Training. Most notable among them was a stress fracture in his first right rib, and he has not faced any live pitching yet. DJ LeMahieu, who finished fourth in the AL MVP voting last season, tested positive for COVID-19 in late-June, and while he was asymptomatic, he'll have to pass through a litany of tests before being cleared to join the club in workouts or on the field for the start of the season.
With so much craziness to this season, why not a pitcher? We've only seen five pitchers win the AL MVP in the last 48 years, but this season is like none of them. Gerrit Cole's name was all over the news prior to the season thanks to a huge new contract, and he'll be pitching for a Yankees team expected to win the AL Pennant. With a +3500 price at FanDuel, Cole is one of my favorite dark horse picks to take home the prize in his first season wearing pinstripes.