MLB Predictions Win Totals: AL East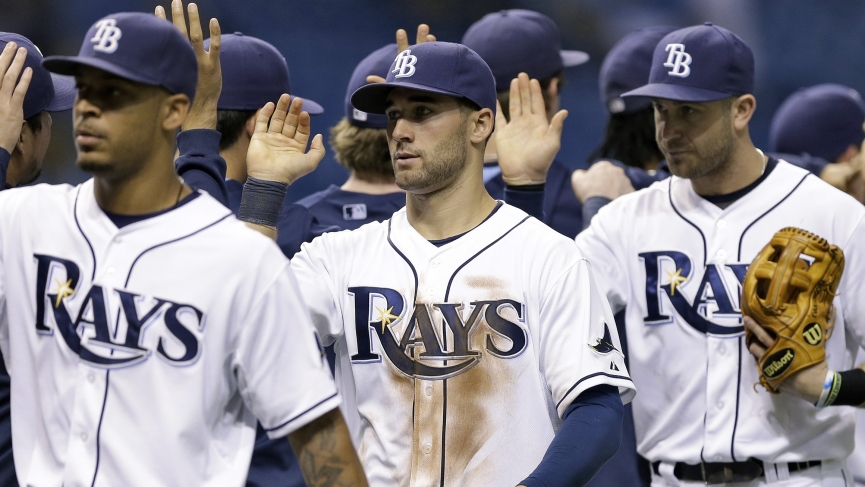 MLB predictions futures bets are all the rave right now, as many of our favorite sports have restart dates set. The MLB is particularly interesting because futures bets will be paid out sooner than ever with a 60-game regular-season ahead. Early releases of team over/under win totals will surely have lines to exploit, especially when you consider the intangibles that this season has to offer.
As mentioned in my prior article, the rules and structure for 2020 60 game regular-season have vastly changed. Between the increased percentage of games within divisions and the DH being implemented in the NL, there are bound to be some shaky looking lines. Let's look into what the AL East has to offer.
Baltimore Orioles Prediction
| Team | Bet Type | Total Games Won |
| --- | --- | --- |
| Baltimore Orioles | Over/Under | 20.5 |
Sad news swept over Baltimore and the MLB world when it was announced that Trey Mancini was diagnosed with colon cancer. The Orioles star player underwent surgery and will miss the entirety of the 2020 season. We're all hoping for the best for Mancini.
We're all facing problems right now. For many, big problems. I get it. Today Orioles outfielder Trey Mancini celebrated his 28th birthday, while recovering from cancer surgery. And who reached out to him? Super fan Mo Gabba, a middle schooler fighting cancer himself. Gold. pic.twitter.com/ac0NX4LyE6

— Gerry Sandusky (@GerrySandusky) March 18, 2020
Unfortunately for the Orioles, Mancini led the club in many offensive categories last season. Those team-leading stats included homers (35), RBI (97), ISO (.244), slugging (.535), and wOBA (.373). Mancini's 3.6 WAR and Jonathan Villar's 4.0 WAR (traded to the Miami Marlins) will be missed dearly. Hanser Alberto's 1.9 WAR was next best from non-pitchers on the club, so these losses are massive hits.
Not all hope is lost for this club, as Renato Nunez should spark interest for fans. The first baseman/designated hitter crushed 19 homers and drove in 44 runs over 82 games in 2019. Alberto hit .305 across 524 at-bats and outfielder Austin Hays had a promising campaign. This gives fans something to watch, but realistically, it won't equal many wins.
John Means flashed some appeal, finishing second in AL Rookie of the Year voting. The rest of the rotation rounds out with Alex Cobb, Asher Wojciechowski, and a couple others that will be decided in the next month. Baltimore's starting rotation posted the worst ERA in the AL last season (5.67). This is a team that should struggle greatly, as they're one of the only teams in the division that isn't on the rise.
Going 54-108 last season, the Orioles won just 33.3 percent of their games. Their line of 20.5 wins equates to a 34.1 percent win rate. They went 24-52 overall against the AL East last season, including 7-12 against the Rays and 8-11 against the Blue Jays, respectively. With Tampa and Toronto on the rise, it's fair to assume that the Orioles will struggle more with the two clubs. If you're betting on this line, then it better be on the under. Baltimore is in for a rough season after losing their top-two igniters in Mancini and Villar.
Boston Red Sox Prediction
| Team | Bet Type | Total Games Won |
| --- | --- | --- |
| Boston Red Sox | Over/Under | 30.5 |
The Red Sox are rebuilding, there's no doubt about it. They sent Mookie Betts to the Los Angeles Dodgers and dumped David Price's contract in the process. Betts is absolutely an MVP-caliber player that's now out of the picture. In fact, Betts posted the fifth-best WAR (6.6) in the AL last season. Alex Verdugo is no slouch and joins the club after the trade, but Betts is clearly on another level.
Also, Chris Sale is out for the season after undergoing Tommy John surgery. Losing your best all-around player and top starting arm is beyond brutal and should decimate the club. This team went 84-78 last season. It's already looking grim that they'll reach the .500 mark.
Chris Sale is the 1st pitcher in MLB history to strike out 17+ batters in 7 IP. pic.twitter.com/AfB080jNs3

— FOX Sports: MLB (@MLBONFOX) May 15, 2019
The team is still loaded offensively with Andrew Benintendi, Rafael Devers, Xander Bogaerts, and J.D. Martinez, but expect a dip in run production with Betts gone. The 901 runs they scored in 2019 (fourth-most in AL) is sure to regress.
The starting rotation has seen better days. The club lost its two most dependable arms in Sale and Price. They'll now roll out a rotation of Eduardo Rodriguez, Nathan Eovaldi, Martin Perez, Collin McHugh, and possibly Ryan Weber. Rodriguez isn't bad, but it's a horrible bunch on paper.
Overall, Boston went 35-41 against the AL East in 2019. They were pounded by the New York Yankees and the Rays, and could face more competition from a budding Blue Jays squad. Boston made a living off the AL Central last season, going a combined 15-5 against the Chicago White Sox, Detroit Tigers, and Kansas City Royals. They won't have that luxury in 2020. It almost feels certain that the Red Sox will go under .500 in this modified regular-season.
New York Yankees Prediction
| Team | Bet Type | Total Games Won |
| --- | --- | --- |
| New York Yankees | Over/Under | 36.5 Wins |
The Yankees nearly made it to the World Series last season after a great regular-season that saw them tally 103 wins. They return with a very similar squad in 2020, but one crazy addition was made. New York spent massive money on Gerrit Cole to solidify their starting rotation. This was particularly valuable with Luis Severino going down for the entire season with Tommy John surgery.
Cole has been the best pitcher on the planet over the past two seasons. He went 35-10 with 602 strikeouts over 412.2 innings for the Houston Astros. Both seasons his ERA was below 3.00 and his WAR of 7.0 led all pitchers in the MLB in 2019. This is why Cole was paid a historic $324 million over nine years.
Behind Cole in the rotation is Masahiro Tanaka, James Paxton, J.A. Happ, and Domingo German. It's possible that Happ could lose his spot and be relegated to the bullpen before or during the season, as the Yankees have top prospect Jonathan Loaisiga (3.87 ERA over 17 starts) in the waits. New York's sixth-best AL ERA should improve in 2020 with the addition of Cole and the stability in the bullpen with guys like Aroldis Chapman, Zack Britton, Adam Ottavino, and Chad Green.
The Yankees still boast an insane offense. They have talent at every position. Things should get even better for them with Aaron Judge getting time off from the pandemic. In March, Judge couldn't swing a bat, as the stress fracture in his rib was unbearable. Now, it's reported that the power hitter is hitting off a tee.
More good news with the extra time off is that Giancarlo Stanton should be ready to go at the end of July. Stanton played in just 18 games last regular-season. Aaron Hicks is making his way back from Tommy John surgery as well and should make an impact for the club in the outfield. Simply put, the Yankees have too many solid bats and not enough positions for them. Didi Gregorius walked in free agency and they're still crowded on the infield with Miguel Andujar returning from labrum surgery.
Yankee fans after Giancarlo Stanton stays healthy for two games in a row
pic.twitter.com/wRdm8p31lw

— Yankees Shame Tour (@yankeeshametour) June 25, 2020
Despite missing some key bats in 2019, the Yankees still produced the most runs in baseball (5.82 per contest). With a win percentage of 63.5 last season, bookies put their over/under for 2020 at 60.8 percent. New York went 54-22 against the AL East last season, a win rate of 71.0 percent. With the health of the Yankees improving, it's fair to feel comfortable taking the over in this spot.
Tampa Bay Rays Prediction
| Team | Bet Type | Total Games Won |
| --- | --- | --- |
| Tampa Bay Rays | Over/Under | 33.5 |
Coming off a stellar 2019 campaign, the Tampa Bay Rays are poised to reach the postseason again. They took down the Oakland Athletics in the Wild Card round and forced the Houston Astros to a Game 5 in the ALDS. It was quite an accomplishment for such a young team.
Tampa went 96-66 last season, which amounts to a 59.3 win percentage. The current line of 33.5 games equates to a 55.8 win percentage. They'll play 10 games against each divisional opponent to total 40-of-60 games in 2020. The rest of their games will be played against the AL East, a challenging batch of interleague opponents.
The Rays completely owned the Baltimore Orioles, Boston Red Sox, and Toronto Blue Jays last season. They went a combined 37-20 against the three (64.9 win percentage) and could see a spike against the trio in 2020. Interesting and unfortunate offseason moves leave some of these teams more vulnerable.
Basically, Tampa will need to beat up on the young and the rebuilding in their own division. What makes the Rays particularly intriguing is their terrific starting rotation. The 3.64 ERA that starters combined for in 2019 were the second-best mark in the AL. What's scary about this is the lack of innings that some of their best arms logged. Blake Snell battled some injuries and logged just 107.0 innings after his Cy Young campaign. Tyler Glasnow also totaled just 60.2 innings over 12 starts.
Snell was a bit unlucky last season. The southpaw saw an increase in strikeout rate (33.3 percent), including a similar opponent hard-hit rate to 2018, but his ERA inflated dramatically. Don't expect this to continue in 2020, as Snell's 4.29 ERA didn't tell the whole story. His XFIP of 3.31 was incredibly similar to 2018's XFIP of 3.16. Glasnow was off to a hot start before his forearm injury, going 6-1 with a 1.78 ERA. A full season of these two is sure to make the club better.
On top of Snell and Glasnow, the Rays have ace Charlie Morton to depend on. The sinker-baller finished third in AL Cy Young Award voting after going 16-6 with 3.05 ERA and 240:57 K: BB ratio over 194.2 innings. If top prospect Brendan McKay can take a step in the right direction, then this team could have the scariest starting rotation in baseball.
The best overall player on the Rays is looking forward to an encore. Austin Meadows was spectacular, posting the 14th-best ISO of .268 in the AL (minimum 300 plate appearances), including being tied for the 17th-best WAR in the AL over 138 contests. He boasts MVP potential and sparks this entire offense.
The Rays were terrific last year without some of their best players logging a full season. Hammer the over when it comes to Tampa's 33.5 over/under line.
Toronto Blue Jays Prediction
| Team | Bet Type | Total Games Won |
| --- | --- | --- |
| Toronto Blue Jays | Over/Under | 27.5 |
This is a fun team with youngsters blooming in a hurry. The Blue Jays went 67-95 (41.4 percent win rate) last season, largely due to their inconsistencies and inexperience. The offense jolted the organization with 247 long-balls (fifth-most in the AL) and posted the sixth-best ISO in the AL.
Cavan Biggio racked up 16 homers and 14 stolen bags over 100 games. Bo Bichette his .311 over 46 contests and Vladimir Guerrero Jr. showed flashes at just 20-years-old. In 2018, Guerrero Jr. went off for a .381 batting average, 20 homers, and 78 RBI over 357 at-bats. This is a taste of what's to come for his career, but he may need some more seasoning before the consistency comes. Travis Shaw was added to play first base, so it'll be interesting to see what they get out of him. Shaw fell off a cliff last season after a very productive 2018 and 2017 season.
The Blue Jays spent big to aid their rotation, adding Hyun-Jin Ryu as their ace. Ryu was incredible for the Dodgers last season, logging a 2.32 ERA and 1.01 WHIP over 182.2 innings. Toronto's starting staff compiled a 5.25 ERA last season, which ranked in the middle of the pack in the AL. Ryu's 4.8 WAR was tied for fifth-best in the NL last season, so this addition helps the Blue Jays immensely.
Still, with improvements coming, Toronto has a challenging schedule between the Yankees, Rays, and NL East. The Blue Jays went 3-17 against interleague opponents in 2019. Their 43.4 percent win rate against the AL East could dip a tad as well with the Yankees and Rays improving. This is an up and coming squad, but don't expect a drastic improvement in 2020. They're still far too young to make any significant noise.
Even with a shortened season, the odds aren't great for Toronto. The veteran play could aid teams to get hot early on, but the Blue Jays seriously lack veteran presence overall. Their chances could be greater to hit the over in a full season, but this season structure shouldn't benefit their inexperience. Nail the under on Toronto's regular-season win total of 27.5 wins.