Cubs vs Reds Pick and Brewers vs Pirates Best Bet July 29, 2020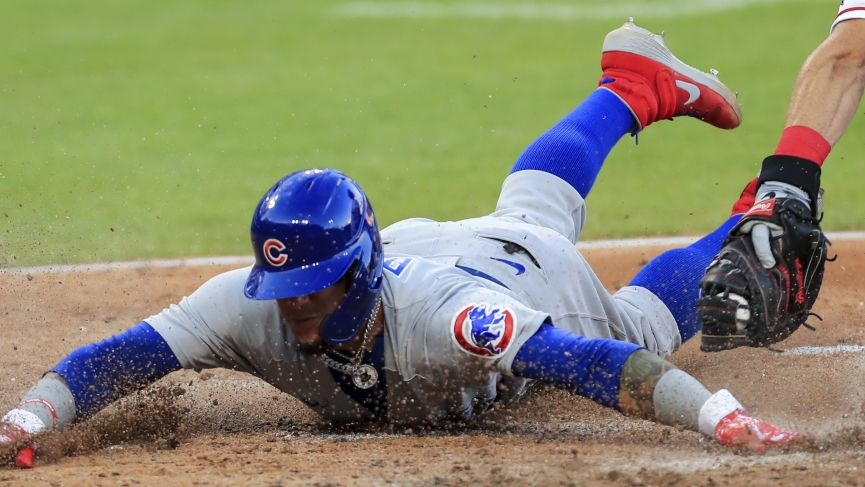 Welcome back, Odds.com readers. I'm back for Day 2, looking to improve on splitting the picks 2-2 in my first recommendations. (I see you, Colorado Rockies scoring eight runs on the road, and Merritt Kelly and Kyle Gibson enjoying a pitcher's duel.) Time to move on to my Cubs vs Reds pick and Brewers vs Pirates best bet.
These first few weeks (whatever games MLB can actually play, at least) will continue to be a wild ride. I'll rein things in by focusing on a singular strategy for two matchups in the same division, albeit in two drastically different parks.
Wednesday is all about double-ups on Unders in the National League Central.
But Tim, the National League has the designated hitter now! I know, but hear me out:
| | |
| --- | --- |
| Game: | Chicago Cubs at Cincinnati Reds, 6:40 p.m. ET |
| Tuesday Probables: | Probables: RHP Kyle Hendricks at RHP Sonny Gray |
| Pick: | ➕ UNDER 9 (+100), FanDuel and PointsBet |
It's always tempting to auto-Over at Great American Ball Park, but stellar mound matchups like this should always prompt you to seek value. This certainly allows us to trust two above-average arms in Gray and Hendricks.
In this odd season, however, I'm siding with the control-minded pitcher with an excellent defense behind him. His 2020 opener at Wrigley Field was a complete-game, nine-strikeout shutout, and this type of pitcher should navigate around even tough lineups like Cincy's.
On the other hand, Gray's 2019 was a revelation, as he reunited with his college coach Derek Johnson, who's done wonders transforming Reds starting pitchers. In fact, the groundball-strikeout righty allowed just nine homers at Cincinnati last year and has the right approach to survive this environment for the long term.
Word of caution: Their bullpens could easily flub this. (See: Kimbrel, Craig, 2020).
Still, despite the potency of their lineup, which grew with the additions of Nick Castellanos and Shogo Akiyama, the Reds were 30-45-6 in the Over/Under at home in 2019. The Cubs were 41-38-2 on the road in that split, but I'm siding with Gray's ability to thrive at home.
| | |
| --- | --- |
| Game: | Milwaukee Brewers at Pittsburgh Pirates, 7:05 p.m. ET |
| Tuesday Probables: | Probables: RHP Brandon Woodruff at RHP Joe Musgrove |
| Pick: | ➕ UNDER 8.5 (+100), BetAmerica, DraftKings, PointsBet, Resorts Casino |
I'll take this near layup of a double-up wager. By many metrics in recent years, PNC Park has been at least a middling park for offense, if not a pitcher's paradise.
The books slightly underrate Joe Musgrove, who hasn't had a season-long ERA lower than 4.06 and has a career 5.09 ERA at PNC Park. Still, he attacks the strike zone consistently, having averaged no more than 2.323 BB/9 in a full campaign.
Though he slipped on the road with a 4.41 ERA, Woodruff was one of 2019's breakout hurlers (11-3, 3.62 ERA, 143:30 K:BB) and should tame a Buccos crew that has limped to a .263 wOBA so far, ranking 27th in the majors.
While the NL's addition of the designated hitter may boost Senior Circuit clubs' upside at the plate, Milwaukee was 34-44-4 on the road in Over/Unders in 2019.
Bonus MLB Picks for Wednesday
Chicago White Sox Run Line -1.5 (+135) at Cleveland Indians
PointsBet
Cleveland's lineup at home is a tough draw, but I'm banking on a rebound from Lucas Giolito, who was mercilessly thrashed by the stacked Minnesota Twins last time out. 
It's a contrarian play with a big potential payoff on the back of a 2019 breakout ace, but it has merit: He watched film with his coaches to assess that his fastball command was being affected by a sloppy windup, per LaMond Pope of the Chicago Tribune. 
Plus, a matchup with Cleveland's Zack Plesac, who hovers around the plate and doesn't strike out many batters (3.81 ERA but just 6.85 K/9 last year) should convince bettors to return to Gio's side.
Washington Nationals Run Line -1.5 (+100) at Toronto Blue Jays
BetAmerica and Resorts Casino
This one hinges on whether Juan Soto (COVID-19) is cleared to play Wednesday. Toronto's debuting starting pitcher Nate Pearson is tantalizing for the long term, but if Soto is back, jump on this line immediately. Heck, do it now if you have a risk-reward wager to play with.
Texas Rangers Run Like -1.5 (+170) vs. Arizona Diamondbacks
DraftKings
I was worried about Madison Bumgarner's arm even before his disastrous 2020 debut, due to past velocity concerns that are again materializing early this season. A universal designated hitter has me even more concerned about his 2020 full-season prospects, considering he won't have the pitcher taking plate appearances to help pad his stats.
I'll bank on a scoring rebound on last night's Arizona 4, Texas 1 matchup that shocked me — and a bigger worry for one of the Diamondbacks' prized offseason acquisitions.
Tim is 2-2 on his 2020 Major League Baseball picks through one day of writing. Follow him on Twitter.