Boston Red Sox at New York Yankees Pick August 16, 2020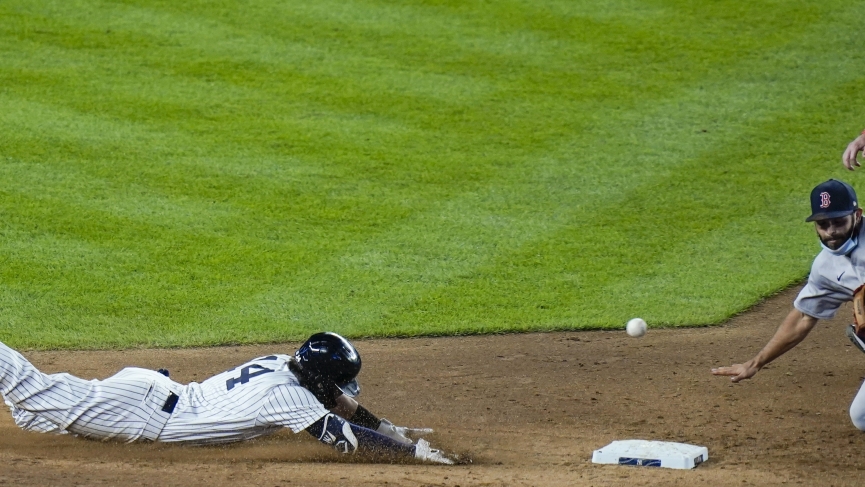 Game: Boston Red Sox at New York Yankees Game 3 of 4 
Time: ESPN Sunday Night 7:08 p.m. ET
Odds: ML +145/-161 Totals +/- 10
A free Boston Red Sox at New York Yankees pick for an ESPN Sunday Night Baseball game between the Boston Red Sox and New York Yankees? Deal me in, even if this series has so far been a bit dull with New York dominating Boston while confusion reigns supreme on the mound for the Red Sox.
The third match of a 4-game, weekend wraparound series between the old rivals gets prime time treatment with a 7:08 p.m. (ET) start at Yankee Stadium. And for the third time in as many games, Boston has been late to the post with its pitching plans. Red Sox skipper Ron Roenicke finally decided on rookie Chris Mazza (0-0, 0.00), who is making his first career start against veteran JA Happ (0-1, 10.29) in his 292nd career assignment.
It's also the third consecutive game in this series that failed to make overnight betting boards. Once the numbers are released, we can expect New York to be a huge favorite at shops such as FanDuel, perhaps the biggest moneyline ever on a starting pitcher with an ERA over 10. And speaking of the number 10, I'm expecting a double-digit total for the contest.
Boston In Throes Of 6-Game Skid
Maybe it doesn't matter who Roenicke sends to the mound, especially against the Yankees. New York has taken the first two games of the series by a combined 21-8 score, banging out 25 hits along the way, 11 of those for extra bases. The Yankees have won all five clashes with Boston this season, and the last eight dating to September a year ago.
Boston drags a 6-game current overall losing streak into Sunday's contest after beginning the week being swept 4-straight at home by the Tampa Bay Rays. During the skid, the Red Sox have been outscored 63-30. A team can usually win some games scoring 30 runs over a 6-game haul, so it's not the offense causing problems. Giving up 63 runs over six contests, now that's a different story and it leaves Boston dead-last in the majors with a 6.10 ERA.
New York doesn't even have sluggers Giancarlo Stanton and Aaron Judge in the lineup, and the bats are still crushing. Gary Sanchez has homered in both games against Boston, and it's going to be tough to get Clint Frazier out of the lineup when either Judge or Stanton return. One bit of bad news for the Yankees is it appears DJ LeMahieu is headed to the injured list with a sprained thumb. Look for Tyler Wade to take over at second base if that's the case.
Yanks Perfect 5-0 In Happ's Starts Vs. Sox
Originally a 27th-round pick by the Minnesota Twins in 2011, Mazza bounced through three other organizations before the Red Sox claimed him off waivers from the New York Mets last December. The lanky right-hander made just one previous appearance this season, and it was a good one against these Yankees a couple of weeks back when Mazza tossed 2+ innings of scoreless relief.
To say it has been a struggle so far for Happ would be an understatement. He'll be taking the mound for the first time in 11 days after he was skipped in the rotation by New York manager Aaron Boone. And who can blame Boone for that decision following Happ's last assignment in the first game of a doubleheader against the Philadelphia Phillies on August 5. The 37-year-old used up 66 pitches in three innings, most of those tosses outside the strike zone with six walks issued against just one strikeout.
Happ did not face the Red Sox when the two clubs met earlier this season, but the Yankees have been successful with him on the mound since he donned pinstripes in 2018. In five regular-season starts against Boston, New York is a perfect 5-0 with Happ on the hill, the southpaw working a 2.45 ERA in those outings (29.1 IP). Christian Vazquez has given him a bit of trouble with a pair of homers and .286 batting average (6-21).
A Wet Sunday In Big Apple
Ryan Additon becomes the second consecutive young umpire on this crew to call balls and strikes in this historic rivalry. Additon's three years at the major league level are one more than Jansen Visconti, who worked the dish Saturday, and he is fast becoming a friend to the home team and 'over' bettors in 2020. All four of his plate assignments have ended in victory for the home side, including a Red Sox win a week ago over the Toronto Blue Jays. That outcome was the only 'under' winner among Additon's four games behind the mask this season, and this will be his first time at the plate in the Bronx.
Rain is going to be a part of New York City's forecast all day before it tapers off in the early evening. Monday looks fine right now, so it's possible the umpires and Major League Baseball make an early decision to postpone this one. Assuming they can get the contest in tonight, my play is firmly on a Yankees with a run-line wager.