UAB vs South Alabama Pick – Week 4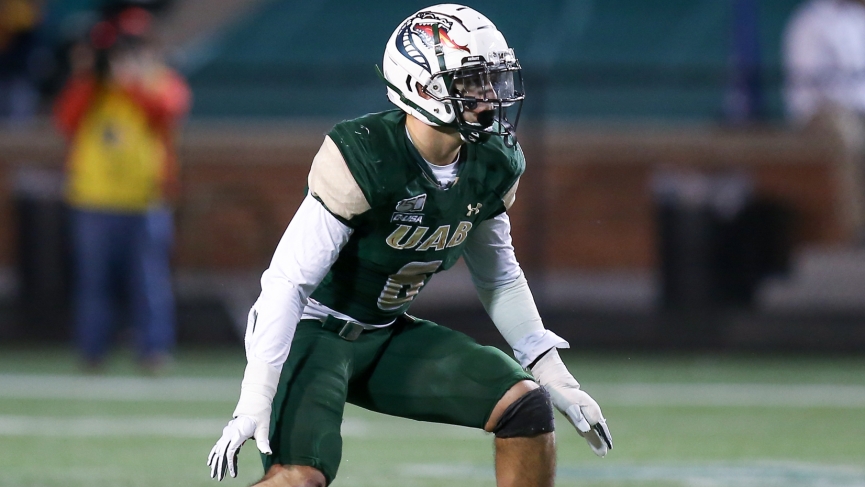 Odds.com's UAB vs South Alabama Pick for Week 4 of College Football: The South Alabama Jaguars are 5-0 ATS in their last five games as home underdogs, while going 6-1 ATS overall going back to last season. The Jags take on the UAB Blazers on Thursday Night Game Night. 

| | | |
| --- | --- | --- |
| College Football Betting | UAB | South Alabama |
| Best ATS Line | -6.5 (-115) | +7 (-110) |
| Total | Over 45.5 (-110) | Under 47.5 (-110) |
| Where/When | Hancock Whitney Stadium | Sep. 24, 7:30 PM EST |
On Thursday Night at Hancock Whitney Stadium, the C-USA UAB Blazers will be the guests of the Sun Belt South Alabama Jaguars with both teams coming off losses. The Blazers were man-handled at Miami 31-14 and failed to cover the generous 15.5 point spread back on September 10. The Jaguars are coming off a tough 27-24 home loss to Tulane but easily covered the spread as 11.5-point underdogs. The Blazers are 1-1 versus the total line while the Jaguars have seen both of their games go 'UNDER' the total line. 
Both Teams have Many Returning Starters
The Blazers head coach Bill Clark is excited about the season given that he has 18 of the 22 starters from last season returning to play this one. The Blazers return nine starters on offense including their quarterback and redshirt junior Tyler Johnston III, who has been their starter for the past three seasons. In 2019, he threw for 2,250 yards on 59% completions including 17 touchdowns and 15 interceptions. Cutting down the number of interceptions and improving the touchdown-to-interception ratio were addressed during the offseason. He was off to a vastly improved start to the season before injuring his shoulder and is out indefinitely. 
The biggest asset on the team is the return of all five starting offensive linemen from last season. The OL unit is by far the most complex and most difficult for any group of five teammates to work together to make the most out of every possession. UAB has four redshirt Seniors and a redshirt Junior on the offensive line and their chemistry is extremely positive having the experience of playing together for many games. Having an experienced QB and OL has proven to reduce mistakes and execute game plans at a much higher level. So, backup sophomore QB Bryson Lucero will have added confidence because of the experienced OL. 
A Betting System That Hits 80% ATS Winners
Here is an impeccable betting system that has earned a 22-8 ATS record good for 80% winning bets over the last five seasons and 15-2 ATS mark good for 88% winning bets. The instructions required are to play on any team off an extremely tough loss of three or fewer points during the first four weeks of the regular season. An amazing 58% of these games covered the spread a minimum of 7 points. 
A Betting System Supporting the 'OVER'
Here is another amazing, and highly profitable betting system that has earned a 26-6 record betting the 'OVER' for 81% winning bets spanning games played over the last five seasons, and 14-3 'OVER' for 82% winning bets spanning the last three seasons. This system requires us to bet the 'OVER' with home teams and having a total between 42.5 and 49.5 points in the first four weeks of the season and with the home team ending their previous season with four or more losses in their last five games.
UAB vs South Alabama Pick:
I have previously discussed the importance of 28 points, and the implications for NCAA football teams when they score or more or allow more than 28 points in a game. There are the high-powered offenses every year, as the LSU Tigers, in 2019 that will have a higher pivot point for points scored, and allowed.  Overall, I have found the 28-point pivot to be identified by the machine learning models more often. 
So, the projections call for the Jaguars to score 28 or more points, gain a minimum of 175 rushing yards, will have more rushing yards than the Blazers, and average at least 1.0 or more yards-per-play. In past games in which the Jaguars scored 28 or more points, they have earned a solid 26-13 SU record, and 23-15-1 ATS mark for 61% winning bets since 2012. The Blazers are a miserable 17-116 SU for 13% wins, and 40-81-2 ATS for 33% winning bets since 2012. Worse yet is that the Blazers are 1-8 SU, and ATS for 11.1% winners when installed as a road favorite and allowing the host to score 28 or more points. 
The Jaguars are a robust, money-making 15-4 SU, and 11-6-2 ATS for 65% winning bets when outgaining their opponent by at least 1.25 yards-per-play since 2012, and 5-2 SU and 5-1-1 ATS, spanning games played over the last three seasons. Bet the South Alabama Jaguars plus the points as a Best Bet Upset Alert Pick and expect the Upset! The best price on South Alabama is currently at +7 (-110) via DraftKings