Oklahoma vs Iowa State Pick – College Football Week 5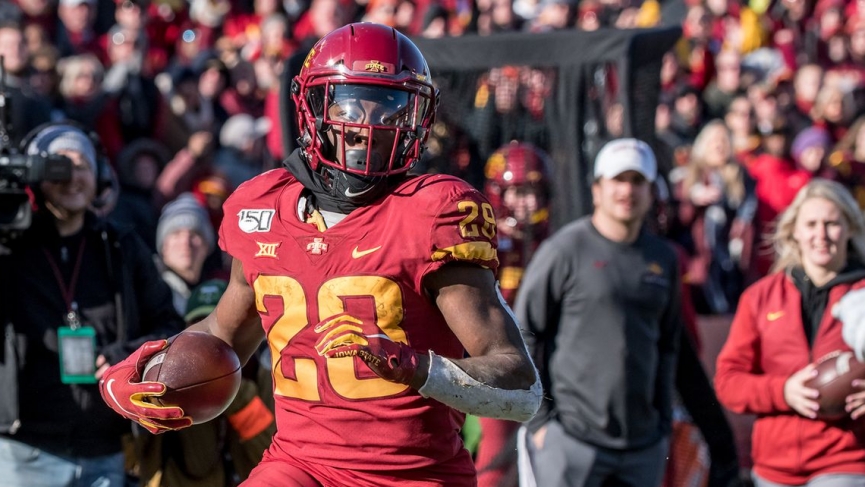 Odds.com's Oklahoma vs Iowa State Pick for Week 5 of College Football: The Sooners have gone 0-4 ATS in their last 4 games against Iowa State, with all four games coming with Oklahoma as the favorites. The Cyclones will hope to keep that streak alive, while simultaneously breaking their 0-6 ATS streak overall. Big-12 action this Saturday in Week 5 of College Football. 

| | | |
| --- | --- | --- |
| College Football Betting | Oklahoma | Iowa State |
| Best ATS Line | -7 (-110) | +7.5 (-112) |
| Total | Over 61.5 (-110) | Under 63.5 (-110) |
| Where/When | JackTrice Stadium | Oct. 3, 7:30 PM EST |
The Oklahoma Sooners were No 3 in the nation until shockingly finding a way to lost at home to Big-12 Conference rival Kansas State 38-35. They are not ranked 18th in the latest AP poll and reeling from one of the biggest upsets in many seasons in the B-12 Conference. The Sooners were installed as 28-point home favorites and marked the 15th time in the B-12 that a favorite of 24 to 31 points lost the game straight-up (SU).
Huge Favorites that Lost Game in the B-12
The last time a favorite of 24 to 31 points failed to even win the game in the B -12 occurred twice in the 2017 season. The first game saw a 29-point road favorite in the Baylor Bears lose 48-45 to Iowa State in Week 1. The second game occurred in Week 6 when the Sooners failed to show up at home as 28-point favorites and lost the game to the Iowa State Cyclones.
Do these Failures Produce Betting Opportunities?
In the Big-5 Conferences of the B-10, B-12, P-12, ACC, and SEC there have been 41 games that followed on in which one of the teams was favored by 24 to 31 points and lost outright. These games game have produced an uninteresting 21-20 SU and 17-23-1 ATS record good for 42.5% winning bets. So, fading these teams that are coming off a horrible loss is a solid at 57.5% winning bets since 1990.
If the horrid loss occurred at home, those teams then are a miserable 16-15 SU and 11-19-1 ATS for just 36.7%. here again, fading the wounded heavyweight team is a solid bet in these elite conference since 1990.
A Solid Betting System on the Total
This college football betting system has earned an 88-42-2 record good for 69% winning bets since 1990. The requirements are to be the 'UNDER' in a game with a posted total between 56 and 63 points and one of the teams is coming off two consecutive games scoring 31 or more points and is facing an opponent, who is coming off a shootout, in which both teams scored 31 or more points.
We know that Oklahoma scored 35 in last weeks' loss and 48 points in their second to last game in shutout fashion over Missouri State. Iowa State is coming off a 37-34 win over the TCU Horned Frogs. If the team that has scored 31 or more in two straight games I the road team, which Oklahoma is, the results improve to 45-15 'UNDER' record good for 75% winning bets since 1990.
Weather Could be a Factor
The Saturday forecast for Ames after 5:00 PM EST is for drizzle and damp conditions with a game time temperature of 51 degrees and winds between 5 and 10 MPH. These conditions are not the type in the Midwest that can be a line mover, but they do warrant your attention over the remainder of the week. The total will not move above 63 points and the potential is for it to begin a downward movement to as low as 58 points.
Irrational Betting Behavior on the Sooners
The betting public is betting the Sooners to bounce back with a dominating win and 78% of the betting tickets on the Sooners. The line opened with ther Sooners favored by 9-points and it was quickly met with professionals taking the Cyclones and moving the line down to its' current price of 7 points. There are a few 6.5 prices starting to appear and reflects the professional bettor pushing even more on the Cyclones. At Bet Rivers, for instance, 88% of the tickets bet on this game are on the Sooners and makes this a contrarian betting opportunity get on the Cyclones now at a +7 price.
Oklahoma vs Iowa State Pick:
The 28-point scored is a pivot point for college football teams. The results will pivot to more favorable ATS results when a team scores 28 or more points and less favorable when they do not. The same can be said for when college football teams allow 28 or more points as evidenced by the fact that the Sooners are a money-burning 5-14 ATS for 26% winning bets over the last three seasons.
The Cyclones are 17-3 SU and 14-4-2 ATS for 78% winning bets when they have scored 28 or more points in games played over the last three seasons. So, the machine learning models project that the Cyclones will score 28 or more points. More trouble in Norman, OK. Take the Iowa State Cyclones +7 points as a Best Bet.
The best current price on Iowa St is at +7.5 (-112) via FanDuel