Alabama's DeVonta Smith Now Favored to Win Heisman Trophy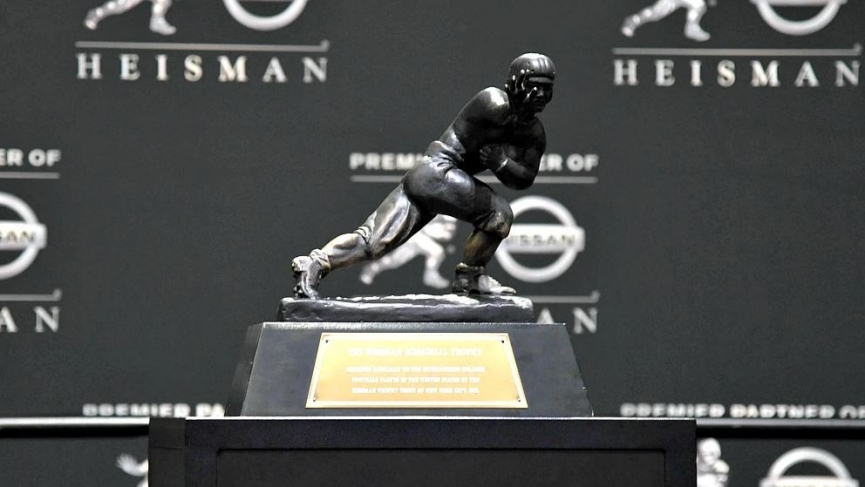 Heisman Trophy Odds See Devonta Smith now lined as Favorite: Devonta Smith is no doubt focused on leading Alabama to yet another national title, but you can't blame him if he blocks off a little time to think about bookending that championship with a Heisman Trophy. In fact, both Smith and Alabama are heavily favored to claim both.
It used to be said of Notre Dame that the Irish don't recruit football players. They SELECT them. Maybe it's time to pass that mantle along to Alabama.
Stands to reason that the best team in college football would have the best players, no? But Alabama has taken that to extremes, and after winning the SEC championship with a monster offensive game that produced 52 points against Florida, no fewer than three members of the Crimson Tide can stake legitimate claims to the Heisman Trophy.
A look at the final odds for the award, the winner of which will be announced on Jan. 5. Voting ends on Monday, Dec. 21, and the finalists are scheduled to be named on Dec. 24.
2020 Heisman Trophy Odds:
odds via bet365
2020 ncaa season
Devonta Smith -200
Mac Jones +150
Trevor Lawrence +1600
Odds Updated: Dec 21st, 2020
---
DeVonta Smith -200
The Alabama wide receiver can dominate a game better than any non-quarterback in the country. His skills were on full display against Florida when he racked up 15 passes good for 184 yards and two touchdowns. He has 17 touchdowns in 11 games this season, and twice this season he has had more than 200 receiving yards. And oh yeah, he also returns kicks – one of them, against Arkansas, went for 84 yards and a TD. Expect Smith to only add to those totals in Alabama's final game(s), as the senior does not shrink from the moment.
---
Mac Jones +150
Jones just keeps putting up great game after great game, and the Crimson Tide needed every bit of his latest masterpiece against Florida. Jones didn't disappoint – 33 for 43 for 418 yards and 5 TDs. He was sacked once and tossed one interception, but it still all added up to another SEC title for the Tide. Jones enters the BCS semifinal with 3,739 yards passing and 32 touchdowns vs. only four interceptions. Any Heisman voter would have a hard time arguing with those numbers.
---
Trevor Lawrence (+1000)
Backers of the presumed overall No. 1 draft pick are hoping that he can still abscond with the Heisman if Alabama's Big Three somehow split the vote, but the odds are long. Covid at Clemson interrupted Lawrence's season, and he didn't have to even have his A-Game in the ACC title game against Notre Dame. Lawrence did complete 25 of 36 passes for 322 yards and two TDs, and he also rushed for 90 yards. He should be a finalist.
Najee Harris (+1600)
It's not easy to make a name for yourself when Jones and Smith are your teammates, but Harris has managed to inch his way into the Heisman discussion with a record-setting 5-touchdown performance in the SEC championship. Harris rambled for 177 yards, and finished the season with 1,262 yards and 24 touchdowns, adding to the ridiculous offensive totals Crimson Tide offensive players assembled this season.