Alabama Heavy Favorites Over Ohio State to Win National Championship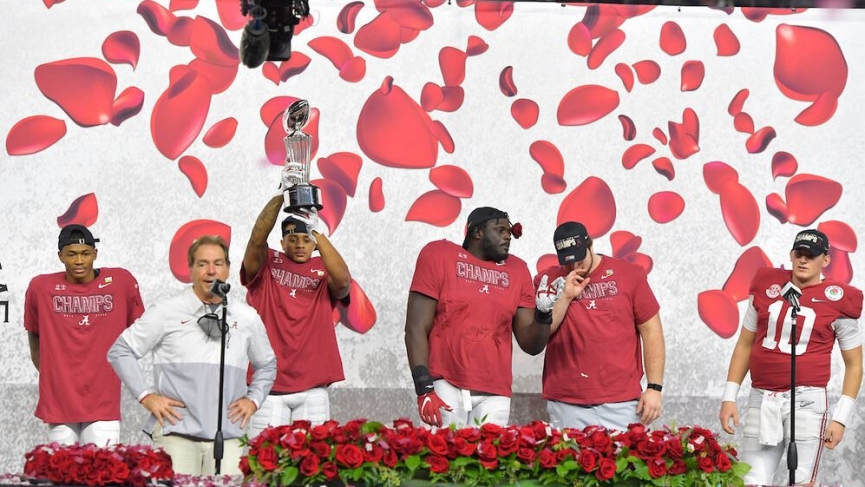 College Football Playoff Odds Headed Into Finals: The Bowl Game Championship series has come to a close, and the only thing left to do is crown a national champion. The Crimson Tide make their 5th appearance in the finals over the last 6 years, while the Buckeyes hope to prove the naysayers wrong and get the recognition they deserve.
College Football Title Odds:
2021 College Football National Championship
Alabama  -270
Ohio State +220
With two Heisman Trophy candidates, the best offensive line in college football, and a solid-if-not-generational defense to boot, Alabama figured to be a pretty good cover team this year despite big spreads. And the Tide was just that, going 8-2 ATS during the regular season before fading in post-season play.
In typical Bowl Game fashion, Notre Dame's late touchdown on a meaningless drive late in the fourth quarter gave the Irish a backdoor cover in the College Football Playoff semifinals on New Year's Day, but Alabama is still a solid favorite (6.5 to 8.5, depending on which book you use) over Ohio State in the National Championship Game on Jan. 11.
The Tide are seeking their third national title since the four-team playoff system was instituted in 2014, and they have basically laid waste to most of their opponents, shaking off coach Nick Saban's mid-season positive Covid diagnosis along the way. The Heisman votes were already in by the time Mac Jones bent, folded, and mutilated the Notre Dame defense with 25 completions in 30 attempts for 297 yards and four touchdowns.
Jones heads into the title game with video game numbers — 36 touchdown passes against just four interceptions and an average of 336 yards passing. Wideout DeVonta Smith, also in the Heisman conversation, caught three TD passes against the Irish and has one game left to add to his season totals of 20 TDs and 1,641 yards.
Ohio State, which due to Covid issues in the Big Ten has played only seven games, had to get a hall pass from the conference just to play in the league title game. But the Buckeyes, perhaps with fresher legs than a Clemson team that has played 12 times, had little difficulty in their own college football semifinal, covering the 7-point line easily in a 21-point win in the Sugar Bowl.
QB Justin Fields doesn't quite have the same supporting cast as Jones has, but Fields seems to save his best games for ranked opponents. He torched then-No. 18 Penn State for four TDs on Halloween, threw for 300 yards against then-No. 9 Indiana, and was at the top of his game last Friday against Clemson (385 yards and six touchdowns). He enters the title game averaging 272 yards passing, a number deflated by a 114-yard effort against Northwestern in the Big Ten title game.
Whether Ohio State can be competitive against Alabama depends in large part of whether the Buckeyes' suspect offensive line (ranked outside the top 100 this season) can give Fields time to maneuver. Fields can get away from pressure as well as anyone, but whether he can do that for four quarters is anyone's guess.
In early December Alabama was a heavy favorite to win the national championship and Ohio State was listed at 9/2. As the Buckeyes took a lead against Clemson last Friday, the College Football odds saw numbers that started at Alabama -7.5. That number has gone up and down but seems to have settled at 7.5, with a money line of Ohio State +230 and Alabama -275.