Western Illinois vs Iowa Pick: College Basketball Dec. 3rd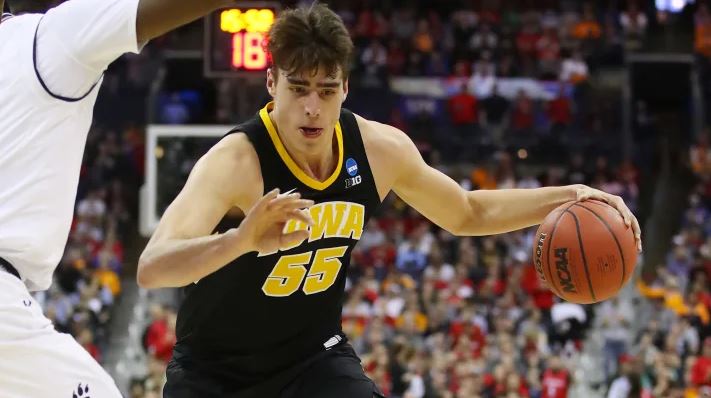 Western Illinois vs Iowa Pick – College Basketball Dec 3rd: Hawkeyes head coach Fran McCaffery has gone 92-78-4 ATS as the betting favorite, since taking the reigns as coach 10 years ago. Iowa comes into Thursday night's game riding a 13-5-2 ATS streak as the favorite going back to last season.
ncaa match-up
Western Illinois
Iowa
+36
-36
Total
Over 153 (-110)
Under 153 (-110)
Where/When
Carver-Hawkeye Arena
Thur. Dec 3rd, 8:00 PM ET
It came as no surprise to see Luka Garza's name atop the first Wooden Award watch list. It won't be a surprise to see Iowa's big man sitting on the bench with plenty of time remaining when the Hawkeyes face the Western Illinois Leathernecks on Thursday, probably with a double-double already on his stats ledger.
Ranked No. 3 in the AP, the Hawkeyes entertain the Leathernecks in basically a glorified scrimmage at Carver-Hawkeye Arena. The Big Ten Network has the 8 p.m. (ET) tip, and Iowa is giving up a whopping 36 points at Bet365 where the total has been set at 155½.
Iowa Betting Stats
last season
ATS. MARGIN
ATS
o/u
Iowa
+1.6
20-11
14-17
2020/21 season
ATS. MARGIN
ATS
o/u
Iowa
0.0
1-1
2-0
'Necks Facing Huge Rebuild Under Jeter
This is a tough way for Rob Jeter to begin is Western Illinois coaching career, and for the Leathernecks to begin their schedule. Coming off as 5-21 showing last season, including 2-14 in the Summit League, they are picked to once again ride the caboose in conference play.
Western Illinois only returns two players from last year's team, senior guard Anthony Jones and senior forward Jake Weyhrich. Jones averaged 5.0 PPG and 3.3 RPG while playing in 24 of WIU's 26 games. Weyhrich played a total of 17 minutes over six games. In other words, Jeter is facing a complete rebuild in Macomb.
Garza Will be a Matchup Nightmare
Compare that to Fran McCaffrey having all five of his starters back from an Iowa team that won 20 games a year ago. Garza is the obvious center piece, figuratively and literally, and leads an experienced group that includes Joe Wieskamp and CJ Frederick. Add in Joe Toussaint, Jordan Bohanon and McCaffrey's two sons, Connor and Patrick.
The Hawkeyes popped North Carolina Central and Southern last week, shooting better than 50% over the course of the contests. They were favored by 28½ in both tilts, just missing the cover in Friday's 103-76 cakewalk past the Jaguars. Both games went over the NCAA basketball odds, and the Hawkeyes committed just 19 turnovers combined.
Garza started slow in the opener against North Carolina Central, but finished with a team-high 26 points and 10 boards. He was on fire out of the gate against Southern, scoring 36 of his 41 in the first half. Garza also canned all three of his 3-point attempts against the Eagles.
While the usual suspects contributed, Coach Fran is probably most excited about what he saw out of redshirt freshman Patrick McCaffrey and true freshman Keegan Murray. The younger McCaffrey scored 23 points in the two games, and Keegan Murray – whose twin brother Kris is also on the team – contributed 21 points and 10 rebounds off the bench. 
Western Illinois Betting Stats
last SEASON
ATS. MARGIN
ATS
o/u
Western Illinois
-0.6
11-16-2
13-11
2020/21 SEASON
ATS. MARGIN
ATS
o/u
Western Illinois
0
0-0
0-0
Western Illinois vs Iowa Pick:
Iowa has won all nine previous encounters with Western Illinois. The last matchup was almost five years ago in Iowa City where the Hawkeyes cruised to a 90-56 decision, easily covering a 16-point spread.
As he's done in the first two games, McCaffrey will empty his bench in this one. The Hawkeyes have key matchups with North Carolina and Iowa State next week, but his backups tonight should be able to maintain enough of a lead to make a winner out of a free college basketball pick on Iowa.
---
Keep it locked to Odds.com for all of your College Basketball betting needs for Thursday, December 3rd. The best current odds can be found on our College Basketball Odds Page. Stay tuned for plenty more College Basketball Picks throughout the season.