College Basketball Odds – Michigan State a Longshot to Win Championship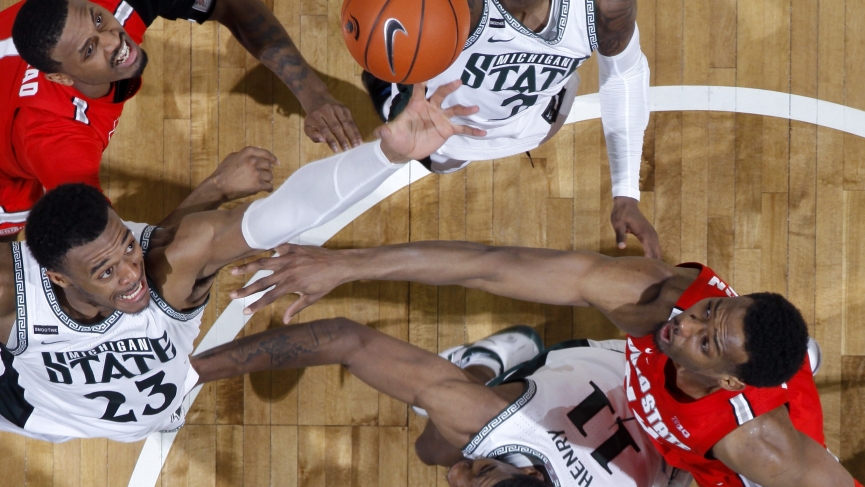 2019-20 Record: 22-9, co-champs Big Ten
College Basketball Odds to Win 2021 National Title: 24 to 1 (+2400) at FanDuel
It was so short-lived, few may remember Michigan State spent time as the top-ranked team during the 2019-20 college hoops season. Tom Izzo's troops entered the campaign as the team to beat with a No. 1 ranking in preseason polls, and the Spartans promptly got beat as small favorites on the college basketball odds, eventually falling completely out of the top 25 rankings.
By season's end, however, Michigan State was the top-ranked team in the Big Ten, claiming at least a share of their third consecutive conference crown and looking every bit like the dominant force the Spartans were projected to be. For a team coming off a Final Four appearance in 2019, the sky was indeed the limit as Michigan State prepared to make a statement in the Big Ten Tournament before heading off to March Madness.
Like everyone else, the Spartans never got that chance. Now Izzo, who's been at the helm for 25 years, and his squad have a long wait to get another chance as a third NCAA title in school history. FanDuel rates State in the second tier of teams in contention to win the championship at 24/1 on the college basketball futures.
Who's Out In East Lansing?
That puts the Spartans third among Big Ten schools behind Wisconsin (+1800) and Iowa (+2000), so Izzo will have plenty of competition to overcome to make it 4-straight league crowns. And there are plenty of questions to answer before Michigan State even gets to its Big Ten schedule after the subtraction of one of the best players in Spartans history.
Cassius Winston, a 6-1 guard out of Detroit, led Michigan State in assists each of the last three seasons and topped the team in scoring the past two. His eligibility is up, and despite an impressive collegiate career, his chances at the next level could be limited. Likewise, Kyle Ahrens is gone after being a consistent member of Izzo's rotation averaging 13-18 minutes per game during his junior and senior seasons.
Unknown at this time are the fates of Joshua Langford, Aaron Henry, and Xavier Tillman. Langford has been bitten by the injury bug the last two years and sat out the entire 2019-20 schedule with a foot injury after averaging 15.0 PPG the previous year. Henry was a solid contributor on the wing with a 10.0 PPG scoring average this past season, and the 6-6 sophomore has not made a decision yet about returning.
Tillman would be the biggest loss behind Winston. The 6-9 talent from Grand Rapids has a year of eligibility left after closing the season with six double-doubles in his final eight games but announced he would test the waters of the NBA Draft with the option to return. Tillman currently projects as a late 1st-round pick.
Who's Coming Back & Coming In? 
Tillman and Henry depart along with Winston, it means Izzo has to replace his top 3 scorers, his top rebounder, and his top assist guru, a daunting task for any coach. Good thing Izzo begins with the three scorers who ranked right behind that trio and already know his system, guard Rocket Watts and forwards Malik Hall and Gabe Brown.
Watts will be given the first crack at replacing Winston on the point following a fine freshman season (9.0 ppg). Hall (4.6 ppg, 3.7 rpg) went through some growing pains in his freshman season, and Brown (6.8 ppg, 3.6 rpg) has a solid inside/outside game that could make him a huge danger on the wing.
Among the key newcomers is Joey Hauser who sat out last season following a transfer from Marquette. The 6-9 forward would be a nice replacement if Tillman bolts or the pair could team to give the Spartans a strong pair down low. It could become a tough trio if incoming freshman Mady Sissoko can make a smooth transition to the college level. The 6-10 Sissoko should be on highlight reels very soon with his shot-blocking prowess. And it's possible that by the time the conference schedule rolls around, AJ Hoggard could be taking over point duties for the Spartans. He rates as a solid perimeter defender and decent 3-point shooter, and the 4-star recruit was being chased by Dayton and UConn, among others.
Early Matchup With Duke Must-See
Michigan State will once again be tested early with another appearance in the Champions Classic. This year's opponent will be Duke, pitting Izzo against Mike Krzyzewski and his next group of ballers. The Spartans and Blue Devils have split their last two meetings, State taking down top-ranked Duke to win the East Region of the 2019 NCAA Tournament, and the Coach K's kids upsetting MSU in East Lansing last December as 6½-point road 'dogs.
Izzo will also take his team to the Orlando Invitational over Thanksgiving, and that sets up a potential clash with Gonzaga. In addition to the Bulldogs, Michigan State could battle Auburn, Xavier and Saint Louis.
Having Tillman back would be huge for the Spartans to make another strong run, but that's a big if right now, and Michigan State College football odds might be overpriced at 24/1 without him.