Vancouver Canucks vs. St. Louis Blues Pick – Game 5 NHL Playoffs 2020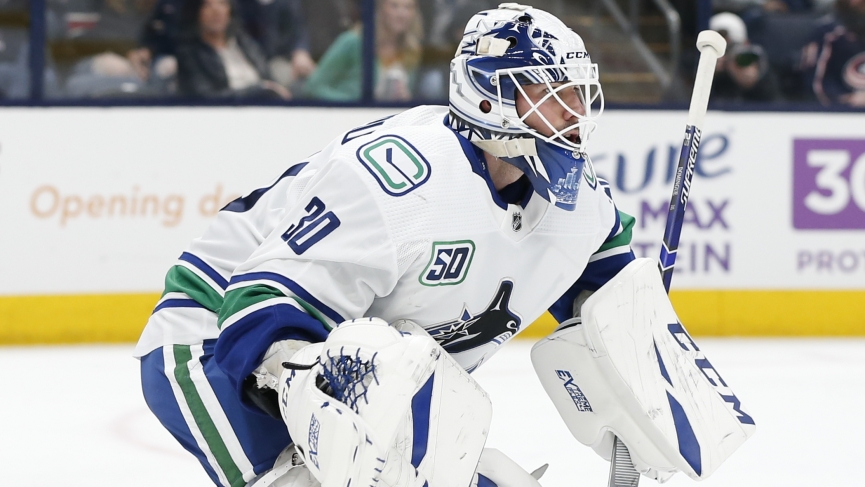 NHL Playoff Series – Vancouver Canucks vs. St. Louis Blues (Game 5)
Time: 10:30 pm EST
Odds: +125/-143 Totals +/- 5.5
We are about to dig deep into my Vancouver Canucks vs. St. Louis Blues pick but let's look at how this series has progressed. The St. Louis Blues were in serious trouble with many people writing them off after falling behind 2-0 in this series to the Vancouver Canucks but the Blues responded by showing some of that Stanley Cup title-winning pedigree from last season as they have come back to even the series at 2-2. With a pair of wins since head coach Craig Berube made the tough decision to switch goalies benching his Stanley Cup-winning goalie from a season ago, Jordan Binnington, in favor of Jake Allen and the decision proved to be a good one.
St. Louis no longer singing the "Blues"
Allen has stepped in and played far better in net for St. Louis stopping 61 of 64 Vancouver shots over the last two games both of which were St. Louis victories. St. Louis did a better job of clogging up the neutral zone and cutting off much of the Canucks speed and forechecking prowess that wreaked so much havoc on them in the first two games of this series. St. Louis also got Alex Steen and Sammy Blais back in the lineup from injuries prior to Game 3 and those are two very strong defensive-minded forwards for this team making them a more difficult team to try to score against.
The call of the Canucks?
This is the first time all series long that Vancouver has faced a great deal of adversity and now it's on them to try and bounce back after losing back-to-back games in this series. In a situation like this where a team has seen the tide turn against them, I look for player reaction and quotes to indicate the mindset heading into a pivotal game for them such as this one.
Here is an outstanding quote from Vancouver Canucks forward J.T. Miller talking about where the team is at right now: "We played a hard back-to-back against the Stanley Cup champs. It's a best-of-seven series for a reason, and we knew it was a tall task. We were one shot away from going up 3-0 (Sunday) and tonight it was 1-1 five-on-five. It's not like we're getting our butts whipped up and down the rink. They're a good team, we're a good team. It's going to be a hard, long series. We signed up for that. The mindset is to have a good day off (Tuesday) and come back ready to go because it's going to be another battle."
That tells me Vancouver hasn't lost faith or confidence in their chances in this series and is focused on being better in the next game tonight in Game 5. The best forwards for the Canucks were very quiet in Game 4 as J.T. Miller, Elias Pettersson, Bo Horvat, and Brock Boeser were held down by St. Louis but they still had chances and I think Vancouver is due to correct the 0-for-7 power-play drought they are currently enduring heading into Game 5. It's surely worth noting the Canucks power play was working quite well early on in this series against the Blues. They certainly have the firepower and offensive skill to get their power play unit back on track and get it back to being productive like it was in the first couple of games of this series.
Vancouver Canucks vs. St. Louis Blues Pick
I thought Vancouver had a chance to win this series and I still believe they can win this series even after consecutive losses for the Canucks heading into Game 5 tonight. Vancouver has been a resilient bunch in these playoffs and I look for their best players to all respond with much better performances tonight after being very quiet in Game 4 of this series.
Credit some of that to the tenacious and tight-checking defense we saw from the St. Louis Blues who did a better job of not letting Vancouver get speed going through the neutral zone but the Canucks should be able to make some adjustments tonight to put themselves into a position where they can emerge with the win. Vancouver is getting a very attractive +125 price tag and I like the collective mental mindset of this team refusing to allow the last two losses to give them a defeatist attitude.
I will bet Vancouver on the ML at +125 and also look toward the Over 5.5 for a smaller bet and you can get that at +115 at Fanduel. There is a definite side and total correlation in this series. Both games that Vancouver won went over the total and both games that St. Louis won stayed under the total. I expect more of the same here tonight.