Toronto Maple Leafs Pick – 2020 NHL Playoffs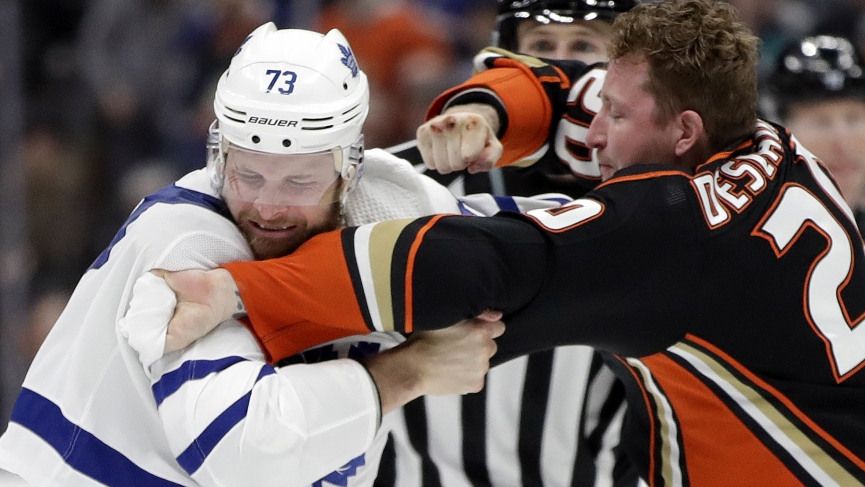 As we all get set and get excited for the return of meaningful NHL games on August 1st, there is one team and one fan base who should not be looking forward to it as much. That team is the Columbus Blue Jackets. Taking my Toronto Maple Leafs pick at-170 is the steal of the summer, and here is why: The Maple Leafs are loaded with talent, and are a much better team than the Blue Jackets. Of course, I will elaborate on this, but put simply, that's all the reasoning you need.
The Race to Three Wins
These five-game series will be extremely unique because everyone has to press the reset button and will have no time to ease into things. Each series is a race to win three games, or your season is over. Everyone will have fresh legs, everyone will be eager to play, and no one will be able to use momentum as a benefactor, because no team has it. In this type of situation, the better team is going to win nine times out of ten, and I certainly believe this series will fall into that 90% category. Toronto is the third heaviest favorite amongst the opening round teams, topped by only the Edmonton Oilers (-190) and the Pittsburgh Penguins (-230).
Though I'm sure many of you wish the odds had a slightly better payout, I personally believe Toronto should be an even heavier favorite. So, I recommend going all-in while the line is available. Toronto excels in many different categories that the Columbus Blue Jackets simply do not. They are talented, goal-scoring, experienced at goaltending. The Maple Leafs are debuting a top line which we had never seen play together before the Covid-19 pandemic, and frankly, that was a blessing for the rest of the league.
This line is made up of the Maple Leafs three top scorers, John Tavares, Auston Matthews, and Mitchell Marner. Together they accounted for 207 of the Maple Leafs 608 points on the season(34%) and have astronomically high shots on goal totals compared to the top three scorers on the Columbus roster. So, let's continue talking about the Blue Jackets top three scorers, who only account for 132 points together.
Pierre-Luc Dubois is the points leader with just 49. This trails Tavares by 11, Marner by 18, and Matthews by a whopping 31 points. Some might then look to the "Columbus just spreads the puck out more leading to more diverse scoring" argument. Too bad I've got counter-evidence, goal scoring. While assists are incredibly important, goals are what win you games. When it comes to goals scored, there is no comparison between these two teams. Toronto had scored 227 goals as a team during the regular season, 89 of them belonging to the top three scorers mentioned above.
.@AM34 with the 2nd. #TMLtalk pic.twitter.com/4QJVVdSKhu

— Toronto Maple Leafs (@MapleLeafs) January 23, 2018
That number becomes even higher when you dip into the Leafs fourth-leading scorer, William Nylander, who had 31 goals on the season. In order to match that four-player, 120 goal total, Columbus would have to tally up the efforts of not only their top four players but the following five top scorers as well. Four men in Toronto are doing the work of nine men in Columbus. Though the stats may sound top-heavy, by no means does this indicate that no one else scores goals in Toronto. The efforts of the next five Toronto point leaders equals 51 additional goals. If all this is not enough to convince you, this one little stat should. Toronto ranked third in the entire NHL in goals per game (3.39) while Columbus had the polar opposite third-worst average (2.57).
Bottom line, Columbus is not a threat
Columbus simply can not match Toronto's shots on goal, or their ability to score. Auston Matthews alone fired over 100 more shots on goal than any player on the Blue Jackets this season. Experience goes hand in hand with efficiency. Toronto sets up nicely in both categories. Though he is still a young player, Auston Matthews carries himself like a seasoned vet and commands respect from both his teammates and opponents.
He was the Calder Trophy recipient in 2016-17 and is looking to lead his team to the playoffs for the fourth year in a row. Matthews, as does everyone else, benefits from playing with a real seasoned vet in John Tavares. The 2009 first over-all pick, and former captain of the NY Islanders hand-picked the Toronto Maple Leafs for himself last season. He brings incredible amounts of experience and leadership to the table, having been a captain, nearly winning an MVP, and winning an Olympic Gold Medal in 2014.
While Columbus has some promising young players, they do not have anyone who can match that resume. As mentioned, with great leadership and experience comes great efficiency. This was on display in full effect throughout the Maple Leafs season. Toronto ranked:3rd in goals per game (3.39)6th in shots per game (32.9)11th in power-play goals (45)6th in power-play percentage (23.1)3rd in fewest penalty minutes (427) Columbus ranked 27th, 8th, 28th, 27th, and 2nd in those categories respectively.GoaltendingOn the surface, comparing the stats of each team's goaltending groups may seem relatively even. That may be somewhat true for this season alone, but over-all, the Maple Leafs have a much stronger, more consistent, more reliable player in net.
The Blue Jackets have split time between Elvis Merzlikins and Joonas Korpisalo who have both played well. Merzilkins has played fewer games, and seen fewer shots, but has the advantage in save percentage, goals-against average, and shut outs. I'm not sure who we are going to see in net to start the series, but both goalies are so similar I don't think it will make one bit of difference to the Maple Leafs. Freddie Anderson on the other hand is someone who can make a huge difference.
Holy moly, Frederik Andersen (@f_andersen30).

(🎥: @MapleLeafs) pic.twitter.com/RZXj0fq7fr

— NHL (@NHL) July 22, 2020
The Maple Leafs goaltender has seen the vast majority of ice time this season, only sitting out a total of seven games. He has managed 2.85 goals against, to go along with a .909 save percentage, and racked up the fourth-most wins by a goaltender this season. He also carries a ton of experience, having played in the postseason six times, including a 16-game run to game seven of the Western Conference Finals with Anaheim in 2014-15. He has also been nominated for the Vezina Trophy each of the last two years. Laying -170 may seem like a lot to some of you, but if you've made it to the end of this article I hope you see that it is worth it, and is a no-doubt winner in my mind. Do not be afraid.
GO ALL IN ON THE TRONTO MAPLE LEAFS -170