Islanders vs Lightning Pick – Game 1 Stanley Cup Playoffs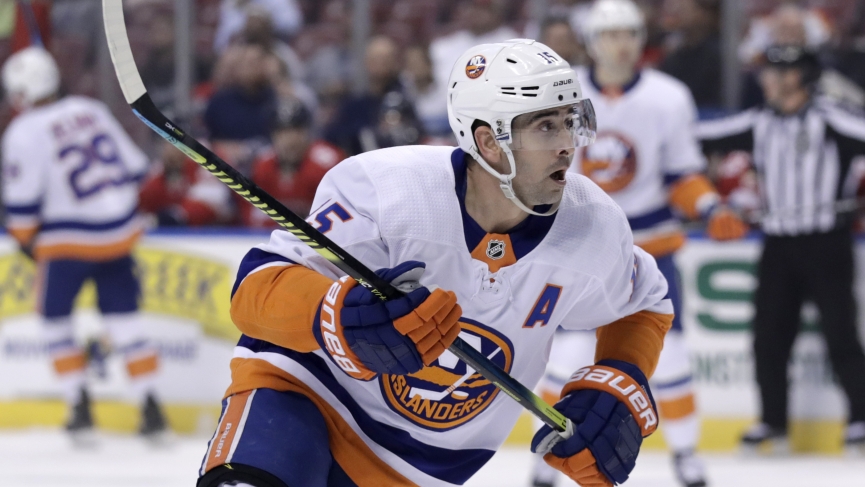 Stanley Cup Playoff Series: New York Islanders vs. Tampa Bay Lightning (Game 1)
Date/Time: Monday, September 7, 2020 – 6:00 PM
Today we deep dive into my Islanders vs Lightning pick for game 1. The New York Islanders have been thoroughly impressive in their advancement to this Eastern Conference Final. The Islanders disposed of the Florida Panthers in four games in the play-in round, dominated the prolific Washington Capitals in the first round, and controlled proceedings against the Philadelphia Flyers for most of the second round in spite of the fact the series required seven games.
New York has displayed its usual structured and disciplined defense which has made it difficult for teams to obtain an extended amount of offensive zone time and quality scoring chances against them. However, the wrinkle in this current edition of the NY Islanders is their increased offensive production. 
This is a squad that for the last couple of seasons has been portrayed as a defensive team that can struggle to score goals at times. That narrative used to be true but the NY Islanders aren't that same team that is incapable of finding the back of the net. For the entire playoffs to this point, the Islanders are averaging 3.38 goals per game which is well above league average.
Jordan Eberle, Anthony Beauvillier, Mathew Barzal, Brock Nelson, and Josh Bailey all have double figures in points in the playoffs while Nelson and Beauvillier along with Isles captain Anders Lee and Jean-Gabriel Pageau all have 7 or more goals in the playoffs. That is a solid array of offensive contributors for the NY Islanders and they will need more of that solid production from their top six to nine forwards in a series like this one against a very depth laden Tampa Bay Lightning squad.
Lightning Ready To Strike Again
Tampa Bay got here by taking down the Columbus Blue Jackets in five games in the first round and also finishing off the Boston Bruins in five games in the second round. This marks the fourth time in six seasons that the Lightning have reached the conference finals. What has changed this season from the Lightning team that got swept in four straight games in the first round last season? A lot.
This team is tougher and more physical to play against and they have committed to winning more games with defensive play than they have at any point previously. Tampa Bay always had the offense and the ability to score goals in bunches over the past several seasons but now the Lightning has a commitment at the other end of the ice defensively.
The Lightning has obtained more players to play that tenacious, hardworking, checking brand of hockey that every NHL team must possess to a certain degree if they hope to eventually lift the Stanley Cup. Zach Bogosian on defense along with forwards like Blake Coleman, Barclay Goodrow, and Pat Maroon has brought an extra degree of grit, physicality, and toughness and the scoring touch too. Skill and talent alone won't get it done.
The Lightning's third line which features two-thirds of players acquired at the deadline with Blake Coleman, Barclay Goodrow, and Yanni Gourde has been arguably their best line right next to their top line of Nikita Kucherov, Brayden Point, and Ondrej Palat. The second line for Tampa Bay is definitely their area of concern as they enter this series.
The Alex Killorn, Anthony Cirelli, and Tyler Johnson's second line has struggled for most of the playoffs and those three players combined had just seven points in the second round against Boston. Andrei Vasilevskiy was outstanding in the first two rounds in net for Tampa Bay but it will be interesting to see how the extended time off impacts his rhythm which could be disrupted. I often like to bet against teams when a goalie is making his first start in at least a week.
Islanders vs Lightning Pick
This should be a very competitive series. I respect Tampa Bay and the way they have played but I worry this one-week layoff could hurt their rhythm, momentum, and confidence. This quote from head coach Jon Cooper stands out like a sore thumb as he talks about the situation of not playing a game since last Monday: "To replicate the intensity that we had the two previous series, it's hard to do. You're definitely not going to do that in practice." It's not like this is the best spot imaginable for them playing the NY Islanders in Game 1 of this series just 48 hours they beat Philadelphia in Game 7 plus they had to travel from Toronto to Edmonton for this series with the rest of the playoffs taking place there.
However, I think Tampa Bay is vulnerable here in Game 1 with such a long layoff entering this game and the NY Islanders could ride the momentum and adrenaline wave of knocking off Philadelphia on Saturday. I am making two bets here on the NY Islanders +125 in the 1st Period and also the NY Islanders at +140 for the game. I believe it may take Tampa Bay a period, half a game, or perhaps even the entire game to ramp things back up to playoff speed and intensity again and the NY Islanders are the well-balanced type of team to take advantage of it. I have no strong opinion on the Game 1 total of 5 but it's worth noting the under is 3-1-2 in the last six meetings between these two teams.