Islanders vs Flyers Pick – NHL Playoffs Game 2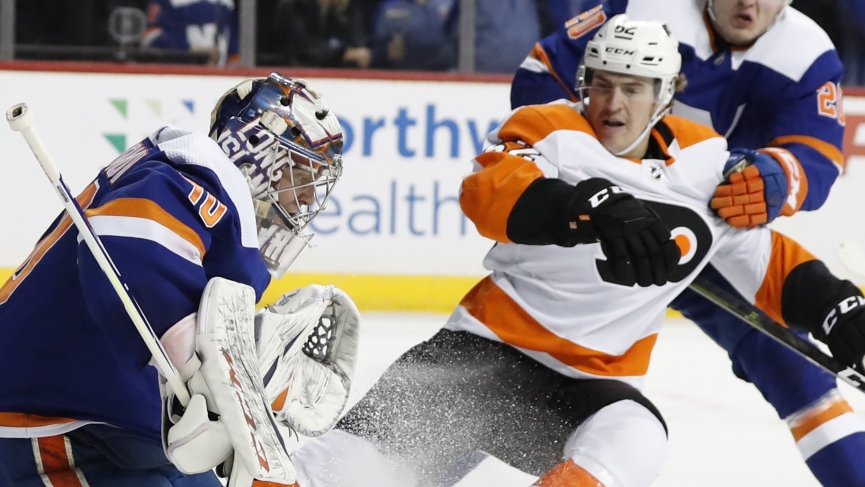 NHL Playoff Series: New York Islanders vs. Philadelphia Flyers (Game 2)
Date: Wednesday, August 26, 2020 –
Odds: Islanders +1.5/-310 Flyers -1.5/+250 | Moneyline -105/-111 | Total 5
The New York Islanders hockey clinic is open for business
The New York Islanders opened a hockey clinic in the first round of the NHL Stanley Cup Playoffs against the Washington Capitals as a way of showing everyone how to dominate and control games using a defense-first style of play. They went on to dispatch the Capitals in five games.
The hockey clinic had to shut down for a few days in order to re-calibrate for their next task of facing the Philadelphia Flyers in the second round. The Islanders hockey clinic opened once again for business in Game 1 of this series on Monday night. The Islanders rewarded their guests and supporters with a resounding 4-0 shutout win.
It was your typical effort from the NY Islanders in which they got the lead and they just put a chokehold on the neutral zone for the rest of the game and made it difficult for the Flyers to generate a consistent offensive attack and extended time in the Islanders zone.
NY Islanders goaltender Semyon Varlamov who has had a terrific playoff in between the pipes became the first Islanders goalie ever to record consecutive playoff shutouts, including a 4-0 victory against Washington to close out the Islanders first-round series in five games. Varlamov's current playoff shutout streak of 136 minutes and 20 seconds is just 39 seconds shy of Billy Smith's franchise record putting him in some great company.
The Islanders strong blue line has played a big role in those consecutive shutouts by playing tight and structured defensive hockey in front of their goalie and limiting the opponent from getting many second-chance opportunities and rebounds in front of the net.
These Flyers are grounded
Philadelphia's offensive struggles carried over from the first round against Montreal. In spite of the Flyers winning that series, they only scored 10 goals in the six games combined and were blanked by the Islanders here in Game 1. Claude Giroux and Sean Couturier have both yet to score a goal in the playoffs.
The lack of scoring didn't hurt them against Montreal but it will here against a NY Islanders squad that has a bit more offensive depth upfront than the Canadiens did. The Flyers didn't come out ready to be at their best getting outplayed and outshot badly 15-4 in the first period. They were better after that but it wasn't enough and they couldn't cash in on any of their chances.
Philadelphia found a way to beat Montreal in the first round despite a lack of scoring getting held to only 10 goals in the six games of that series but the Flyers are not going to be able to get away with a similar lack of punch and scoring production in this series if they hope to move on past this red hot NY Islanders squad. It is no surprise that Game 1 stayed under the total and the Philadelphia offensive woes are very well reflected in the fact they have trended strongly to the under. The Flyers have gone 8-1-1 to the under in their last 10 games.
Islanders vs Flyers Pick
Philadelphia feels they have a better game in them for Game 2 of this series on Wednesday afternoon and the one thing the Flyers have done consistently is respond with a better performance after a loss. Philadelphia is an undefeated 10-0 in their last 10 games following a loss dating back to January which is an extraordinary record in this type of situation. I picked the NY Islanders in the series and I cashed a ticket with them in Game 1 but I am not stepping in front of the Flyers unblemished mark after a loss and in fact, I'll back them here to step up and take Game 2. Philadelphia has played much better and won games after a loss repeatedly and I think we'll see a similar response from the "Orange Crush" here in Game 2.