Colorado Avalanche Best Bet and Today's NHL Picks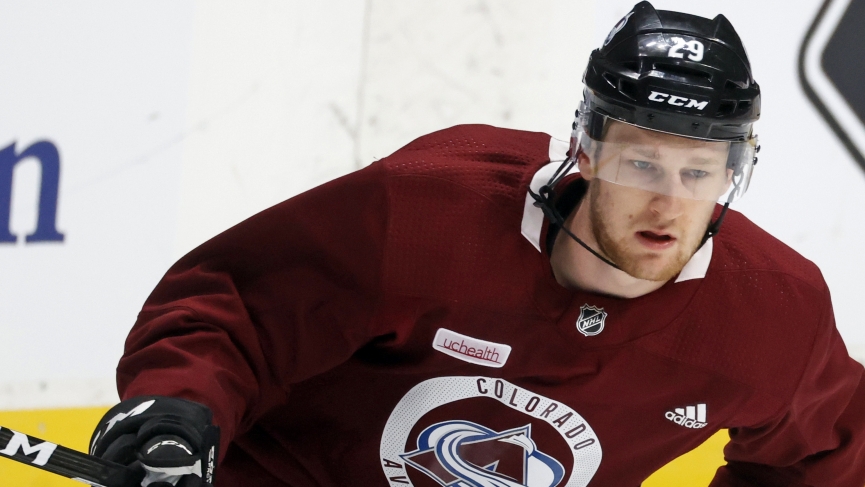 The NHL's top seeds are back in action today as the first day of round-robin action gets underway. Take a look at my Colorado Avalanche best bet and today's NHL picks. Let's get it!
Arizona Coyotes (+120)
I won't have money on this game but if I did I would pick the Coyotes because I put a Stanley cup future on them early in the season, and I do think that they can be a really good team when they put it all together.
I am just avoiding this game because these are truly two wildcard teams. They have both seen peaks and valleys in their seasons, and I almost never speak ill of a goalie but neither of these two can be trusted right now.
Darcy Kuemper and Pekka Rinne are both extremely talented goalies, but Pekka has a reputation of underperforming in big moments, and neither goalie has had a particularly great season this year.
Kuemper's numbers look really good, and for the most part, he has played very well, but he struggled to stay healthy throughout the season, causing significant missed time. All signs point to him being back at full strength and healthy, so we'll see how things go.
This game could be a high scoring affair or a battle between the pipes, and I cannot tell you which it will be. I'm going to enjoy game one of this series with no money on the line, and figure out how to approach the rest of the series from there.
Philadelphia Flyers (+110)
I am picking the Flyers in this game on match up. I know the Bruins, and this is the perfect let down game opportunity that they seem to love to fall into. We've seen it happen to them a number of times. They have been one of the best teams all year, but it would be classic Bruins to lose the first two games and then come back and win three in a row to take the series.
It's not just lack of trust in Boston though. The Flyers were the hottest team in the NHL before stoppage of play in March. You can't put a ton of stock into what happened all the way back then, but they were doing everything right. Storming their way up the division standings ladder, and even winning 10 games in a row down the stretch. I really like their young goalie Carter Hart. When he's at his best, he is so fun and impressive to watch.
Bruins are loaded with talent, and will likely even take the series, but they won't take game one. Take advantage of the slight underdog Philadelphia Flyers.
BEST BET: Colorado Avalanche (-120)
I think Colorado is going to win this game. They have a group of young, extremely talented players who excel at putting the puck in the net. The Avalanche also lead the Blues in a couple of important statistical categories:
| Team | Goals Per Game | Shots Per Game | Goals Against Per Game |
| --- | --- | --- | --- |
| Avalanche | 4th (3.37) | 9th (32.3) | 26th (2.71) |
| Blues | 14th (3.14) | 21st (32.3) | 27th (2.66) |
Nathan MacKinnon, Cale Makar, and Mikko Rantanen all registered a point in their exhibition game against the Minnesota Wild, while the Blues were shut out by the lowest-seeded team in the entire play-in tournament, the Chicago Blackhawks.
| Team | Goaltenders | GAA | Save % |
| --- | --- | --- | --- |
| Avalanche | Philipp Grubauer | (2.63) | (.916) |
| Blues | Jordan Binnington | (2.56) | (.912) |
I just trust the Avalanche more in a one-game situation, if I am betting on this NHL game. I also think all of those guys will register points again on the way to a victory.
I'm taking the Avalanche -110 (I also wouldn't call you crazy if you sprinkled a little on the -1.5 puck line +250)
Toronto Maple Leafs (-160)
The Maple Leafs are going to win the series, and game one for the same reasons. You can check out my thought process behind this pick in long-form here: https://www.odds.com/nhl/toronto-maple-leafs-pick-2020-nhl-playoffs/
Minnesota Wild (-110)
The Minnesota Wild are going to win the series, and game one for the same reasons. You can check out my thought process in long-form here: https://www.odds.com/nhl/minnesota-wild-pick-110-to-win-series-is-a-best-bet/