Buffalo Sabres Predictions to Win Stanley Cup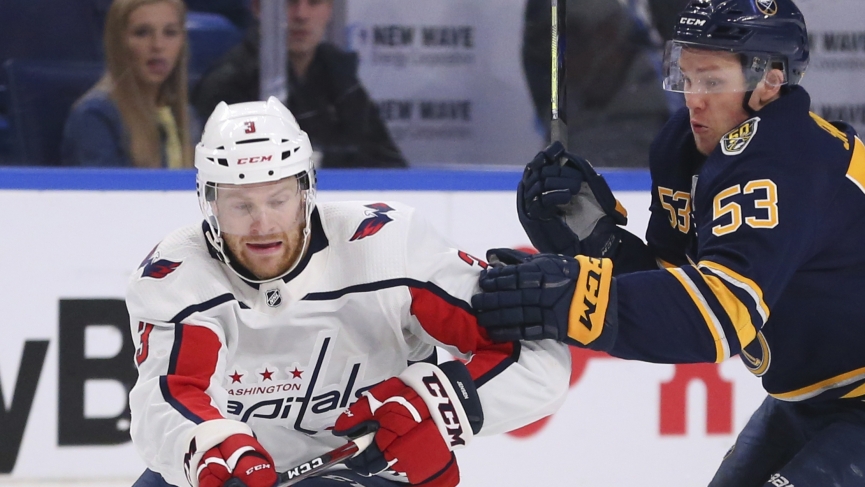 Buffalo Sabres predictions are pretty unanimous, they will not be a playoff team even if the season resumes so this article will focus more on what went wrong this season and provide everyone with a "State Of The Franchise" analysis. The state of this organization has been nothing short of dismal for several years and there is no end in sight. 
The Endless Rebuild Continues
The Sabres have been stuck in rebuild mode for years and they don't seem to be progressing or showing signs of long-term growth and improvement. Buffalo was expected to start turning a corner the minute they drafted Jack Eichel with the #2 overall pick in the 2015 NHL Draft. He was that foundation cornerstone franchise player that the Sabres coveted and desperately needed to start the re-construction of their roster.
However, the improvement and better results for the team that were expected after drafting the superstar center have failed to occur. Buffalo is now working on 9 consecutive seasons of missing the Stanley Cup Playoffs and lets not even bring up the Stanley Cup finals. The Sabres are no closer to ending their playoff drought than they were 5 years ago and that speaks to the struggles of this franchise top to bottom. Management in terms of personnel moves, coaching and the performance on the ice at the same time have all fallen way short in the quality department and when that happens, you simply can't succeed.
The Sabres Exhibit The Differences Between NBA and NHL
The Sabres are the prime example team showing why there is a big philosophy difference in roster construction between the NBA and NHL. In the NBA, if you find the superstar player, you are automatically a contender and can often win a title because that player is good enough to carry the team in what is clearly a superstar driven league.
That isn't the case in the NHL. When you have a superstar in the NHL, he still requires a good team surrounding him to win. Connor McDavid is an example of that with the Edmonton Oilers. He is probably the best player in the NHL but he hasn't won anything yet with the Oilers because the team around him hasn't been up to par.
featured_post1]
Jack Eichel is in that same predicament for the Buffalo Sabres. He's a superstar and we are seeing when healthy how dominant of a player he is with 36 goals and 78 points in 68 games this season while averaging more than a point per game. Unfortunately, the team lacks supplemental pieces to support Eichel. Sam Reinhart has 22 goals and 50 points and rookie Victor Olofsson has 20 goals and 42 points but after that, there is a huge drop in production to the rest of the forwards on the team.
If those three players don't score and produce, the Sabres simply don't have much else in the arsenal offensively. The defense is still a work in progress as the Sabres have been a bottom feeder defensive team for years with an inadequate blue line lacking depth and goaltending that simply has been nothing more than average since Ryan Miller in his prime was the starting goalie for the Sabres nearly a decade ago. Buffalo had Jhonas Enroth, Robin Lehner while he was battling mental illness, Linus Ullmark and Carter Hutton among others for goalies in the last 5+ years and none of them has been able to emerge as that rock solid and steady #1 goalie for this franchise. 
Final Verdict
The old adage is you have to learn how to walk before you can learn how to run. The Buffalo Sabres need to show some sign of progression and improvement first before they can ultimately snap their playoff drought. The Sabres have cycled through multiple head coaches over the last several years. They have failed to provide enough skill and talent depth for Jack Eichel and their defense is still very thin despite drafting Rasmus Dahlin in the first round.
The goaltending remains devoid of a consistent starting goalie that can be relied upon to play at an above-average level. There really isn't a single area of this team that isn't in need of improvement at this time. The Buffalo Sabres were not expected to be a playoff team this season and as a result, oddsmakers like Draftkings have priced Buffalo accordingly as a below-average team.
Bettors sometimes can make the case they can find value on teams like the Sabres in this situation because they are an underdog more often than not instead of being favoured and laying bigger prices. However, the Sabres still lost money for their backers going -4.8 units this season which speaks volumes about the brutal plight this franchise is in. It will take years before they climb out of it in my opinion.