Packers Season Win Totals 2020 Update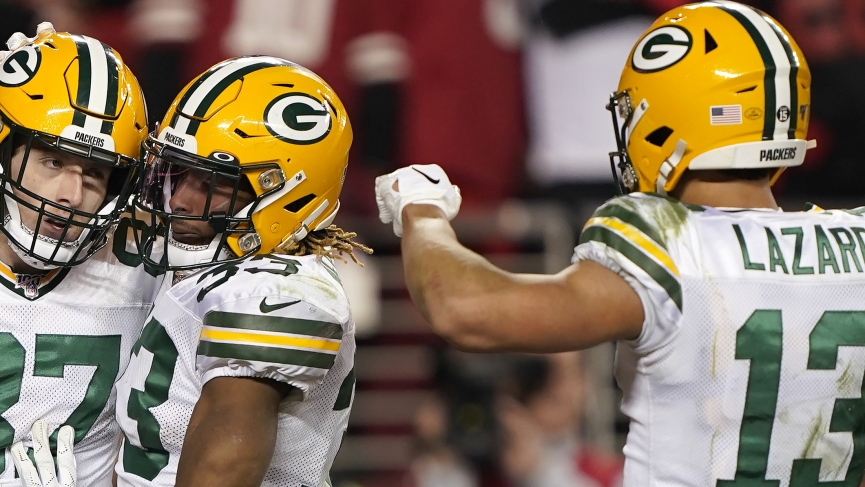 Many people think the Packers over performed to their talent level last year and it'll be interesting to see if they can continue their success. Even if Jordan Love was the right move for the future of the franchise, I don't know how it can help their season win total for this year.
Let's take a look at the Green Bay Packers declining season win total as oddsmakers and bettors have dropped it from 9.5 to 9.
The First Round Biggest Surprise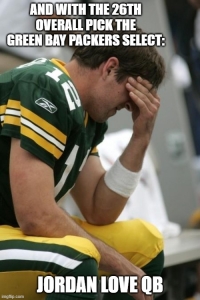 Jordan Love? Jordan Love?! What were the Packers thinking? I could guess they think they're going to recapture the "Aaron Rodgers Magic in a Bottle" but that was a completely different situation. Rodgers was considered to be the number one overall talent that fell all the way to selection 24, where the Packers did not have to move up to get him.
Jordan Love is a late first-round/second-round talent who the Packers moved up to acquire even though they have a Hall of Fame quarterback in their prime who needs weapons. To add insult to injury this was considered to be one of the deepest wide receiver classes in years and with a wide receiver corps of Davante Adams and some practice squad-level guys, the Packers could definitely use some more weapons for Rodgers to throw to.
It's absolutely shocking that the Packers did not grab a wide receiver in this year's loaded wide receiver draft. After Love they grabbed a running back in the second round, a tight end in the third, and a linebacker in the 5th round.
A chip on his shoulder??
Die-hard Packers fans can insist that this will give Rogers a boost in motivation. It certainly might. Still the fact remains that they did not address the team's biggest need, with a Hall of Fame quarterback entering the final championship window of his career. They made the NFC championship game last year. One game away from the Super Bowl. Then they decided to use their most valuable draft capital on a player who in the best-case scenario won't even hit the field in 3 years. Added motivation is nice but a stud wideout would be nicer.
Treading Water in Free Agency
The Packers acquired Christian Kirksey to replace outgoing linebacker Blake Martinez but that should be a downgrade. The Packers lost Bryan Baluga, replacing him with Rick Wagner, which maybe could be a lateral move, but in no way is an improvement. The Packers added Devin Funchess as supposedly another weapon for Rodgers. Yet Funchess does not strike fear in any cornerbacks or defensive coordinators, that's for sure. So an offseason of treading water. At least they didn't drown.
Was Last Season a Fluke??
This in no way signals to their Hall of Fame quarterback, "Hey we're behind you! We're all in! We're going to take that step to the Superbowl this year! It says, "Hey we think last year was a fluke like most observers! We were lucky to do so well! Let's start building for the future because we don't have a championship team right here! It's going to take us a couple of years before we're able to surpass the 49ers, the Saints, and other NFC stalwarts!"
Now obviously a pissed-off Rodgers will be a tough player to deal with, but I'm sure Packers fans would rather have a happy Rodgers with a new complement of wide receivers who are able to get open and catch the ball, rather than a pissed-off Rodgers throwing to the same practice squad-level receivers and Davante Adams. I don't think I would be too out of line to say that this draft was a huge FU to the Packers' current roster in their accomplishments last season.
Overlooked Positives
On the bright side, this will be Rodgers' second year with Head Coach Matt LaFleur and he seemed to use the system last year to win games, even if his numbers weren't as impressive. The eye test says that Rodgers has definitely declined in the past three years, but the eye test also says he is still one of the top five quarterbacks in the league.
He is still the guy you want if you need a winning drive with a minute or less on the clock. Watching Rodgers work magic with replacement-level players last year really made one excited to see how he would look with a couple of new weapons added to the offense. Unfortunately for the Packers and their fans, their front office didn't think so. They plan on making a run 2 or 3 years down the line.
Take Advantage of Overreactions
This draft disappointment pushes the oddsmakers to drop the Packers season win total from 9.5 to 9. This is a huge drop from the 13 games they won last year. What we have here is a case where oddsmakers and fans alike expected improvement and they didn't get it.
Yet we didn't necessarily see the team drop off in talent that much. The Packers are still in the division with the Mitch Trubisky led Bears, and the woeful Detroit Lions, so there will be plenty of opportunities for the Packers to pick up division wins. Even in Aaron Rodgers' decline, he is 10 times the quarterback that Minnesota Vikings QB Kirk Cousins is. Rodgers gives the Packers an advantage matchup at QB against every team in their division.
I think this is a great time to take advantage of the negativity on the Packers missed opportunities and take advantage of those who are overlooking the current team and downgraded them on what could have been.
I agree they could have been better! I agree they should have made a "win now" move! I admit it's disrespectful to their Hall of Fame quarterback, but I think it's even more disrespectful to drop this team four wins when they haven't significantly declined at all. They just didn't take advantage of their opportunities as fans would have liked.
Let the people upset about the Packers non-flashy draft bet this win total down and take advantage! Grab the Green Bay Packers over! This team may have lost out on its window to be a Super Bowl contender, but they are still a team to be reckoned with. They are probably the most solid team in the NFC North. They still have a fantastic home field advantage and a Hall of Fame quarterback. Don't believe the hype! Take the Packers season win total over 9.
Suggested Bet: Green Bay Packers season win total over 9 (+115)