Lions Odds to Win Super Bowl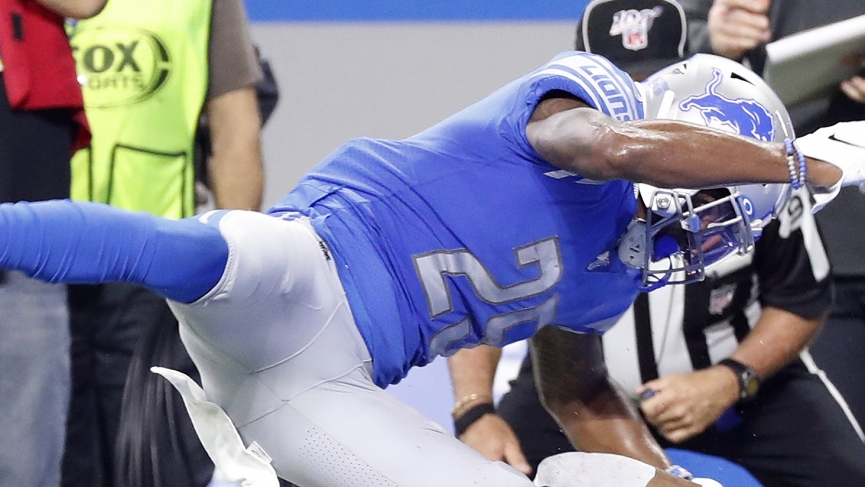 Let's call it the Matthew Stafford experiment. The Detroit Lions selected the quarterback with the No. 1 overall pick in the 2009 NFL Draft and have been patiently waiting for him to elevate this storied franchise. Coming off of two injury-plagued years, the upcoming season has massive ramifications for the 11-year veteran. He is yet to win a playoff game in his career (0-3) and if he doesn't lead Detroit to the postseason in 2020, expect the Stafford experiment in the Motor City to end abruptly.
| Lions Picks | Lions Odds |
| --- | --- |
| NFL Odds to win Super Bowl | 66 to 1 (+6600) |
| NFL Odds to win NFC Championship | 32 to 1 (+3200) |
| NFL Odds to win NFC North | +650 *Note Lions have worst odds of winning division |
(Odds provided by Fanduel Sportsbook)
The Lions finished with the third-worst record in the NFL last season so their 66 to 1 longshot odds of winning the Super Bowl is more than reasonable (considering they opened at 100 to 1 in February). History has been tough on the Lions, they play in a tough division and could very well be in for another long season. So throwing any money on Detroit at this moment seems like a horrible decision. But if you've got the itch, you may not find a bigger payout in the NFL.
Hot start in 2019, then reality sunk in
Detroit actually made some noise early on last season by going undefeated (2-0-1) in its first three games. Was this going to be the year where the Lions finally took the NFC North? Reality started to sink in quickly as injuries piled up across the roster, including Stafford who sat out several games with a back injury. The Lions never hit their stride and lost plenty of close games through the middle of the season as their roster got worse and worse, hit with the injury bug.
After the early streak, Detroit dropped 12 of its final 13 games and was mathematically eliminated from postseason contention following a Thanksgiving Day loss to the Bears in Week 13. As a result, the Lions finished 3-12-1 and were a distant 4th in the NFC North.
The struggles of the team to stay healthy certainly does little to excuse the inconsistent play of the team's defense. Offensively, the Lions looked to be heading for a solid season under Darrell Bevell until the bottom fell out. The defense was a wreck from start to finish and that could be the side of the ball that needs to be overhauled if the Lions are to become contenders. The season ended with job security questions about Matt Patricia, but management later backed him for at least 2020. Several outgoing players this past offseason spoke out against Patricia as some light was shed on a fractured locker room.
Questionable draft picks and offseason acquisitions
There was a lot of talk about what the Lions would do with the No. 3 overall pick heading into the 2020 NFL Draft. Many fans salivated at the idea of trading down to add multiple picks to their draft haul but it didn't happen. They stayed put, got cornerback Jeff Okudah (Ohio State), and then circled back in Round 2 to take Georgia running back D'Andre Swift, who was ranked as one of the best RBs in the draft. Still, with lots of needs to be addressed, taking an RB that early was questionable. Hopefully, he pans out.
Next up was an athletic pass rusher in Julian Okwara (Notre Dame), who was taken while Auburn speedster Derrick Brown was still on the board. Third-round guard Jonah Jackson (Ohio State) is a physical mauler who will help in the run game and should see time early. Logan Stenberg (Kentucky) also adds depth along the interior O-line and Quintez Cephus (Wisconsin) plays much faster than his slow 40 time at the combine. For a team that needs to win now, these were solid selections.
Detroit's pass defense was a bit of a disaster last season, finishing the season ranked No. 29 in the league. The Lions traded their best safety, Quandre Diggs, midway through the season, then traded their best cornerback, Darius Slay, in March. They replaced Diggs by trading for former Patriots safety Duron Harmon and filled Slay's roster spot by taking Okudah with the No. 3, but is that nearly enough of a makeover to fix what was wrong with this pass defense last year?
Nick Williams and Danny Shelton should shore up the middle of the defensive line. The Lions had trouble stopping the run last season and both Williams and Shelton will help greatly.
Lions navigating the upcoming season, playoffs
After coming off a three-win season (Hey, there was a tie in there too!), the Lions' over/under win total for 2020 has been set at 6.5, which seems a bit inflated. Detroit sustained a last-place finish in the NFC North, and as a result they will play a last-place schedule. The Lions will also play the AFC South and NFC South next season, in addition to their battles against every team in their division both home and away. They are not favored in a single NFC North game.
The staggering futility this franchise has suffered through is just exhausting. The Lions are 0-8 in the playoffs since 1992 so it would be a huge surprise if they even sniff the postseason in 2020. They will have to be competitive if Stafford or Patricia want to remain in Detroit, but I don't see it. These Lions are up for another disappointing year, followed by a much-needed rebuild.