Los Angeles Rams vs Seattle Seahawks Predictions | NFL Playoffs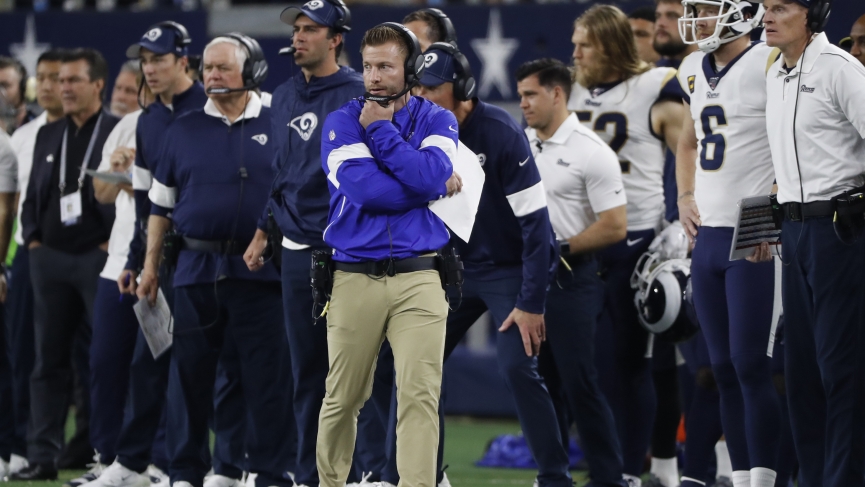 Los Angeles Rams vs Seattle Seahawks Predictions | NFL Playoffs | Wild Card: Sean McVay and the LA Rams have only been lined as an underdog 13 times since McVay was hired in 2017 and are 7-6 ATS as an underdog since then. On Saturday, the Rams head to Lumen Field to take on a Seattle Seahawks team that are 41-29-2 ATS as the betting favorite, going back to when Pete Carroll was hired in 2010.
| | | |
| --- | --- | --- |
| NFL Wild Card Round | LA Rams | Seattle |
| Opening ATS Line | +3 (-110) | -3 (-110) |
| Total | Over 42 (-110) | Under 42 (-110) |
| Where/When | Lumen Field | Sat. Jan 9th, 4:40 PM ET |
Seattle have won 10 of their last 17 playoff games over the last ten years under each coach Pete Carroll, a run that includes back-to-back trips to the Super Bowl in 2013 and 2014. Meanwhile, the Rams are 2-2 in the playoffs under Sean McVay and haven't played in a playoff game since losing to the New England Patriots in Super Bowl LIII.
Match-Up and Trends
| Team | Record | ATS | O/U |
| --- | --- | --- | --- |
| LA Rams | 10-6 | 9-7 | 4-12 |
| Seattle | 12-4 | 8-8 | 7-9 |
The Rams are 3-2 'Against the Spread' as the betting underdog this season, picking up outright wins as the dog twice over the Eagles in week two and the Buccanneers in late November. Meanwhile, the Seahawks are 7-7 ATS as the betting favorite this season, losing outright as the chalk favorite three times, including a massive upset loss to the Giants, who were +420 moneyline underdogs on December 12th.
Measure of Expectation
| Team | ML Profit | ML Fade | Avg. Margin | Avg. ATS Margin |
| --- | --- | --- | --- | --- |
| LA Rams | +$110 | +$578 | +4.8 | +1.1 |
| Seattle | +$199 | -$411 | +5.5 | +0.8 |
Based on the measure of expectation, you have to give a slight edge in this game to the Seattle Seahawks. Betting against the Rams has been a +EV venture this season. A bettor who placed $100 against the Rams every game this season went 6-10 on the moneyline for a profit of +5.78 units; that's +$36 profit per game, win or lose. Although with that being said, the Rams have covered more games this season than the Seahawks and have covered games by an average of +1.1 points per game, which is +0.3 points better than the Seahawks.
Los Angeles Rams vs Seattle Seahawks Predictions:
The Seahawks have been very underwhelming for the second half of the season; their offense was firing on all cylinders to start the season but fell off in a big way from the mid-way point of the season on. In fact, it was the emergence of the Seattle defense that carried them through rough patches that saw them lose games to Buffalo and Arizona. Not to mention that San Francisco back-up QB CJ Bethert almost pulled off the upset in week 17, in a game the Seahawks needed to win.
At times the Seattle defense can be outstanding, but they also tend to fall apart. As for Russell Wilson, the former NFL MVP hasn't thrown for over 263 yards in a game over the entire second half of the season. As an offense, the Seahawks have struggled when it matters most, putting up a 3rd down percentage of over 50% only four times this season. The Seahawks have some injury issues on the football's defensive side, and even Russell Wilson has looked a little bit of a step slower down the stretch, so his health might be a question mark coming into Saturday's game.
As for the Rams, starting QB Jarred Goff is questionable with a thumb injury, so back-up John Wolford could start on Saturday vs the Seahawks. WR Cooper Kupp is returning from the covid restriction list, which will be a massive boost for a Seattle team that has relied heavily on secondary receivers since Kupp has been out of the line-up. As far as the match-up goes, the Seahawks may be in some trouble when it comes to the Rams defense.
Aaron Donald can create chaos for the Rams defensive line, which has proven to be able to shut down the Seattle offense, which seems to have become easier and easier as the season has gone on. Jalen Ramsey is a reliable 1-on-1 match up for DK Metcalf, while Darius Williams has proven to be a decent enough corner to cover Tyler Lockett for the better part of this game. All in all, from a defensive point of view, the Rams may have the answer to this Seattle style of offense, and the match-up may favor the Rams more than what the line indicates.
As mentioned in previous articles, the Underdog has won 15 of the last 33 NFL playoff games and 8 of the previous 12 NFL Wild Card games. For that reason, you have to start your handicapping by making cases against the favorite, and a case can be made against this Seattle team in a divisional match-up vs. a Rams team that could hold their own defensively, with the only question mark for them being the play of their back-up QB John Wolford.
In the league this season, Seattle's defense is 31st defending against the pass, allowing 285 yards per game through the air, while the Rams offense, albeit under Jarred Goff, who may not play on Saturday. Never the less, the Rams are the #1 defense by the numbers this season, allowing just 281.9 yards per game total, and could give this Seahawk's team fits, with their only obstacle in their path to victory being the play of their back-up QB.
As for the betting total, this game opened at 42.5 but has since moved down a tick to 42. These two teams have averaged a combined total of 46.85 points per game between them, which is about 4 points higher than where the current total sits. This total may depend solely on Jarred Goff's health, who could be worth about 3 or 3.5 points to the total, as the Rams will not have as much offensive firepower with their back-up QB behind center. This is a game that you are much better off live betting, especially if Goff enters the game but comes out early, or if Wolford struggles and has to be replaced by a slightly injured Jarred Goff.
One factor worth mentioning in this game is a trend that has followed Pete Carroll since he became the Seahawk coach. Over the last ten years, the Seahawks have been a second-half team and have been even more so over the previous few years. Going back to 2017, the Seahawks have an average point differential in the second half of +3.15 points. With that in mind, if the Rams end up leading going into half time, your best bet would be to back the Seahawks; who have been an incredible second-half team over the past decade.