LA Rams vs Tampa Bay Buccaneers Pick: NFL Week 11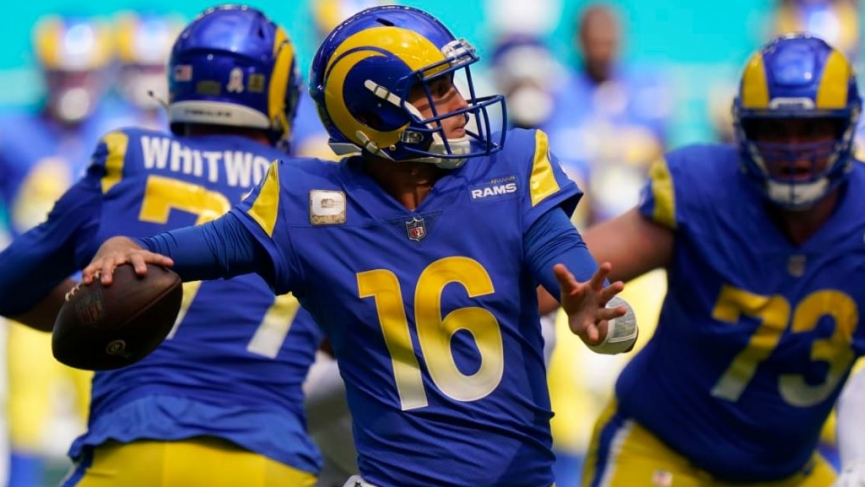 LA Rams vs Tampa Bay Buccaneers Pick – NFL Week 11: The Los Angeles Rams will be playing their 5th game on the east coast this season when they face the Tampa Bay Buccaneers. In the Rams first four east coast contests, they are 2-2 straight up, against the spread, and over/under. They have benefited from facing and beating all four NFC least teams who have a combined 2-18-1 record outside of their own division. The Rams also got to play an anemic Bears offense and in last week's win vs Seattle, the Rams benefited as they were coming off their bye. Note in their three losses, the Rams have trailed by at least 13 points in each thus this team is prone to being blown out.
WEEK 11 MATCH-UP
LA Rams
Tampa Bay
+3 (-110)
-3 (-110)
Total
Over 48 (-110)
Under 48 (-110)
Where/When
Raymond James Stadium
Mon. Nov 23rd, 8:15 PM ET
In the past three weeks, Tampa Bay was life and death to beat the Giants, were pummelled at home by New Orleans and last week were dominant in the second half against Carolina. Aside from their recent inconsistency, Tampa Bay does have the capability to win by margin as five of their wins have been by 14 points or more.
Match-Up and Trends
Team
Record
ATS
O/U
LA Rams
6-3
5-4
2-7
Tampa Bay
7-3
5-5
6-4
These two teams played a 55-40 game last year which saw one punt after the third possession and none in the second half. Perhaps that happens again but both teams have been playing defense at an elite level. Both teams possess top three defenses in terms of yards per play. Tampa Bay has the number one run defense in terms of yards per rush attempt and the Rams have the number one pass defense in terms of yards per pass attempt. Both teams can also put ample pressure on the quarterback as they both rank in the top four in Sacks per game.
Measure of Expectation
Team
ml profit
ml fade
avg. margin
avg. ats margin
LA Rams
+$38
-$259
+5.3
+1.7
Tampa Bay
+$22
-$332
+7
+2.7
The Rams second-half defense has been top of the class. They have given up a total of 36 points over 9 games (4 PPG) and seven of those points were the fault of the offense allowing a fumble return touchdown. Tampa Bay defensively has also been stellar in the second half allowing just 7.9 points per game which ranks third. If either team can establish a lead, mounting a comeback will be difficult.
Tampa Bay offensively recently signed wide receiver Antonio Brown who was suspended for the first eight games of the season. Last week, in his second game back, he led the team with seven receptions. He is now part of a receiving cast that also includes Mike Evans and Chris Godwin who had both been dealing with injuries in recent weeks. Between those three and tight end Rob Gronkowski, who was still getting into game shape earlier in the season after unretiring, the Buccaneers' have a plethora of pro-bowl caliber pass catchers who are just now rounding into form.
On offense, the Rams lost all-pro tackle Andrew Whitworth to injury last week and he will not play Monday. A big loss especially this week as the Rams face a Buccaneers defensive line that ranks in the top three per DVOA ratings. The Rams offense ranks slightly above average but might struggle if quarterback Jared Goff doesn't have time to throw.
LA Rams vs Tampa Bay Buccaneers Pick
The Rams have an elite defense and unlike their other east coast games, this one will be played at night. My lean however would be Tampa Bay -4 as when Tampa Bay wins, they have shown an ability to win by margin. The concern would be the Buccaneers' inconsistent play of late but the offense should start rolling with all the skill position talent healthy. I much prefer 'under' 48.5 as both teams have top-five defenses, both can put plenty of pressure on the quarterback, they have both shown an ability to make halftime adjustments and both do not give up points in garbage time. Yes, they played a high-scoring game last year but fully expect both teams to make adjustments on defensive and both have the talent to do so.
Keep it locked to Odds.com for all of your NFL betting needs for Week 11. The best current odds can be found at our NFL Odds Page. Stay tuned for plenty more NFL Week 11 Picks throughout the season.