Dallas Cowboys vs Seattle Seahawks Pick – NFL Week 3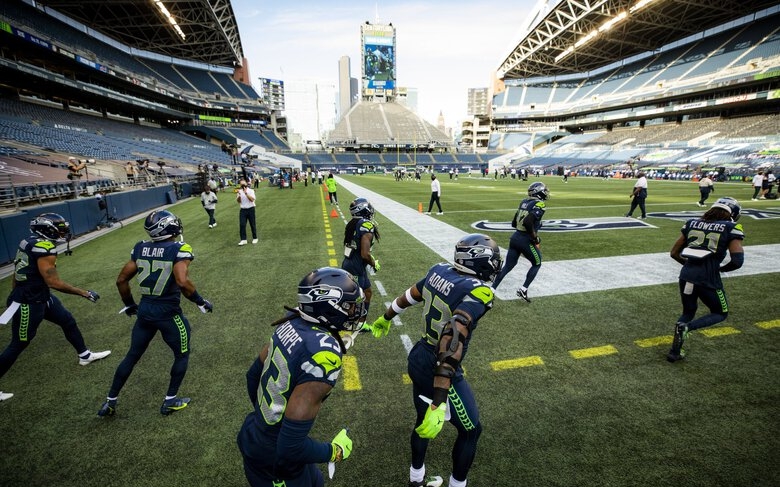 Odds.com's Dallas Cowboys vs Seattle Seahawks Pick for NFL Week 3: Pete Carol and the Seahawks are 2-6 ATS in their last 8 as a home favorite. They take on a Dallas Cowboys team that should be 0-2 but managed a miraculous comeback against Atlanta in Week 2. The Underdog is 6-1 in the last 7 between these two teams, and the Cowboys come into CenturyLink Field as +5.5pt dogs on Sunday for Week 3.

| | | |
| --- | --- | --- |
| NFL Betting | Dallas Cowboys | Seattle Seahawks |
| Best ATS Line | +5.5 (-104) | -4.5 (-110) |
| Total | Over 55.5 (-110) | Under 56.5 (-110) |
| Where/When | CityLink Field | Sunday, Sep. 27, 4:25 PM EST |
The Dallas Cowboys are heading into Seattle to take on the Seahawks Sunday. The Cowboys come into this one sitting in 2nd place in the NFC East at 1-1, but that could have been a very different outlook for them as they come off their largest comeback in franchise history to save themselves from starting the season 0-2. Seattle on the other hand has started the season 2-0 but could also be looking very different after a bad play call by Carroll on Sunday night that could have cost them the win. Instead, both teams come into this matchup off a big win looking to continue the good fortunes.
Wackiness in the Wild West
The Cowboys come into Seattle this week after getting their first win on the season in a crazy fashion. Dallas managed to overcome a giant deficit all game that was as steep as 20 points at one point, just to come back and complete an onside kick to get themselves a win with a last-second field goal by Greg Zuerlein. Now some people will say it was pure luck or that Atlanta just had another Superbowl LI collapse but it takes a lot of heart and resiliency for a team to grind away all game down 15 points and still complete the 4th quarter comeback. The season started a little rocky for Dallas but it looks like that offensive mind in Mike McCarthy is starting to click with the team. It also helps a lot to have a guy like 'Greg the Leg' to fall back on in those tight situations. So far, the Cowboys offense through two games is averaging 488.5 yards per game. They only average 28.5 points per game on the season, but with the number of yards, their offense moves the ball the points are sure to follow. Dak Prescott has completed 68.6% of his passes this season and already has 5 touchdowns, 2 passing, and 3 rushing. Ezekiel Elliot also has 2 touchdowns himself rushing for 185 yards in the first two games. Dallas is a team that has a solid RB in Elliot and a dual-threat QB in Prescott which will make it difficult for a banged-up Seahawks defense. Now, the Seahawks run defense is pretty stout only allowing 139 yards total so far, but having two rushing threats like that for the Seahawks to cover should open up the passing game more for Prescott and that is an area where Seattle struggles. In just 2 games the Seahawks defense has allowed teams to complete 68% of their passes averaging 415.5 yards against in the air. We just saw Cam Newton and the Patriots tear apart this defense through the air and I expect nothing less from Prescott and company as his offense continues to put in the work and get on the same page with McCarthy.
Lossless in Seattle
The Seahawks come into this matchup undefeated as they held down the lead in prime time to win their home opener 35-30. Now they get ready to go up against a Dallas team that finds ways to stick around in games keeping them close. The last time these 2 teams faced each other in the 2018 postseason, Dallas snuck away with a 2 point victory. Now, the Seahawks look for revenge at home as they come into this one with a sizzling hot offense. In the first two games, Seattle's offense is averaging 424 yards putting up 36.5 points per game. Russell Wilson has been able to complete 82.5% of his passes already throwing for 9 touchdowns this year. But the offense remains one-dimensional at the moment as the run game has yet to get going for them. This allows the Cowboys to focus more on their secondary protection than the run game. They will still have to watch for Wilson as he can be a huge rushing threat but at this point in time, he is more of a threat than Chris Carson. Both defenses are not the greatest but considering all the injuries to both and the particular matchup, the Cowboys have the advantage here.
Dallas Cowboys vs Seattle Seahawks Pick
The key to winning this game will be whichever defense steps up in the big moments. Both teams will be able to move the ball up the field but the passing game should be the more prevalent side of the offense. Considering the state of Seattle's run game, Dallas should be able to move the ball in the air much easier here. Not to mention that in the 13 head to head matchups between these two teams they are pretty even with Seattle winning 7 and Dallas winning 6. Not only that but in the 7 games Seattle has won, only 3 of them have been by more than 5 points. Also, Dallas has a much more reliable kicker than Seattle in Greg Zuerlein. This game is sure to go back and forth all day as these teams are matched quite well, but whoever wins this game will probably come down to a last-minute field goal so I am backing the Dallas Cowboys at +5.
The best price for the Cowboys +5.5 (-105) via FoxBet