Carolina Panthers vs Tampa Bay Buccaneers Pick – NFL Week 2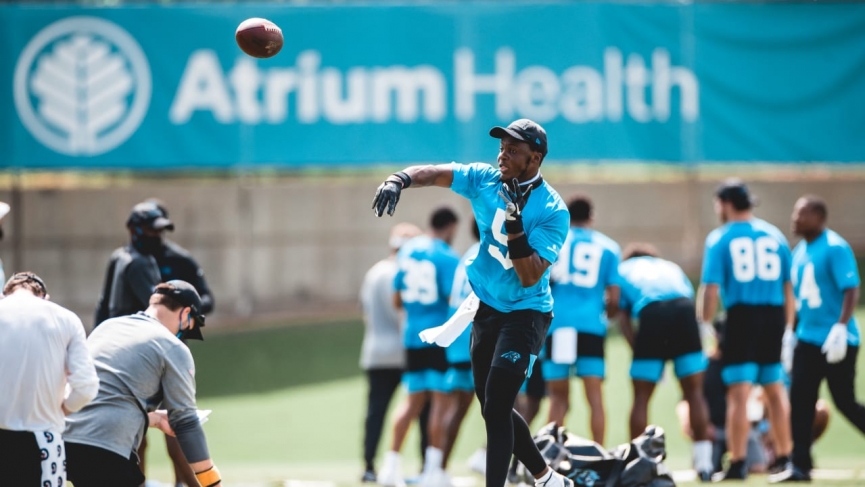 OddsHQ's Carolina Panthers vs. Tampa Bay Buccaneers Pick for NFL Week 2: Teddy Bridgewater is 28-8 ATS in his career as a starting QB and takes that record Raymond James Stadium on Sunday to face Tom Brady and the Tampa Bay Buccaneers. Both teams are coming off losses and will be fighting to avoid going down 0-2 on the season. 
| | | |
| --- | --- | --- |
| NFL Betting | Carolina Panthers | Tampa Bay Buccaneers |
| Best ATS Line | +9.5 (-115) | -8.5 (-110) |
| Total | Over 47.5 (-105) | Under 47.5 (-110) |
| Where/When | Raymond James Stadium | Sunday, Sep. 20, 1:00 PM EST |
Let the Matt Rhule era begin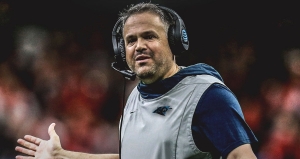 The Carolina Panthers ushered in the Matt Rhule era in Week 1 against the Las Vegas Raiders, and they made a solid account of themselves in the process, given the circumstances. This unique offseason in the midst of the COVID-19 pandemic might have been harder on Carolina than any other team in the NFL. They had to go through a limited training camp, and practice schedule with no preseason games. While also trying to bring in a new head coach in Matt Rhule, who has never been a pro football head coach (only a College Football head coach) in the past. Carolina has two new coordinators on both sides of the football, new systems for the players to learn, a completely rebuilt defense, with tons of personnel changes, and a new starting QB in Teddy Bridgewater.
It was scary to think about the potential lack of continuity and cohesion this Panthers team might have had to endure this season. In spite of all that, they were one successful drive away from knocking off the Raiders in Week 1. Unfortunately, they got stuffed on a 4th and 1 rush attempt inside 2 minutes in the 4th Quarter. Carolina made the horrendous decision to give someone other than star RB Christian McCaffrey the ball in that situation, and they lost the game 34-30. 
Bridgewater Elevates QB Play for Carolina
Despite the loss, Teddy Bridgewater and the Carolina Panthers offense looked good on Sunday. Bridgewater went 22-for-34 passing, with a strong 65% completion rate. The Panthers moved the football up and down the field for most of the game accumulating 388 total yards and putting up 30 points. There is some very good skill position talent surrounding Bridgewater, in this Carolina offense. McCaffrey at RB, and a solid trio at WR with free-agent acquisition Robby Anderson along with DJ Moore and Curtis Samuel. Carolina should be a more explosive offense this season simply because they have a healthy and competent QB to start the season. Cam Newton was neither for the Panthers for much of last season, and after he got injured, Kyle Allen simply wasn't adequate enough to fill the QB void. The Panthers averaged just 5.1 yards per play on offense in 2019, but they surpassed that in their season opener on Sunday, averaging 6.0 yards per play. The offensive line was a disaster last season giving up 58 sacks. The OL was upgraded in the offseason with Russell Okung taking over at the left tackle spot.
Joe Brady is the new offensive coordinator in Carolina after being the OC of a record-setting offense with QB Joe Burrow and the LSU Tigers last season in College Football. Brady employs a quick and shorter passing game in his offense, which allows Bridgewater to move the football quickly. Getting the football in the hands of his playmakers, who can make things happen in space. This type of offense also puts less pressure and stress on the offensive line. All of the pieces here are a good fit for a Carolina, and they should be very capable of moving the football and putting up points in Week 2
Tom Not so Terrific
The Tampa Bay Buccaneers' debut for QB Tom Brady didn't go the way he or the Bucs wanted. Brady's passing numbers were decent. Completing 23-for-36 passes for 239 yards, and 2 TDs. However, Brady struggled for extended stretches of the game, which included pair of costly INT's, that resulted in 14 points for the Saints. One of those was a 'pick-six' by Janoris Jenkins. Bucs WR Mike Evans was questionable all week to play due to injury. He did get on the field but didn't make much of an impact, with just a single catch for 2 yards. Evans is expected to be healthier and should be much better here in Week 2. Tampa Bay had a tough time getting a consistent ground attack going with RB Ronald Jones, getting only 66 rushing yards on 17 carries. Tampa Bay's offense was out of sync, but it has to be somewhat expected with Brady joining a new coaching staff, and an offense, that is significantly different than the one he was part of for years in New England. The Bruce Arians style of offense isn't an easy one to learn. So it's reasonable to expect Tampa Bay to gradually improve offensively, as each week passes by.
The improvement could start here on Sunday against Carolina, who have a completely rebuilt defense that got torched last week by Las Vegas as the Raiders had no problem moving the football. The Panthers couldn't get any stops surrendering 34 points and four TDs. The secondary got burned repeatedly, and the Panthers lacked any sort of pass rush. This allowed Raiders QB Derek Carr to have plenty of time to find his receivers down the field. That could be trouble for this revamped Carolina defense against Tom Brady on Sunday, who when allowed to stand in the pocket and fire downfield, can still pick apart an opposing defense. Especially with all the receiving weapons that the Bucs have.
Carolina Panthers vs Tampa Bay Buccaneers Pick:
This game should go 'Over' the total of 47.5 on Sunday. Tampa Bay's offense and QB Tom Brady are taking a significant step down in defensive class going from playing the New Orleans Saints upper echelon defense, to the rebuilt, and struggling Carolina Panthers. On the flip side, there is definitely some upside with Teddy Bridgewater, and this Panthers offense under the guidance of a very smart and creative offensive mind like Joe Brady as their offensive coordinator. Tampa Bay's defense is still a bit suspect in the secondary. Although they are still quite strong upfront. The Bucs pass rush could be held in check by the quick passing attack that this Panthers offense employs. This should open the door for some big plays to be made by Carolina in the open field, and against the still questionable Tampa Bay pass defense. Expect points in bunches, sending this game Over the total.
The best current odds on the Over is at 47.5 (-110) via DraftKings