Arizona Cardinals Prediction – 2020 Season Win Totals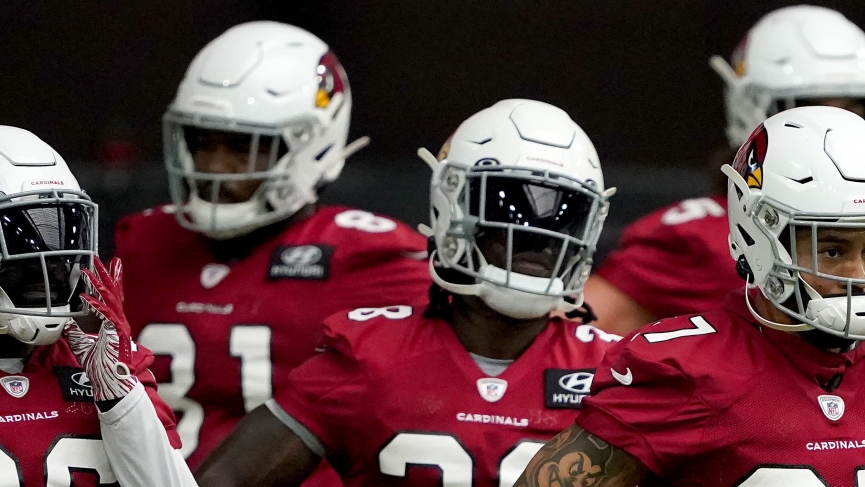 My Arizona Cardinals prediction is that they are a sexy pick for the playoffs this year, but are they for real? It seems like every year an NFL team goes from being last in their division to an immediate contender. Betting on them early, and hitting can be a nice little payout.
The Cardinals are one of the better teams, just not the best this season
Are the Cardinals that team this year? No, probably not. They're in one of the best divisions in football. However, the buzz around this team is strong, and with good reason. They have a talented young quarterback, an intriguing young coach, and just acquired one of the best receivers in the league for a song.
Let's first talk about the worst/best trade in NFL history. Bill O'Brien should have been fired on the spot. When I heard Deandre Hopkins was traded my interest was piqued. When I read what the Texans got in exchange for the best hands in football, I spit my drink out and nearly pissed myself laughing.
How do you trade a talent like Nuk for a 2nd round pick and a broken running back with a terrible contract? Bill O'Brien has deservedly been lambasted online for this deal. You can't even make that trade in Madden. The Cards have made an upgrade to a receiving core that is full of young talent and future HOFer Larry Fitzgerald. Though if I'm being honest, that's where the hype ends for me.
Young coach/young quarterback
Arizona has a highly touted young coach, and an ultra-talented young QB headed into his second year as a pro. I like Kyler Murray a lot. Even though he looks like a Disney Character that stole his older brother's pads and ran out on the field. He was a cheat code in college, and in the pro's he's already shown he can compete. That said, there was another Sooners QB that went first overall and looked really sharp in year one, only to implode in year two.
I don't think Kyler is going to be Baker Mayfield, and I don't blame Baker for Freddie Kitchens. Still, Kyler is only going into his second season and he needs help. Which he has with his wide receiver group. Hopkins, Fitzgerald, Christian Kirk, Andy Isabella, and Hakeem Butler at wide receiver looks real nice on paper. Actually it kinda seems like overkill, especially when you consider that Murray was sacked 48 times in 2019 (tied for 3rd most in the NFL), and frankly, the Cards didn't do enough to address that problem in the offseason.
That of course brings me to Cardinals draft class. Their draft this year is one of the reasons people are so hyped. They selected tackle Josh Jones in the third round. Which might seem great to some, because Jones was mocked as high as 11 to the Jets prior to the draft. However, when you have a player at a premium position like left tackle plummet so far in the draft there's usually a reason. In a lot of cases that have to do with off-field issues, but in Jones' case, it has more to do with the fact that he's not yet polished, and will take time to adjust to the pro game.
The 2020 Draft was good to the Cardinals
The other mega hype came from their first-round pick Isaiah Simmons. Simmons was an absolute stud for Clemson in 2019, and many thought there was no chance he would get by Carolina who had just lost Luke Keuchly to early retirement. Even though Simmons was probably a steal for the Cards, I'm not ready to believe he'll transform the defense. At least not in year one. He's crazy athletic and has already been touted as the answer to covering George Kittle. Which he may very be able to do, but I'm wary of players who line up "all over the field" as Simmons did in college. Jabrill Peppers "lined up all over the field" at Michigan, and he still hasn't found his game in the pros. I don't think that Simmons will be Peppers, but I don't think he'll make up for all the holes in Arizona's defense.
None of that will matter though, because The Cardinals have Kliff Kingsbury. Right? He's the next young mastermind in the NFL, right? Call me crazy, but I don't really get the hype. Kingsbury coached for 6 years at Texas Tech, where he had two winning seasons and his best record was 8-5 (his first year). He was fired from his college job in 2018, and then got hired as a head coach in the NFL…. am I missing something? I don't think he's an awful coach. Adam Gase is an awful coach(how does that dead-eyed lunatic have a job?). I just think the hype train around Kingsbury needs to slow down just a bit until he wins SOMETHING.
All kidding aside I think the Cards will be better in 2020. Murray will only get better, and Hopkins will help a lot with that. Their win total was set at 7. Which is only 1.5 more than they had in 2019. I believe they're 1.5 games better on paper. This season the Cardinals will put teams on notice. They're not quite ready for a playoff push, but they might be if they were in a weaker division. 8-8 or even 9-7 is very realistic for the up and coming Arizona Cardinals.