San Antonio Spurs vs Memphis Grizzlies Pick Aug 2, 2020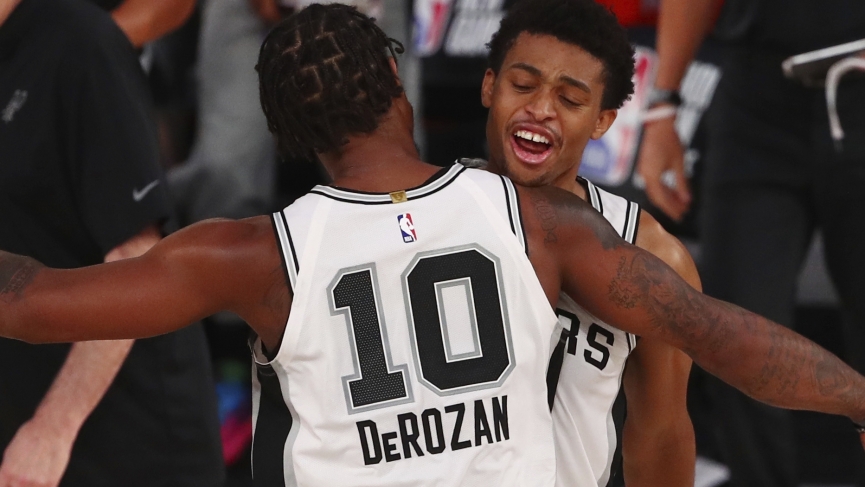 Today we take a look at the San Antonio Spurs vs Memphis Grizzlies pick as the Grizzlies are coming off a loss against the Spurs.
Despite the loss, the Grizzlies established their "roar"
There was no shame in the Memphis Grizzlies losing to the Portland Trail Blazers in a 140-135 OT thriller in the first of their 8 regular-season games in Orlando on Friday. The Grizzlies were victimized by blistering hot shooting from the Blazers in the first half and turnovers more than it being bad defense on their part.
They trailed at Halftime and yet they came out of the game in the second half strong not only erasing the deficit but eventually going up by double digits themselves. Unfortunately, Portland rallied back to force OT and once their shots started falling in the extra session, there wasn't much that Memphis could do. The Grizzlies showed a lot in coming back though and I was impressed with five players reaching double figures for Memphis.
Portland made a lot of tough contested shots en route to the 54% shooting effort they had. The types of shots that if Memphis brings it on the defensive end here in this game, they are not as likely to fall for the San Antonio Spurs today. Here are some great quotes from Memphis head coach Taylor Jenkins and Jaren Jackson. Jenkins: "The message (for) our guys is to keep our heads up — we've got to learn from this and get better for the next game on Sunday. Win or lose, we've got to keep focused on the next task at hand." Jackson: "We've got to see all these games like (they are) playoff games.
When you're in those environments and when you're playing against good teams, we're got to be able to take on that challenge". Those are quotes that stand out for a team that may not be in letdown mode here even after a tough loss in their opener.
The Pop Formula Works Again For The Spurs
San Antonio won outright as underdogs in their first regular-season game in Orlando defeating the Sacramento Kings on Friday night. Sacramento had some issues with continuity and cohesion in that game mostly due to the fact that De'Aaron Fox from injury and you could tell that making room for Fox led to a bit of an out of sync performance from the Kings. The Spurs clearly benefitted from the coaching experience and savvy of Gregg Popovich who had his team better prepared than his counterpart Luke Walton.
This game was expected to be a coaching edge for San Antonio and it turned out that way. In this game, however, Pop will need to overcome the fact his team lacks the overall talent depth that Memphis has entering this game. The Spurs are without LaMarcus Aldridge and might also be minus Bryn Forbes and Marco Belinelli as well for this game as both are listed as questionable. The absence of Aldridge, in particular, hurts against a Grizzlies team that has a depth laden and strong frontcourt that could end up punishing the smaller Spurs in the low post. Outside of Jakob Poeltl, there is not a whole lot there in terms of quality depth for San Antonio in the paint.
San Antonio Spurs vs Memphis Grizzlies Pick
I cashed a ticket betting against Memphis in their hard-fought OT loss against Portland in a thrilling game between the Grizzlies and Blazers on Friday. I was still very impressed with the Grizzlies even in defeat and I'm happy to come back with a bet on them in this spot against San Antonio. The Grizz are the better squad and will be laser-focused following that tough loss to the Blazers.
Memphis has outstanding inside and outside balance scoring-wise with Ja Morant and Dillon Brooks leading the backcourt with Jonas Valanciunas, Jaren Jackson, Kyle Anderson, and Brandon Clarke in the frontcourt. San Antonio doesn't play much defense and they are ranked in the bottom third of the NBA in points per game allowed and defensive efficiency. They beat Sacramento in their first game but the Kings were not sharp and they were working in some new faces to the rotation which led to some cohesion issues with their performance in that game.
San Antonio must now deal with a Memphis team that is much better than Sacramento and I expect them to fall short. Memphis won and covered two of the three head-to-head meetings with San Antonio before the break. I'll lay the short number with Memphis as I expect them to gradually pull away and extend the margin en route to victory.