Portland Trail Blazers vs. LA Lakers Pick August 18, 2020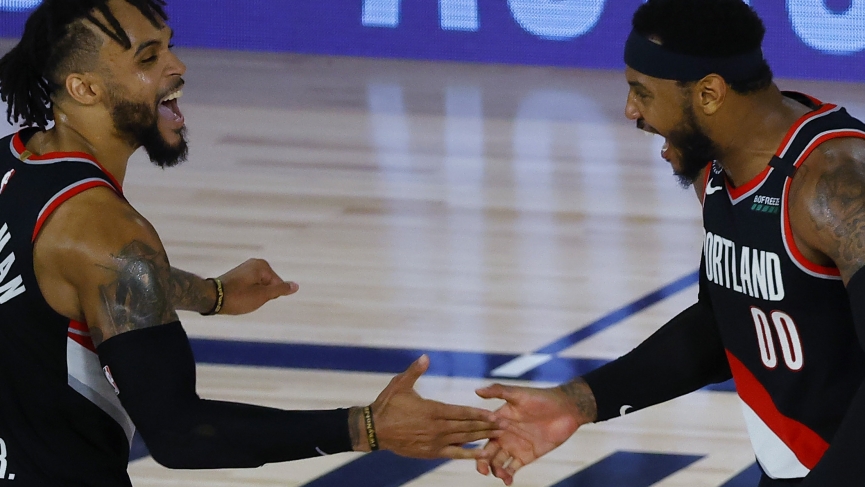 Let's discuss my Portland Trail Blazers vs. LA Lakers pick. The Portland Trail Blazers have been essentially in playoff mode and been playing playoff basketball since their season resumed in Orlando in late July. Portland was on the outside looking in at the Western Conference playoffs but thanks to a terrific 7-2 SU record in the 9 games they played, the Blazers played their way into the 8th seed in the West, and this first-round series matchup against the Los Angeles Lakers.
Portland blazed a trail to the playoffs. Now can they blaze a trail right through them?
The Blazers spent much of the season with key injuries but got Jusuf Nurkic back in time for the Orlando restart and suddenly, this team took on a new dimension and more resembled the squad that went to the Western Conference Finals last season.
Portland has heard a lot about the media saying they could give the LA Lakers fits in this series and even Damian Lillard noticed all the commotion: "I've been seeing everybody saying what we're going to do to the Laker. The Lakers, they're the No. 1 seed in the West for a reason. They got the best player in the world on their team. But at the same time, we didn't fight as hard as we fought in the bubble to just say, all right, we're the eighth seed to go out there and just get beat up on. We feel like we have a chance in a series against anybody in this league. We feel like we got a chance in this series." 
Lillard has averaged 46.2 points per game in Portland's last four games including the play-in game victory against Memphis and he will need to be absolutely locked in once again in this series. His backcourt mate CJ McCollum is playing through a back fracture and yet has scored 29 and 25 points in the Blazers last two games against Brooklyn and Memphis. Gary Trent Jr. has been an added weapon in that loaded Portland backcourt as well getting into double figures in points scored in seven of the Blazers nine games to this point.
The issue for Portland is defense which continues to be a problem area for them but they are never out of a game thanks to their incredible shooting and scoring ability as a team. Portland blazed a trail to get to the playoffs but now they will need to sustain it and even bring their overall team game to a higher level if they hope to compete with and possibly upset the Los Angeles Lakers who are -550 series favorites.
Will the Lake Show start on time?
I don't honestly know if this LA Lakers team will be ready to play their best basketball right away here in Game 1 in this series. The Lakers have been coasting for weeks since they locked up the #1 seed in the West with head coach Frank Vogel opting to rest his starters at various points down the stretch. Prior to that, the Lakers were already adjusting their offense to life without Avery Bradley and Rajon Rondo and they were struggling with cohesion with that adjustment.
Rondo is close to returning to the lineup but it won't be in Game 1. It is far from a certainty that the LA Lakers will be ready to bring their 'A' game in Game 1 as you can make the case this will be the first truly important and intense game played by the LA Lakers since before the pandemic struck the sports world in March. LA was a point spread disaster area in their last eight regular-season games played here in Orlando going a dismal 1-7 ATS in those games. 
Portland Trail Blazers vs. LA Lakers Pick
I decided weeks ago that I was going to bet on Portland in Game 1 of this series against the LA Lakers if they got the #8 seed and I'm not backing down from that strategy now. Portland has been in 'must-win' playoff intensity mode for weeks so this transition to Game 1 of this first-round series should be rather seamless for the Blazers. For the Lakers, they have to try and find that second gear following weeks of lethargic, uninspired basketball since they arrived in Orlando all the while trying to work out the kinks and problems with a revamped offense caused by the Rondo and Bradley injuries.
Favorites ruled on the first day of the NBA Playoffs going a perfect 4-0 SU and ATS but this is one underdog that I expect to show some serious bite in Game 1 of this series. I'll take Portland plus the points to give the LA Lakers a battle in a game where LA will be hard-pressed to win by any sort of margin. I also like this game to fly Over the total of 233 as these two teams have trended Over the total in recent head-to-head meetings.