Milwaukee Bucks vs Boston Celtics Pick – July 31st, 2020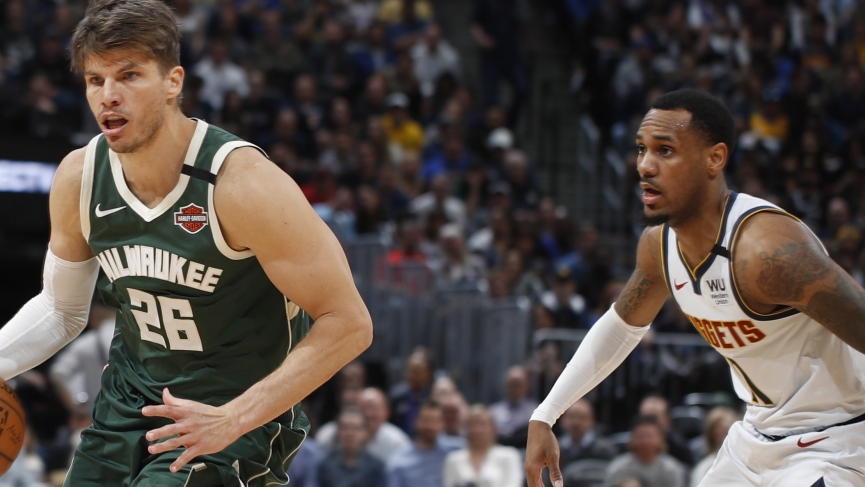 Milwaukee begins its quest for a championship. The Bucks essentially has the Eastern Conference number one seed wrapped up with a lead of 6.5 games going into the 8 game bubble season. Boston has been a streaky team this season but they were finding form right before the shutdown happened. It's time to take a look at my Milwaukee Bucks vs Boston Celtics pick.
| | |
| --- | --- |
| Game | Milwaukee Bucks (53-12) vs. Boston Celtics (43-21) |
| Where: | HP Field House, Bay Lake, FL |
| Time: | Friday, July 31st, 6:30 p.m. EST, |
Milwaukee Bucks Breakdown
The bubble will be a preseason of sorts where the results won't matter as much as getting the players in tune with each other. The long layoff will help. Giannis Antetokounmpo had strained his knee right before the shutdown so he gets a chance to return to action fully healthy.
The Bucs rely on Khris Middleton, Eric Bledsoe, and Brook Lopez as key support pieces for Giannis. The bubble will be an opportunity for these players to get back into their shooting form. The Bucks had a historic net rating going into the shutdown and they will be eager to continue.
| | | |
| --- | --- | --- |
| To Make The Playoffs | Yes | No |
| Brooklyn Nets | -3500 | +1700 |
| Memphis Grizzlies | -140 | +120 |
| New Orleans Pelicans | +250 | -310 |
| Orlando Magic | -4500 | +2300 |
| Phoenix Suns | +5500 | -20000 |
| Portland Trailblazers | +240 | -550 |
| Sacramento Kings | +850 | -1900 |
| San Antonio Spurs | +1700 | -3500 |
| Washington Wizards | +2800 | -7000 |
Although the Bucks do not have a huge list of individual superstars on defense, their defensive net rating was best in the league. Their ability to play team defense propels them to get stops. The Bucks will need that championship level of defense if they intend to make the Finals this year.
Boston Celtics Breakdown
Kemba Walker grew into his role as a point guard and leader of the offense. The Celtics depth allowed them to overcome a myriad of injuries during the season and they are excited to head to the bubble with full health. Brad Stevens is considered to be one of the best coaches in the NBA. This could be a huge advantage in these unprecedented neutral court situations.
Boston's problem has been rim protection but strong team defense has prevented their opponents from outscoring them. The Celtics have one of the deepest teams at wing with Marcus Smart, Gordon Hayward, Jayson Tatum, and Jaylen Brown all interchangeable at the two through four positions. Boston will be relying on Walker's leadership and their ability to create mismatches with their superior wing depth.
Bucks vs Celtics – The Matchup
The battle between second options, Jayson Tatum and Khris Middleton, will be the key for each team's success. While Middleton plays more of a secondary role on offense, Tatum oftentimes takes over the Celtics attack with his ability to create shots. Tatum has improved his mid-range game immensely since entering the league.
He is a threat from anywhere on the floor. Middleton might often be matched up with Tatum especially if Tatum gets hot. If the Bucks are to win, they're going to need a nice offensive output from Middleton as well as his ability to play top defense. If Tatum is able to consistently score, the Celtics will keep this game close.
Milwaukee Bucks vs. Boston Celtics Pick
Right now the line sits at Milwaukee -5. This line gives the Eastern Conference frontrunners a ton of credit. In the two teams' first game back, it will be hard to be sure of anything in this situation. However, I believe money will come on Milwaukee and as the line continues to move in Celtics' favor it will present value on Boston.
My advice is to be patient and wait for public money to pour into Milwaukee. Try and grab Boston as this line will likely move to 6.5 or 7 by the time it closes. Keep an eye on this line as we get closer to the season starting, as anything above 6.5 is a play.
Suggested Bet: Boston Celtics if the public moves the line to +6.5 or greater